Henderson man in armored truck on Hoover Dam bypass bridge arrested
Updated June 15, 2018 - 8:59 pm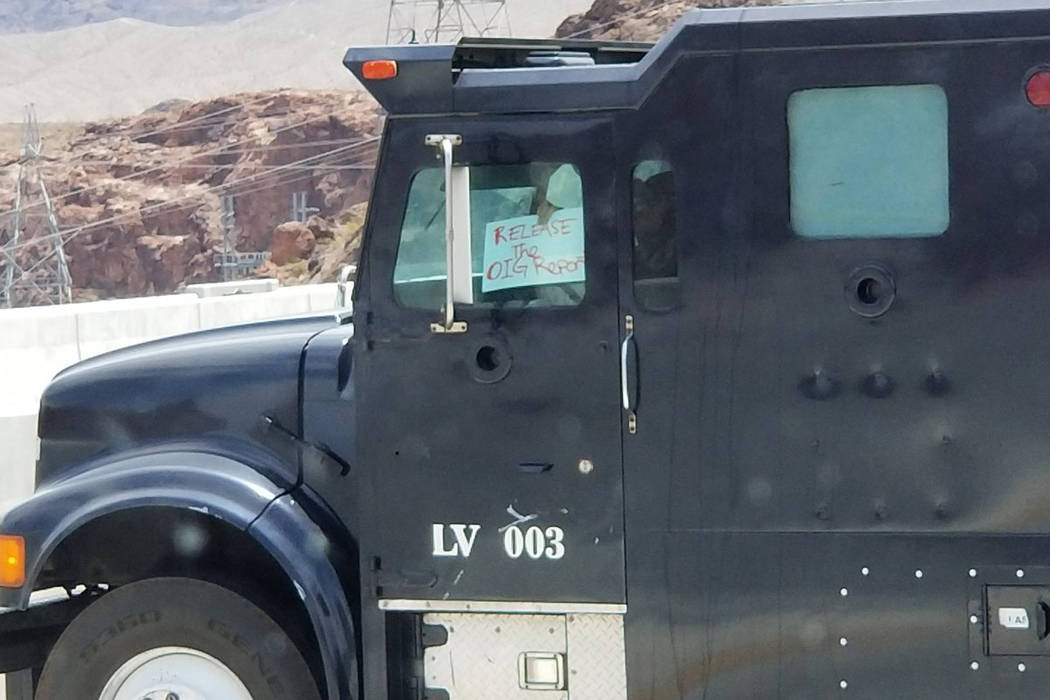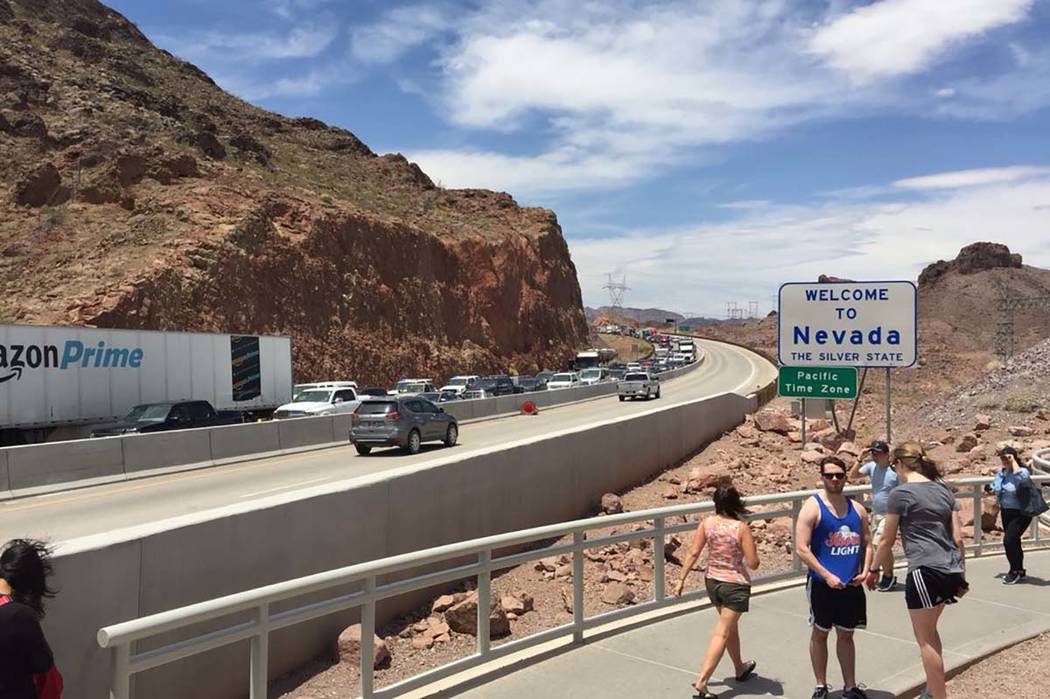 A Henderson man driving what authorities described as a "homemade armored vehicle" and reportedly armed with a rifle stopped traffic for about 90 minutes Friday on a bridge near Hoover Dam before he was arrested.
Mathew P. Wright, 30, was booked into the Mohave County Jail, according to a release from the Arizona Department of Public Safety. He faces charges of obstruction of a highway, endangerment, unlawful flight from law enforcement, misconduct involving a weapon and terrorist acts, the release said.
"We are pleased that the partnership and cooperation between all agencies involved resulted in the successful and safe conclusion to this incident," Arizona Department of Public Safety Capt. Brian Swanty said.
The event unfolded just before noon Friday when law enforcement agencies began receiving reports of a man with what appeared to be "a machine gun or long rifle" and a sign stopped on the Mike O'Callaghan-Pat Tillman Memorial Bridge, just downriver from the dam, Nevada Highway Patrol spokesman Jason Buratczuk said.
The Highway Patrol, Las Vegas and Boulder City police, National Park Service rangers from the Lake Mead Recreational Area and Arizona Department of Public Safety personnel all responded, quickly shutting down U.S. Highway 93 and evacuating other motorists from the bridge. Tourists on the dam walkway were instructed to shelter in place, Buratczuk said.
The Metropolitan Police Department also dispatched two armored units to the scene, he said.
The man eventually began driving south into Arizona and soon encountered a roadblock of tractor-trailers set up by Arizona authorities. He made a U-turn and began driving north but ran over spike strips that officers had placed on the road as he passed, which flattened the truck's tires, Buratczuk said.
He then drove the vehicle off the highway and down a dry wash, Buratczuk said. He made it about three miles away from the highway before he was "contained, surrounded and surrendered peacefully." A rifle and a handgun were found in the truck, Arizona authorities said in the release.
A cluster of emergency vehicles, including a fire truck and several unmarked law enforcement units, could be seen Friday afternoon parked on Cranes Nest Road, an unpaved 4-by-4 route that branches off from U.S. 93 about eight miles southeast of the Hoover Dam bypass bridge. A park service ranger was blocking the dirt road near the highway.
Buratczuk said no shots were fired during the encounter. He said he didn't know what was on the sign that the man had, but other accounts said it urged President Donald Trump to "release the reports."
U.S. 93 at the Hoover Dam bypass bridge reopened about 1:30 p.m. after being closed in both directions for about 1½ hours, and traffic jams in both directions created by the episode soon dissipated.
Contact Henry Brean at hbrean@reviewjournal.com or 702-383-0350. Follow @RefriedBrean on Twitter. Contact Katelyn Newberg at knewberg@reviewjournal.com or 702-383-0240. Follow @k_newberg on Twitter.