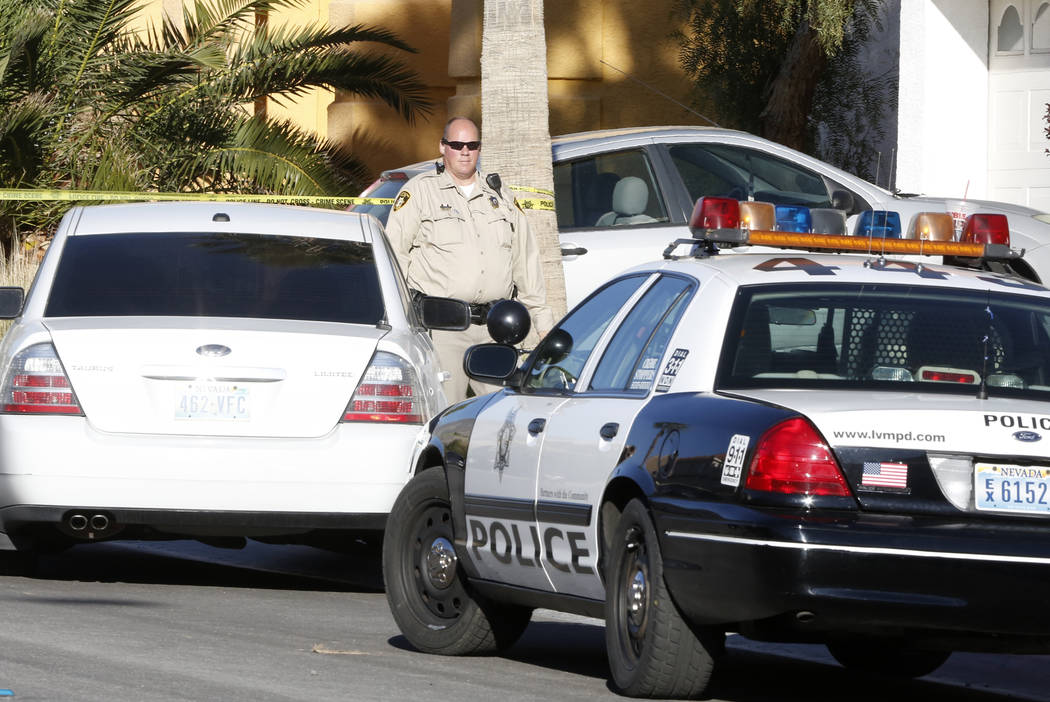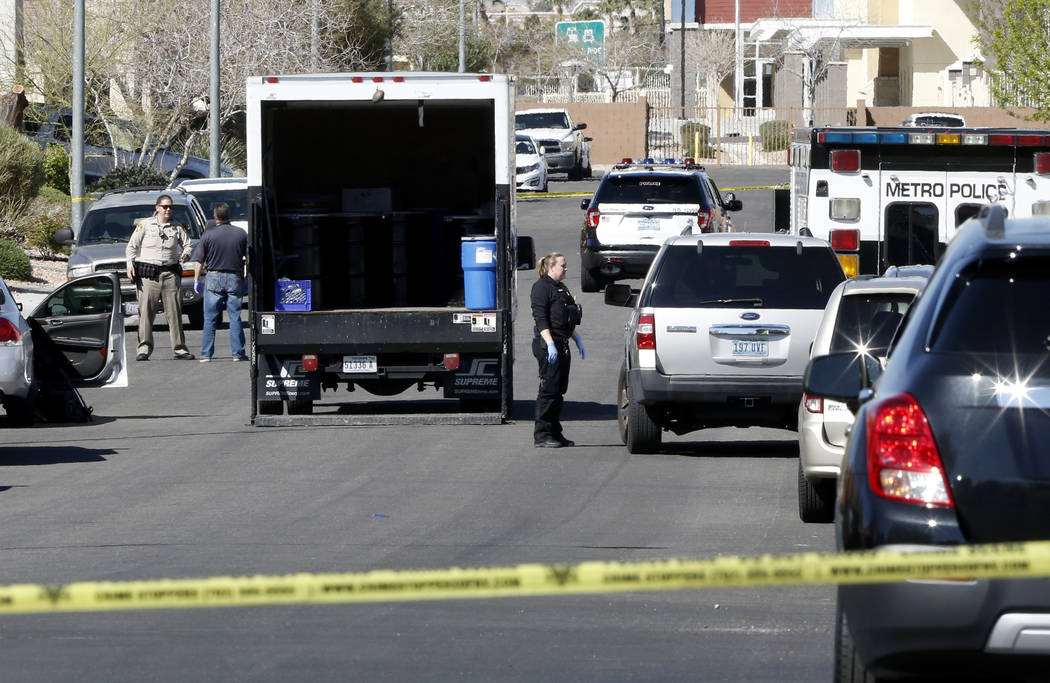 Three people were shot, one fatally, after what Las Vegas police are calling a robbery-home invasion in the northwest valley late Monday night.
One man was killed and another was wounded after binding a couple with duct tape in their home on the 8000 block of Hesperides Avenue about 10:30 p.m., Metropolitan Police Department Lt. Dan McGrath said.
Police received calls of gunshots from neighbors and a call from the homeowner. When officers arrived, they formed a team and found a man and a woman inside the home near West Elkhorn and North Cimarron roads, McGrath said. Inside, police also found a man's body lying in a rear entryway to the backyard.
McGrath said it appeared the homeowner escaped from being bound by the duct tape.
"I'm not sure how he was able to break free, but he was able to retrieve a firearm and shoot the suspect multiple times," McGrath said.
At some point, the homeowner, who as of Tuesday morning was not going to be charged, also called police. McGrath said he was not cooperating with police early Tuesday.
When police arrived, they found the woman hiding in a closet, McGrath said. She had been shot in the arm and was taken to University Medical Center.
"The people inside the residence are pretty shaken up," McGrath said.
The homeowner shot both intruders, but police were not sure who shot the woman. The homeowner did tell police both men who entered the home were armed.
There were no signs of forced entry to the home, McGrath said, adding that the door might have been open or unlocked.
Shortly after the shooting, a man in his 20s arrived at Centennial Hills Hospital — less than 2 miles from the shooting site — with a gunshot wound to the buttocks. From Centennial Hills, the man was taken to University Medical Center.
McGrath said the man told police he was not shot at the Hesperides house, but police think he was involved with the home invasion. He said the man appeared to drive himself to the hospital, and the car he drove was seen at the Hesperides Avenue scene.
McGrath said the couple still had duct tape on them when police arrived. Police were trying to determine why the home invaders entered the specific residence. Metro said in a statement that no arrests had been made as of Tuesday afternoon.
The Clark County coroner's office will identify the man and his cause of death after relatives have been notified.
This is the 36th homicide investigated in Clark County and the 32nd investigated by Metro this year. Clark County's 35th homicide and Metro's 31st occurred about an hour prior near North Durango Drive and West Gowan Road.
Contact Mike Shoro at mshoro@reviewjournal.com. Follow @mike_shoro on Twitter.
8000 Hesperides Avenue, Las Vegas, nv