2 dead, 3rd shot in head after dominoes game in Las Vegas
Updated June 26, 2017 - 12:21 am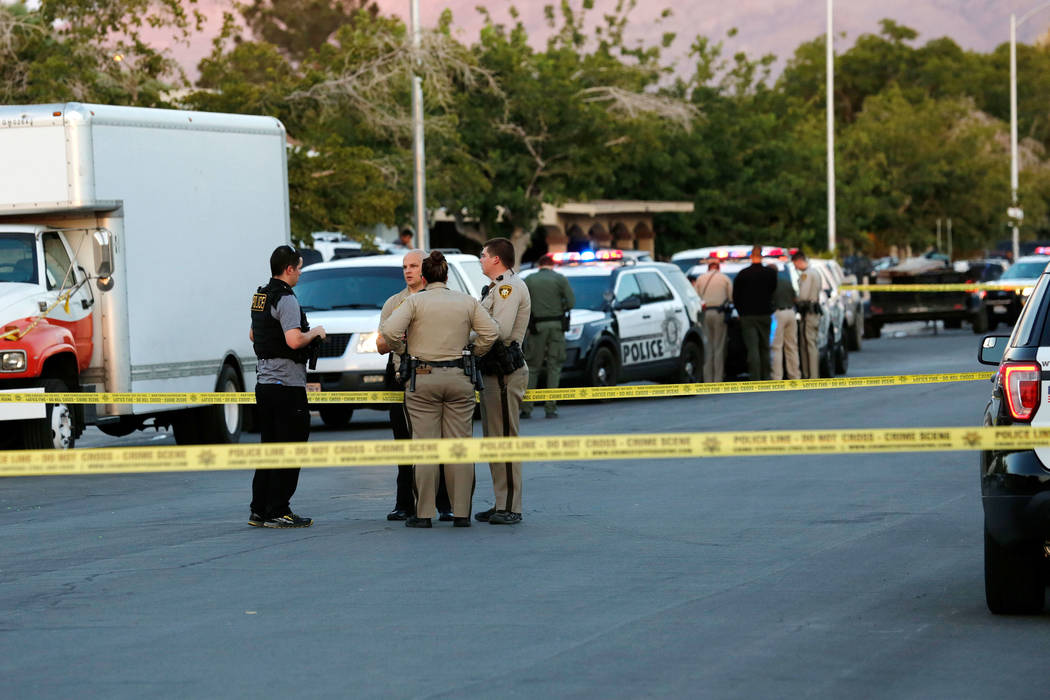 Two men in their 20s died Sunday night after an argument broke out over a game of dominoes at a northeast Las Vegas home, Las Vegas police said.
Officers responded about 7:20 p.m. to a shooting call at the home on the 4400 block of Wendy Lane, near East Craig and North Walnut roads, according to Metropolitan Police Department homicide Lt. Dan McGrath.
After the argument began, another man retrieved a gun from his car, went back inside the home and opened fire, McGrath said. Detectives are working to "positively identify" and arrest the suspected shooter, who knew the men killed.
Another man, who is in his 30s, was shot in the head and taken to University Medical Center's trauma unit, and police on Monday said he was "expected to survive." He was the first person police made contact with, and he told officers to help the others inside.
A fourth man was in the house during the shooting and was unharmed, McGrath said. He added that several people present during the shooting had apparent gang affiliations, though the information was preliminary.
"It's a sad night for the people in this area, for something like this to happen over what could be called nothing," he said, adding that the people knew each other. "I can assure you we are going to do our best to get this person in custody as soon as possible and there will be no resources spared."
Family and onlookers arrived at the scene shortly after police. They gathered in front of the crime scene tape, some trying to peer into the open garage where investigators were working, others crying out and breaking down as the news spread.
Bishop Darrell Thomas was there to console them.
"We've just got to pray and give them comfort," he said. "We just have to take it in stride."
Thomas said he had been to other crime scenes, "but this one, it hits close to the heart," he said. "It hits close to the heart."
Anyone with information on the suspected shooter may contact the Metro homicide unit at 702-828-3521 or Crime Stoppers at 702-385-5555.
Contact Max Michor at mmichor@reviewjournal.com or 702-383-0381. Follow @MaxMichor on Twitter.