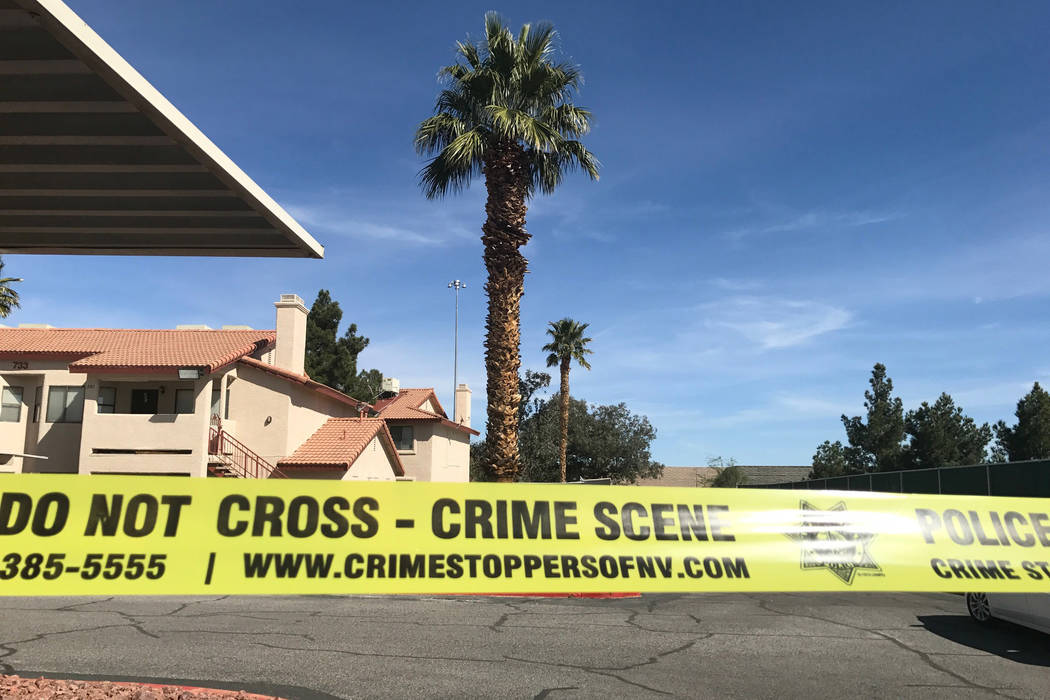 A lengthy investigation lies ahead for Las Vegas police after a teenage girl's burned body was found Saturday morning in a northwest valley apartment complex.
"It's pretty gruesome," Metropolitan Police Department Lt. Dan McGrath said Saturday afternoon."We don't have a lot of information, but we have a very petite young girl who is dead."
The girl's body was found about 11 a.m. in the rear of the complex in the 700 block of Rock Springs Drive, near Washington Avenue. Police estimate the girl was 14 to 18 years old.
"It's very unusual," McGrath said of the location where she was found. Her body was tucked between two walls in a hidden corner of the complex.
On a warm Saturday morning, residents Alan Miller and Pauline Chuckluck chose the open area to the rear of their complex to test out their drone.
"What's that?" Chuckluck asked her husband right as the drone was about to take off. "She noticed a bunch of black marks all the way up the walls of the complex," Miller said.
Within minutes, the couple called 911. "It all happened so fast," he said.
Metro Lt. Grant Rogers confirmed Saturday night the couple was getting ready to fly a drone when they discovered the girl's body.
Authorities didn't know the girl's exact cause of death Saturday afternoon, but they believe her body was dumped and set on fire sometime Friday night after she was killed.
An accelerant was poured on her to enable the fire. Burn marks could be seen on the walls near her body, McGrath said.
On the scene with Metro Lt. Dan McGrath, where a burned body was found. #RJnow https://t.co/mLErTATFch

— Rio L. (@riolacanlale) March 11, 2017
The girl was found partially clothed, but McGrath said it's possible some of her clothing may have burned off in the fire.
Investigators are scouring missing persons and runaway reports to identify the girl "because juveniles don't usually have criminal records or fingerprints in the system," McGrath said.
"We have detectives knocking on doors talking to everyone they can," he said.
Surveillance cameras also will be reviewed "to see the ins and outs" of the complex Friday night and Saturday morning, he said.
"We've got a lot of work to do on this case," McGrath said. "Hopefully, we'll find who did this and bring them to justice."
As detectives knocked on doors, resident Quinn Braun was pacing back and forth Saturday afternoon outside of his apartment, just several hundred feet from where the body was burned.
"I'm surprised," he said. "I never expected anything like this."
Braun, 21, said he is concerned for his girlfriend.
"She might be looking over her shoulder a lot more now," he said.
But his girlfriend is more worried about him. "She told me to stop taking the trash out at night," he said.
"Just small things you usually wouldn't have to think twice about, right?"
As for Miller and Chuckluck, they just hope someone identifies the girl, "so she can be laid to rest," Miller said.
This is the 34th homicide in Clark County and the 30th investigated by Metro in 2017.
Review-Journal reporter Max Michor contributed to this story. Contact Rio Lacanlale at rlacanlale@reviewjournal.com or at 702-383-0381. Follow @riolacanlale on Twitter.