Mother accused of throwing infant son from staircase, killing him
Updated September 4, 2020 - 6:16 pm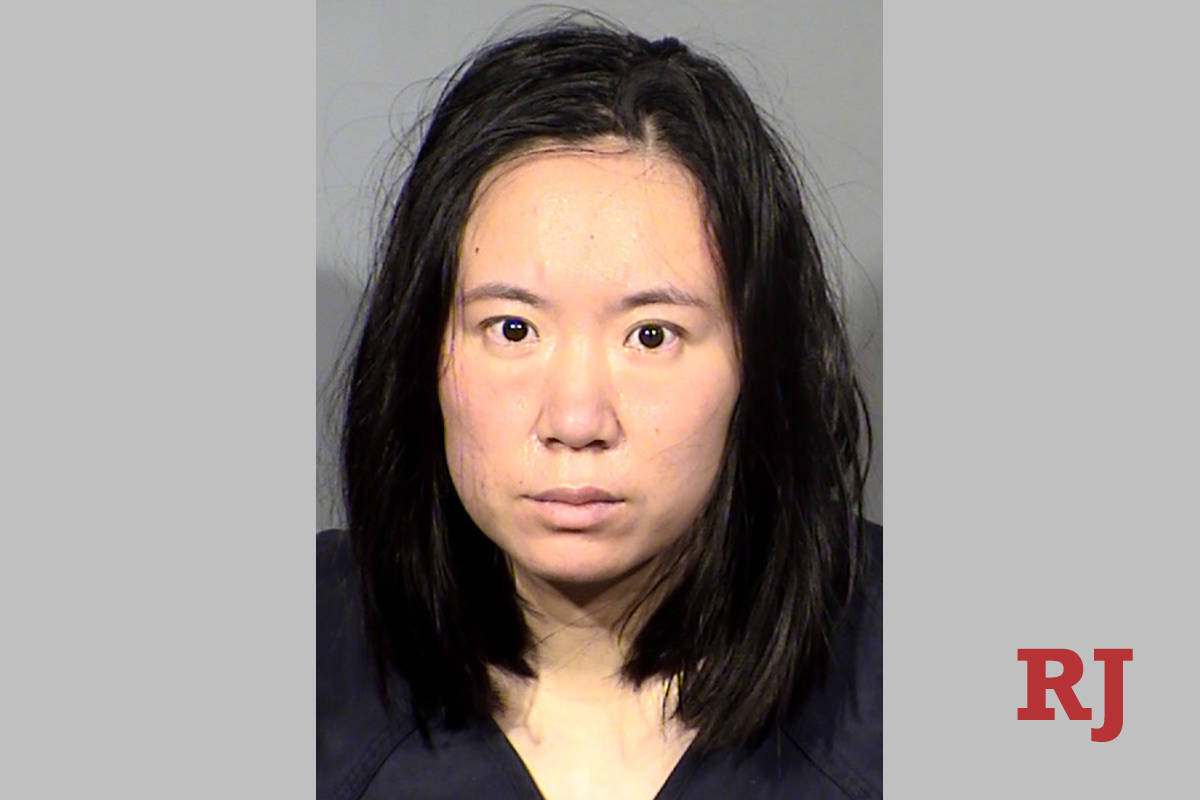 A 35-year-old mother is accused of throwing her 3-month-old son from a second-floor staircase Tuesday, killing him, according to an arrest report released Friday.
The baby, Stanley Shah, hit the tile floor below, the report states. He was pronounced dead that afternoon at University Medical Center.
Court and jail records identify his mother as Xiu Lin, though the arrest report identifies her as Liu Xin. She was booked into the Clark County Detention Center on Wednesday after a brief hospitalization.
Friends and family told police that Liu was suffering from depression after the birth of her son, the report stated. A doctor in late July prescribed her medication, and the family hired a nanny to help Liu care for Stanley.
At least one friend told police Liu had been "scared that she was going to hurt Stanley," according to the report. But others said that, when asked, Liu denied wanting to harm him.
It was a friend who called police about 1:40 p.m. Tuesday to report that Stanley was not breathing. When officers arrived at the home on the 3300 block of Turtle Vista Circle, near Fort Apache and Desert Inn roads, the nanny accused Liu of throwing the child from the staircase.
The nanny "did not see her do it," according to the report. But she told police that, after setting Stanley down for a short time to wash his clothes, she later found him on the ground "after hearing a noise."
She then found Liu in the kitchen "drinking a beer and hitting her face" the nanny told detectives. The nanny texted two of Liu's friends about the baby, prompting the call to police.
An investigator with the county coroner's office determined the baby suffered a contusion on his forehead, multiple skull fractures and bruises on his shoulder, ankles and one hand, the report said.
"Liu was crying and told (her friend) to tell officers that she has 'mental problems' and 'it wasn't me,'" the report said.
Postpartum psychosis
Specifics of Liu's medical history were redacted from the arrest report.
But postpartum depression researcher Brandon Eddy, a UNLV assistant professor, said that mothers who kill their children are sometimes found to be suffering from postpartum psychosis.
"Often times, the mothers can have delusions," Eddy said. "They can kind of come out of touch with reality and have hallucinations."
About 15 percent of people who give birth can experience postpartum depression, and the rate is even higher for teen parents or those dealing with poverty, according to the nonprofit Postpartum Support International.
Postpartum psychosis is much rarer and only happens in 0.1-0.2 percent of births. Among those who develop the illness, there is a 5-percent suicide rate and 4-percent infanticide rate.
People are instead more likely to have obsessive thoughts about someone or something else harming the baby, Eddy said.
High profile cases such as Liu's arrest can increase the stigma surrounding postpartum depression, and prevent people from seeking help, said Eddy, who began researching the condition after his wife experienced it. Medication and talk therapy is often successful at treating postpartum depression and anxiety.
"It doesn't mean you're broken; it doesn't mean you're a bad parent," Eddy said. "A lot of these things are outside of our control. We can't control hormones or how our body reacts."
No history with Child Protective Services
Liu's friend told police that Liu had once confided in her that she tried smothering Stanley, but when the baby began to cry, Liu "'woke up' and did not realize why she would do that," the report states. The friend said she and others would go to Liu's house regularly to help her with the baby and tried not to leave her alone with him.
Liu also told the friend she couldn't sleep and was having dreams of "ghosts, vampires, or her deceased relatives." The friend said she never witnessed Liu attempt to harm the baby and saw her "being loving towards him," the report said.
Another friend who arrived at the home after the baby was injured told police she saw Liu attempt to stab herself.
Immediately after her arrest, she was hospitalized and unable to speak with detectives. Liu remained in jail Friday with a $20,000 bail, court records show.
She is scheduled to appear in court Tuesday. A Division of Child and Family Services report regarding Stanley's death indicated that she had no history with Child Protective Services.
Liu did not appear to have any prior arrest history in Clark County, court records show.
Contact Katelyn Newberg at knewberg@reviewjournal.com or 702-383-0240. Follow @k_newberg on Twitter.