Roommate faces murder charge in death of Las Vegas woman
Updated June 14, 2019 - 6:07 pm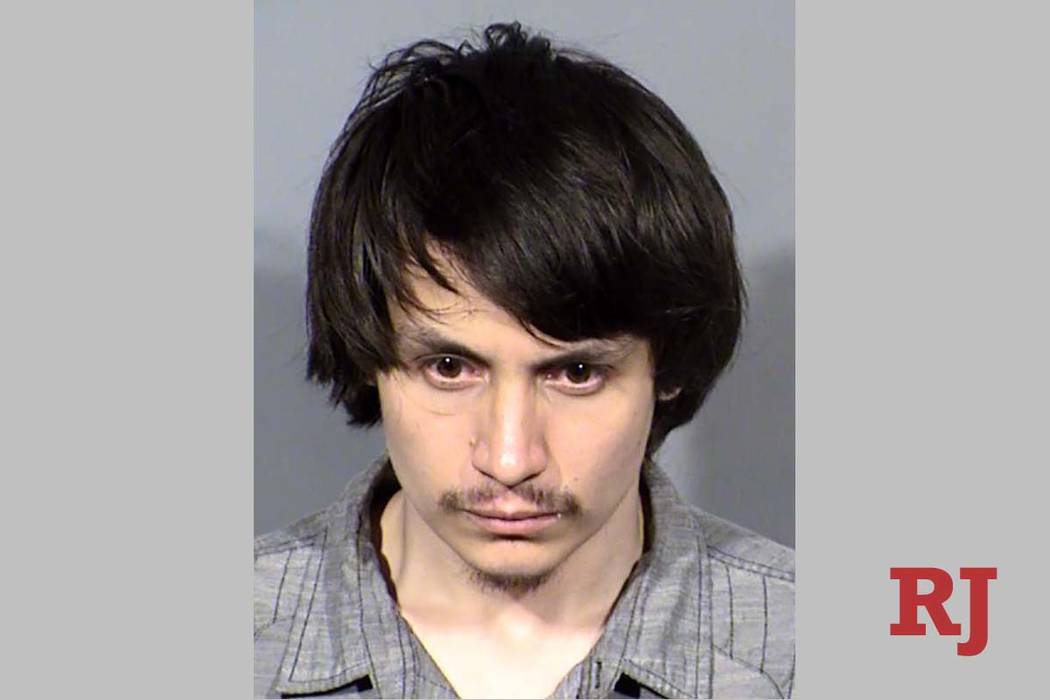 Daniel Lopez reported his roommate's death as a suicide, but detectives believe he pulled the trigger, stashed her body in a box and cleaned the scene before officers found the woman's body, arrest documents show.
About 2:30 p.m. Jan. 18, Lopez's male roommate called 911, saying that their female roommate, a 31-year-old named Ana Dolores Guayasamin had shot herself, according to Lopez's arrest report. The man told police that when he came home, Lopez said he found Guayasamin dead and placed her in a box.
On Thursday, nearly five months after the woman's death, Lopez was arrested about 3 miles east of the northwest Las Vegas home where Guayasamin died from a gunshot wound to the head, the Metropolitan Police Department said. Statements from Lopez's other roommate and ex-girlfriend, along with autopsy evidence contradicting Lopez's story, led to the man's arrest, the report said.
Lopez faces a charge of murder and one count of destroying or concealing evidence, court records show.
According to the report, Lopez "willfully destroyed evidence" and admitted to cleaning the crime scene, wrapping Guayasamin's body in a blanket, placing her in a Christmas tree box with her clothing, cleaning materials, bloody couch cushions and a partially eaten apple, as well as clearing the rifle used to kill her, discarding the spent cartridge and moving the gun back into his room.
The day police found Guayasamin dead, Lopez told officers that six hours before his roommate called 911, he was in his bedroom and heard a gunshot. He said he found Guayasamin in the living room, shot in the head with his rifle on her lap.
Lopez claimed he "freaked out," cleaned up and put Guayasamin in the box so his grandmother, who has dementia and also lived in the house, wouldn't see the scene. He said that instead of calling for medical assistance, he waited for "someone to show up that he trusted," the report said. He denied shooting Guayasamin.
He admitted that he planned to dispose of the box with Guayasamin's body and that he washed his hands after cleaning the scene, the report said.
Lopez told police that Guayasamin had moved into the home about two months before her death, and that she initially shared a bed with him. He said they didn't have a romantic relationship, but that she started sleeping on the couch after he "touched her thigh a few times," the report said. He also said he told Guayasamin to move out of the home the day before her death.
He also believed that Guayasamin was concealing her true identity from him and that she was really a murder suspect from Colorado. In a text message Friday, Metro homicide Lt. Ray Spencer said police found no evidence "whatsoever" to support that claim.
Lopez was temporarily detained on Jan. 18 due to "suspicious circumstances," but was not arrested, the report said.
In February, detectives determined that all of Lopez's call history, test messages, photographs and data on his cellphone had been manually deleted the day Guayasamin died.
On March 2, a man who lived at the home contacted police to give "additional information," the report said. He said that about 3 a.m. Jan. 18, he woke up to someone yelling for help. He found Guayasamin lying on the ground in a bedroom, with Lopez standing over her.
Guayasamin claimed Lopez had just strangled her, the man told police.
The man, who also believed Lopez was "in love" with Guayasamin, said that a few weeks after Guayasamin's death, he asked Lopez why he didn't call 911, and what "Lopez was thinking at the time of the death."
"Lopez replied that he planned to kill (redacted) when he came home that day," the report said.
Detectives also called Lopez's ex-girlfriend on March 2, the report said. She claimed that Lopez had strangled and pointed a gun at her in the past, the report said.
An autopsy report showed no soot in Guayasamin's gunshot wound. The presence of soot normally would indicate a "contact or close contact wound," the report said.
Injuries on her neck substantiated the roommate's claim that he saw Lopez strangling Guayasamin, the report said. Investigators found that before her death, she "expressed fear" of Lopez to her family and friends.
While Guayasamin had a history of mental illness and "several recent suicidal risk factors," the circumstances of her death and autopsy evidence "strongly suggest homicidal violence," the report said. Her manner of death is listed as undetermined.
Lopez was being held without bail Friday at the Clark County Detention Center. A status hearing in his case is scheduled for Monday morning in Las Vegas Justice court, records show.
Contact Katelyn Newberg at knewberg@reviewjournal.com or 702-383-0240. Follow @k_newberg on Twitter. Review-Journal staff writer Rio Lacanlale contributed to this report.