Las Vegas lawyer accused of stealing millions from clients arrested
January 4, 2017 - 2:32 pm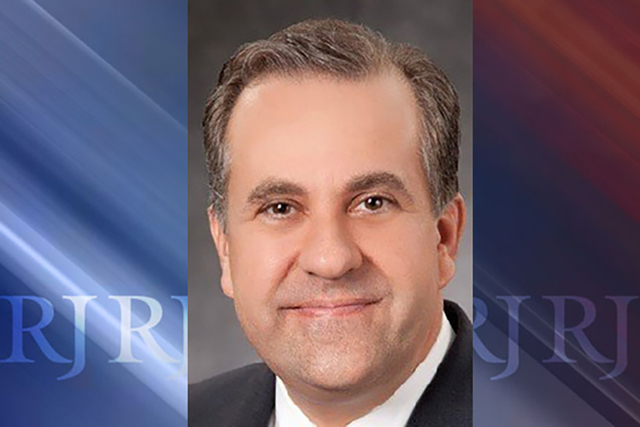 Embattled probate lawyer Robert Graham was arrested Wednesday after being indicted by a Clark County grand jury in connection with the theft of $2.1 million from clients.
He faces three felony counts each of theft and exploitation of an older/vulnerable person, and two gross misdemeanor counts of destroying evidence.
Chief Deputy District Attorney J.P. Raman said in court Wednesday that Graham may have stolen more than $15 million from his clients.
Records show that Graham was booked into the Clark County Detention Center on $5 million bail.
District Attorney Steve Wolfson said in a news release that the investigation is ongoing and he expects to file more charges.
"We felt it was necessary to quickly seek an indictment on this case to ensure that evidence was preserved and that Mr. Graham was unable to cause any further financial damage to families in our community," Wolfson said. "Attorneys are held to a high ethical standard, which evokes a certain level of trust from their clients, and the violation of that trust is unacceptable."
The State Bar of Nevada filed a complaint against Graham last month alleging that he stole millions of dollars from dozens of clients before abruptly closing his Lawyers West office in Summerlin on Dec. 2.
Las Vegas police and the FBI have been jointly investigating the disappearance of the funds.
The indictment alleges Graham stole $2.1 million from clients in three of his cases between July 9, 2013, and Dec. 2, 2016. Two of the cases involved elderly victims and one involved a "vulnerable" victim, according to the indictment.
"But this is just the tip of the iceberg," Raman said. "There will be many, many more victims and much more monetary theft."
While Graham shuttered his firm, he logged into a corporate "Dropbox" account and deleted nearly 3,000 files that related to clients, wire transfers and operations, according to the prosecutor.
"He's facing extremely serious criminal charges — not only what we have on him today, but what we'll be bringing in the future," Raman said. "He will obviously be facing significant punishment when he answers to the full scope of the crimes committed."
Deputy Public Defender Bryan Cox, representing Graham in the criminal case, said late Wednesday that he has had "ongoing dialogue" with prosecutors and provided them with documents.
Asked about deleted files, Cox said, "We strongly disagree with, and we deny that allegation." He added that Graham may have moved files to a hard drive "for preservation."
"It's our contention that no files have been deleted or erased," Cox said.
The defense attorney also said he planned to address Graham's custody status at a future court hearing, though no date has been set.
"We don't believe he's a flight risk," Cox said.
The indictment alleges that Graham stole $1.1 million from the estate of Michael Macknin, $595,596 from the estate of Lois Lee and $471,585 from the special needs trust of Thane Parton.
One of the Macknin family lawyers, Joseph Kistler, hailed the district attorney's pursuit of the indictment.
"Mr. Wolfson is an honorable, ethical attorney who undoubtedly shares the community's dismay caused by these events," Kistler said in an email. "My client joins with the other former clients of Lawyers West and Robert Graham, LTD in trusting that justice will be done for themselves and the State of Nevada."
Kistler has been waging a separate fight in Clark County District Court to obtain the $1.1 million Graham had held for the Macknin estate.
The estate is among several former clients who joined forces to file an involuntary bankruptcy petition against Graham's law practice last month to recover their missing money.
Graham, a prominent figure in the probate legal community before his temporary suspension in December, operated his law practice under three separate entities, including Lawyers West. He also once maintained offices in Utah and Colorado.
Just days after shutting down his office, Graham turned over possession of a $1 million home in Fort Collins, Colorado, to his wife.
Records show that Linda Graham filed for bankruptcy in Colorado on Dec. 31.
She estimated in the bankruptcy petition that her assets were worth $1 million to $10 million, but that her financial liabilities were between $10 million and $50 million.
Among her listed potential creditors are many of her husband's former clients.
Linda Graham, who also is a lawyer, said in the petition she is now suing him for divorce in Colorado.
She also said there is a $713,146 mortgage on the home and that she owes the IRS $111,727.
The Grahams bought the 4,247-square-foot home together in Colorado in July 2014 for $955,000, records in that state show. But on Dec. 5, amid allegations that his clients' money was missing, Graham filed a new deed turning over the home to his wife.
In an interview with the Las Vegas Review-Journal last month, Graham described his law practice as a 20-year business failure. He declined, however, to explain what had happened to the missing funds.
Robert Graham indictment by Las Vegas Review-Journal on Scribd
Contact Jeff German at jgerman@reviewjournal.com or 702-380-4564. Follow @JGermanRJ on Twitter. Contact David Ferrara at dferrara@reviewjournal.com or 702-380-1039. Follow @randompoker on Twitter
RELATED
Attorney Graham transfers $955K home to wife as clients look to recover funds
Las Vegas lawyer under investigation wants to protect wife from claims of missing client money
Las Vegas attorney disappears with millions in client funds, State Bar alleges