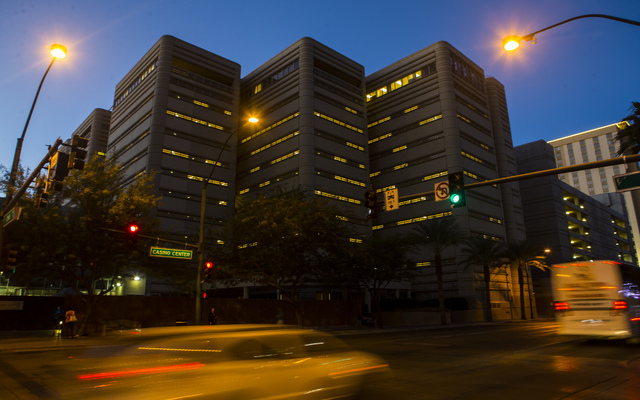 A Las Vegas man accused of biting and attempting to use a stun gun on police officers after escaping custody has been indicted by a Clark County grand jury.
Las Vegas police responded to 29-year-old Larry Roberts' apartment on March 15 after the man allegedly made 42 phone calls in about an hour to 911 using "vulgar language" when no emergency existed, according to an arrest report. Roberts made similar 911 calls 93 times in a past incident, according to the report.
When officers arrived at the apartment, they found Roberts in his underwear, and holding a cellphone and meth pipe, according to the report.
A scuffle broke out between the officers and Roberts, and the officers called for backup, Metro spokesman Jacinto Rivera said. Roberts told police after he was handcuffed that he called 911 because he needed medical attention, according to the report.
While waiting to be taken to the county jail, Roberts slipped out of his handcuffs and tried to flee the back of the patrol car when an officer opened the door to talk to him, according to a separate arrest report. Roberts punched and kicked the officers, the report said.
During the scuffle, Roberts took an officer's stun gun and attempted to use the device, according to the report.
Roberts bit both of the officers, breaking skin on one's arm after the officer attempted to place him in a neck restraint, according to the report. Roberts knew he had tested positive for HIV before the incident, according to the indictment issued Wednesday.
Roberts was arrested Thursday and is being held at the Clark County Detention Center. His bail is set at $64,000.
Roberts faces eight charges, including one count each of unlawful use of a system, escape with use of a dangerous weapon and unlawful possession of an electronic stun device. He faces two counts each of battery by a prisoner, attempt unlawful use of an electronic stun device, resisting public officer with use of a dangerous weapon, assault on an officer by a prisoner and intentional conduct to cause transmission of HIV.
Contact Blake Apgar at bapgar@reviewjournal.com or 702-387-5298. Follow @blakeapgar on Twitter.