Las Vegas police investigating kidnapping in which bound woman was dragged, forced into vehicle
January 30, 2017 - 9:21 pm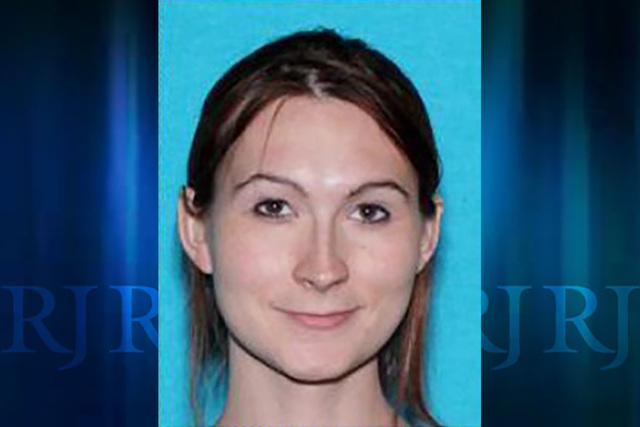 Las Vegas police are investigating a kidnapping Monday in which a 28-year-old woman was forcibly removed from a south valley apartment and "placed or thrown" into a vehicle.
Police were contacted shortly after 10:30 a.m. at a 4201 S. Decatur Blvd. apartment complex, Metropolitan Police Department spokesman Danny Cordero said. The woman was "only wearing her undergarments" and appeared to have been bound and dragged to the vehicle.
The victim was later identified as Jane Priebe, described as white, 5 feet, 8 inches tall and weighing about 140 pounds. She was forced into a white American-made minivan, probably made during model years 2012 to 2014, with a partial Texas plate "CT" on the front and back of the van.
About 9 p.m. Monday, police named a person of interest in the kidnapping case: Jack Morgan, 31. A recent photo released Monday shows Morgan is a white man known to have short, light brown hair.
Cordero said it was too early to say whether the kidnapping was random or the perpetrator knew the victim. He added that police have made contact with the victim's family, who live out of state.
Cordero urged anyone with information to call 911 and not approach the vehicle. While he was unable to confirm whether the kidnapper was armed, he did consider the person responsible dangerous.
The FBI, California Highway Patrol, Nevada Highway Patrol, Arizona Department of Public Safety and law enforcement agencies in New Mexico are assisting in the investigation.
Las Vegas police released a critical reach flier to post in hotel-casinos late Monday night, which featured a driver's license photo of Priebe and a recent photo of Morgan. The Nevada Department of Transportation posted messages on its electronic freeway toteboards to alert drivers to look for the van.
Police say the lone witness is the person who called to report the incident.
Contact Rachel Crosby at rcrosby@reviewjournal.com or 702-387-5290. Follow @rachelacrosby on Twitter. Contact Blake Apgar at bapgar@reviewjournal.com. Follow @blakeapgar on Twitter.