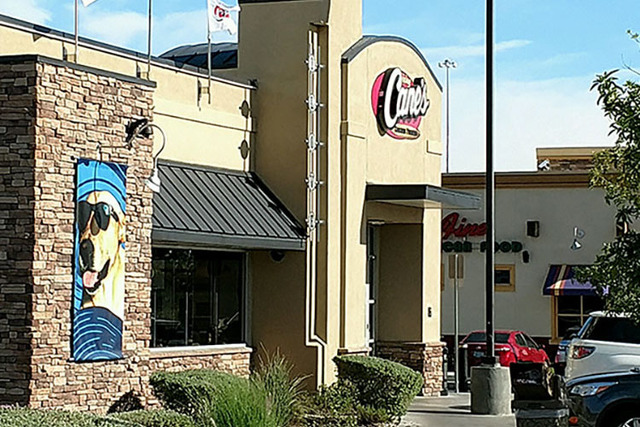 Las Vegas police are asking for the public's help in finding suspects involved in Friday night's high school student brawl that left one hospitalized.
Just before 11 p.m. Friday, patrol officers responded to multiple reports of a large fight at Raising Canes and In-N-Out, two restaurants on the 5600 block of Centennial Center Boulevard, the Las Vegas Metropolitan Police Department said.
The fights came after Arbor View beat archrival Centennial 28-7 in football at Centennial High School. The restaurants are about 4.5 miles east of the school on Centennial Center Boulevard, just north of Ann Road and West of U.S. Highway 95.
Arriving officers found one female juvenile injured, Metro said in a statement. The girl, whose name wasn't released, was taken to University Medical Center with what appeared to be serious, but nonlife-threatening, injuries, Metro said.
At least three other people, including at least two adult employees, transported themselves to local hospitals with varying degrees of injury, Metro said.
Videos of the fights surfaced on social media Friday night, including one in which an In-N-Out employee is seen being attacked by multiple students. Footage of a fight at Raising Cane's also surfaced. Both were removed Saturday.
On Monday, Arbor View Principal Kevin McPartlin and Centennial Principal Trent Day issued statements to parents about the fight. Both called the fight an isolated incident and said the schools were cooperating with police.
Police have not identified any suspects in connection with the fight.
Police said that anyone with information about or video of the fight should contact the Northwest Area Command patrol investigations section at 702-828-8577 or Crime Stoppers at 702-385-5555.
Contact Christian Bertolaccini at cbertolaccini@reviewjournal.com and 702-383-0381. Follow @bertolaccinic on Twitter.
Arbor View Parent Letter by Las Vegas Review-Journal on Scribd
Centenial Parent Letter by Las Vegas Review-Journal on Scribd
RELATED
1 student hospitalized in brawl at northwest Las Vegas restaurants