Man arrested after trying to steal security K9 at UNLV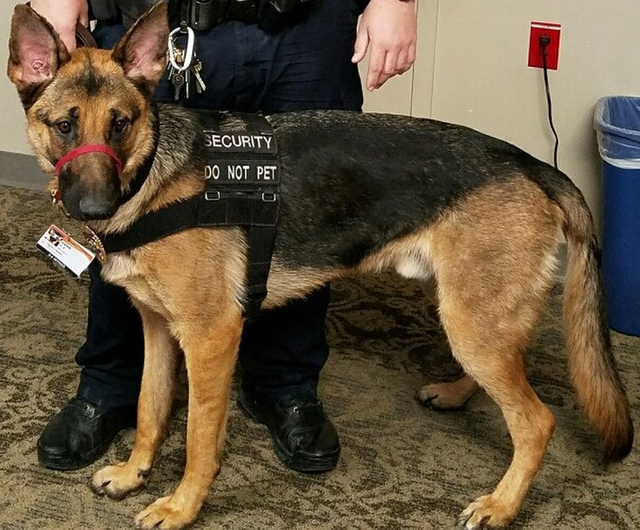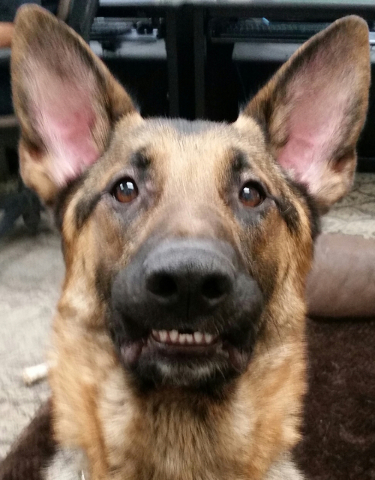 A man "dognapped" a private security K-9 during a training session at UNLV early Tuesday, leading university police on a brief pursuit before retrieving the dog and taking the man into custody.
Hank, a 15-month-old German shepherd, was inside a private security patrol car "with the A/C on" when a man walked up to the car, opened the door and "nonchalantly" walked away with the dog in front of the Thomas &Mack Center, security guard James Lassiter said. The dog was at the arena with a few handlers and four other K-9s who were in their last leg of training for Dignity Health, where Lassiter works, and Silver State K-9, which trains dogs for security and law enforcement.
"Because of his training and the leash that was on him, he's pretty much learned that if the leash is on, you go with that person," Lassiter said, adding that the man's calm demeanor may have convinced the dog he meant well.
Though Hank was sitting in the patrol car by himself, he wasn't alone. Three other dogs were resting in the air conditioning within separate vans parked next to Hank's car as the fifth dog finished his session inside.
"There's not enough room in one van for all of them," Lassiter said.
As the dogs waited, one security officer watched over the cluster of cars, pacing back in forth in front of them in the roundabout in front of the arena. That's when the man took Hank.
When that happened, the man watching the dogs called Lassiter and the woman he was working with inside "and said 'Hey, do you have someone working with you today?' "
"And we said, 'No,' " Lassiter said. "And he said, 'Well, someone's walking with Hank. Now they're running.' "
Lassiter and his co-worker looked at each other, then bolted outside and down the arena's front steps.
"Honestly, my heart dropped," Lassiter said.
The man watching the dogs caught up with the man who took Hank, who let go of the dog before taking off as UNLV police pulled up.
He was eventually taken into custody at the Rumor Boutique Hotel, 455 E. Harmon Ave., after a brief foot chase, UNLV police detective Paul Velez said. The man faces charges of vehicle burglary, failure to comply with officer orders and resisting arrest, Velez said.
"We actually spoke to the guy (who took Hank) about 10, 15 minutes prior," Lassiter said. "He was standing in front of the vehicle asking questions, telling us he was prior military, trained with dogs in prisons. He was kind of erratic in his story, but we politely entertained his questions and comments."
As of Tuesday night, UNLV police had not named the man arrested.
Hank was OK after the incident, though the guards were worried "because it was warm out, so we normally don't walk the K-9s on the asphalt because of their feet," Lassiter said.
Hank is due to graduate training and start work as a hospital security dog for Dignity Health next month.
Las Vegas Review-Journal reporter Lawren Linehan contributed to this story. Contact Rachel Crosby at rcrosby@reviewjournal.com or 702-387-5290. Find @rachelacrosby on Twitter.