Man avoids death penalty in Las Vegas broomstick, brick killing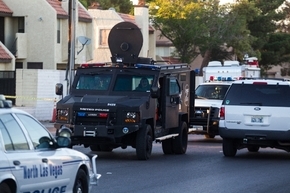 A man jailed for three years in Las Vegas avoided the death penalty this week by accepting a deal with prosecutors in connection with a 2013 beating death.
Eric Shawn Orduna, 49, pleaded guilty to first-degree murder with use of a deadly weapon Monday just after lawyers started selecting jurors in the capital case. Prosecutors, meanwhile, agreed to drop kidnapping, robbery and conspiracy charges against Orduna.
Abraham Mathews' body, with wrists and ankles handcuffed, was found near Pecos Road and Owens Avenue in April 2013. He died of blunt-force trauma to the head, according to the Clark County coroner's office.
Las Vegas police believe the three people beat Mathews to death with a broomstick and bricks from a fireplace. A witness told police that Mathews had bragged about having a lot of money.
Two other people charged in the killing — Amber Montoya, 27, and Jonathan Reyes, 26, — made deals in the case. Reyes pleaded guilty last month to second-degree murder and conspiracy to commit murder. A plea agreement made with Montoya, who had been expected to testify at Orduna's trial, was sealed.
Orduna's defense lawyer Dayvid Figler said Orduna "was not the person who killed" Mathews.
Orduna faces 20 years to life in prison or 20 years to 50 years behind bars at a sentencing next month. Prosecutors are not expected to argue for life in prison without the chance at parole.
Contact David Ferrara at dferrara@reviewjournal.com or 702-380-1039. Find him on Twitter: @randompoker