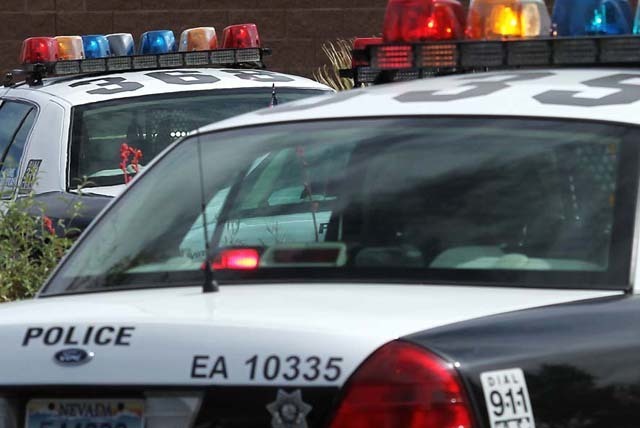 In May 2014, an 18-year-old man was arrested in connection with a string of burglaries in the northwest valley.
It wasn't until after he was jailed at the Clark County Detention Center and attacked by fellow inmates, who called him a "snitch" and broke his jaw, that Moshe Banner's charges were dismissed for lack of probable cause, according to his attorney.
Now Banner is suing the Metropolitan Police Department, an officer and his supervisor in federal court, alleging negligence, unlawful arrest and imprisonment, and violations of his right to due process.
Metro officer Laura Meltzer said the department can't comment on pending litigation.
In a civil complaint filed July 20, Banner and his attorney, C.J. Potter, accused Metro Sgt. Craig Dunn of arresting Banner without a warrant or probable cause. They also accuse Lt. William Graham of improperly supervising Dunn's conduct.
According to the complaint, a man who was arrested after Dunn saw him running out of a convenience store in Summerlin the night of one of the robberies told the officer that Banner had robbed a Tropical Smoothie Cafe in the area.
The following day, Dunn gave a photo lineup, including a picture of Banner, to an employee who had been outside the store at the time of the robbery. The employee said the robber might have been pictured in one of two photos, including Banner's, but that the person he saw walking toward the store had lighter skin.
"Incredibly," Dunn chose not to show the photo lineup to the clerk who was working inside the business when it was robbed, the complaint read.
Banner was arrested about 6 p.m. May 19, the same day the photo lineup was conducted, and taken to Clark County Detention Center, where he would be held until his charges were dismissed on Aug. 7, 2014.
The now-20-year-old man is also suing unnamed jail guards; NaphCare, the company providing health care for the detention center; and individuals on the jail's medical staff for "deliberate indifference" to his safety at the jail and to the fractures in his jaw.
The lawsuit accuses an unnamed licensed practical nurse for ignoring Banner's injuries, which included "multiple displaced fractures of his jaw." Nurse practitioner Ray Montenegro and registered nurse Katrina Simeon are accused of falsely claiming that Banner had told them he had slipped and hit his face.
"Following the attack, Mr. Banner sought medical care from Defendants Doe LPN, Montenegro and Simeon, who were each deliberately indifferent to Mr. Banner's medical needs by claiming that they were not dentists and they could not help him," the lawsuit alleges.
Banner's mother bailed him out of jail June 23 and rushed him to the hospital, where he had to get surgery to repair the fractures, the complaint said.
"He suffered excruciating pain," Potter said, "but I think the invisible injuries of being refused his constitutional rights and being wrongfully arrested for something he didn't do were worse."
NaphCare believes the allegations against it are unfounded and will seek a dismissal of the claims against the company and its staff members, spokesman Brad Cain said.
According to Clark County and Las Vegas court records, Banner pleaded guilty to felony home invasion in March 2015 and pleaded no contest to a felony drug possession charge in June 2015. Also, he pleaded no contest to a misdemeanor DUI charge in April 2016.
Contact Kimber Laux at klaux@reviewjournal.com or 702-383-0283. Find @lauxkimber on Twitter.