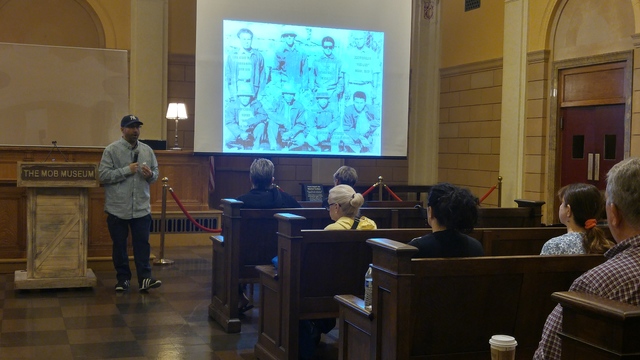 There are many possible reasons that the number of gangs and gang members in Las Vegas has slightly decreased since 2014, Metropolitan Police Department Detective Alex Cruz said at a community-safety forum.
In 2014, Metro's gang-crime bureau tracked 648 gangs and 16,543 gang members. In 2015, it tracked 629 gangs and 15,326 gang members. Cruz credits the decrease to gang members moving out of Las Vegas, going to prison or dying.
At the November forum at the Mob Museum, Cruz said that under federal regulations, gang members are removed from Metro's system if they avoid tracked gang activity for five years. That means gang members who are in prison for more than five years also are removed from the system.
"It's not a perfect system, but it is what it is and that's something that we have to deal with," Cruz said.
Cruz noted that the statistics only reflected the number of gangs and members Metro is aware of. The department suspects there are two untracked gang members for every known member.
Toward the end of the forum, concerned attendees repeatedly asked Cruz what they could do to help. His response was the same each time: Raise your children properly.
Signs to watch for
It's impossible for parents to keep their children in a bubble, Detective Tony Morales said. Metro's Office of Community Engagement educates parents on gang-involvement signs their children might show.
Morales recommends paying attention to changes in behavior; looking through children's notebooks and school books, where many write their gang names; and monitoring social media accounts.
"When youth get involved in this lifestyle, they start to talk different, they use more slang, the way they dress and carry themselves changes, different nicknames or you have people coming to your house and you have no idea who they are," he said. "Parents need to be active participants in their child's lives and get involved."
Staying relevant
For 24 years, the Clark County Gang Intervention Team has runs workshops and programs for at-risk youth and juvenile criminals out of Pearson, Cambridge and Walnut community centers.
Mentorship is at the core of the intervention team's two programs, Back on Track and Stay on Track, said coordinator Alex Bernal.
Bernal said he can empathize with the young people and families he works with because he grew up in an at-risk neighborhood. He said he believes that without the guidance of his supervisor, Melvin Ennis, he might be in jail.
"He was the first person that made me feel smart, that made me feel like I could be something, and that's what we want to do through our program," Bernal said. "We want them to feel special, let them know that we know what they've done, but we need focus on today instead."
The team learns about the children and families involved and develops a strategy that targets the child, the parents and younger siblings. It provides food and clothing assistance for needy families and places the younger children, who might not be involved in crime, in programs designed to keep them from getting into trouble.
It's also important for the intervention team to update its programming to keep up with gang trends, which some participants tell the team about, Ennis said. When graffiti activity spiked seven years ago, the team established the Art from the Heart program, in which participants showcased their artwork and made money selling it.
Bernal recalled one participant who had broken into a home to steal audio equipment to record a track because he couldn't afford studio time. The team found funding to buy recording equipment and has booths set up at two community centers that children can access if they earn the privilege.
"What kids really want is money, and to feel good about themselves in a positive way," Bernal said. "I don't think everyone wants to do a home invasion or hurt anyone intentionally. I think most of them want to do good and earn their money."
Call the Office of Community Engagement at 702-828-8309. Call Gang Intervention Team at 702-455-7007.
2015: BY THE NUMBERS
629: Number of gangs in Clark County
15,326: Number of gang members
64: Gang-related shootings
5: Gang-related stabbings and assaults
8: Gang-related homicides
216: Firearms recovered by Metro's gang crime bureau
Source: Metropolitan Police Department