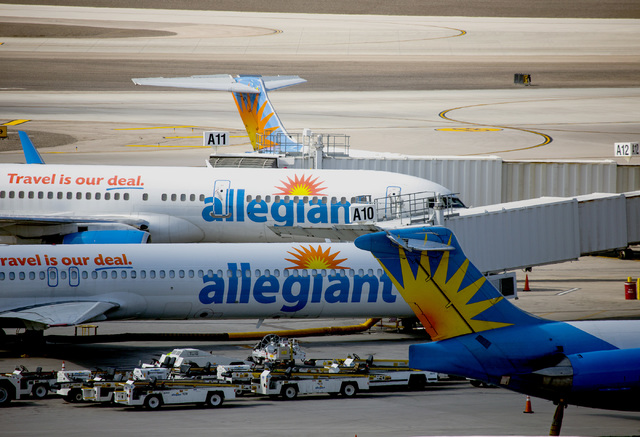 An Oklahoma man is accused of pointing a knife at a boy's stomach during a Friday flight that was diverted to Las Vegas.
According to federal court records, Fredrick James Johnson was flying from Los Angeles to Tulsa, Oklahoma, on Allegiant Airlines Flight 334 when the incident occurred. The victim was identified only as "T.J." — a male passenger under the age of 16.
The incident caused the captain to divert the flight to Las Vegas, where Johnson was arrested. A federal complaint charges Johnson, 39, with one count of simple assault.
Records indicated that the juvenile and his adult sister were seated near Johnson on the flight. The sister described Johnson as "acting confused and strange during the boarding process."
"After take-off Johnson removed a computer tablet device, removed the backing, and began to re-wire the item," according to an affidavit signed by an FBI agent. "Johnson then brandished a knife and attempted to make T.J. hold on to it."
When the boy refused, according to the affidavit, Johnson pointed his knife at the boy's stomach. The siblings then signaled a flight attendant for help.
"After a few attempts, the flight attendant obtained the knife from Johnson and moved him to another seat," the affidavit states.
According to an order of detention filed Tuesday, Johnson has a prior criminal history, as well as a history of violence or use of weapons.
A spokeswoman for Allegiant Airlines declined to comment.
Contact Jessica Terrones at jterrones@reviewjournal.com or 702-383-0381. Follow @JessATerrones on Twitter.