Police hunt necklace stolen from Las Vegas Mayor Goodman's home
August 14, 2019 - 11:05 am
Las Vegas police are hoping someone might recognize a piece of jewelry stolen from the mayor's house during a break-in last month.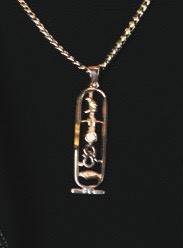 The necklace sits on a gold chain with Egyptian symbols that spell out "Oscar" and was stolen during a burglary at the home Las Vegas Mayor Carolyn Goodman shares with her husband, Oscar, on July 31, according to the Metropolitan Police Department.
Police were called to the house in the Scotch Eighty Neighborhood of Spring Valley around 3:15 p.m. after Metro police Capt. Steve Connell said a burglar used a "creative way" to get into the house, despite the Goodmans' good security practices.
"Even when you have good security things can still happen," Connell said.
The burglar took off with a few other things, but the necklace pictured is irreplaceable, Goodman told officers.
No arrests had been made as of Wednesday afternoon, and Connell encouraged anyone with information to call Crime Stoppers at 702-385-5555.
There is also a community meeting for residents of the Scotch Eighty neighborhood at LVMPD Headquarters at 400 S. MLK Blvd. on Monday at 6 p.m.
Contact Sabrina Schnur at sschnur@reviewjournal.com or 702-383-0278. Follow @sabrina_schnur on Twitter.