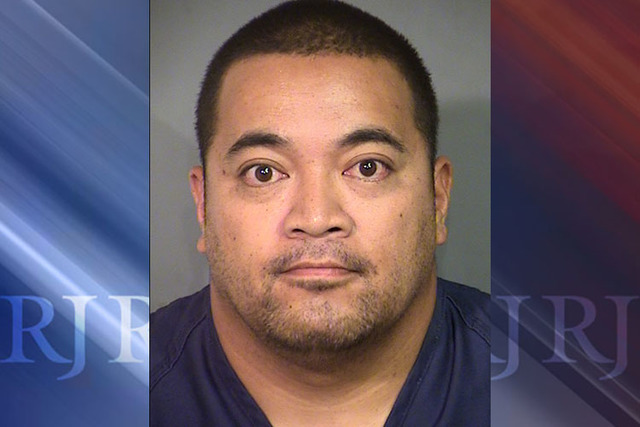 A campus monitor at a Las Vegas high school admitted in a police interview that he had sex with one of the school's students, according to an arrest report obtained Monday by the Las Vegas Review-Journal.
Authorities said Ati Phillip Poni Jr., 35, was arrested Nov. 7 on the campus of Del Sol Academy, 3100 E. Patrick Lane, where he also served as a coach. He faces charges of kidnapping and sexual acts with a student.
The girl's father reported Poni to police after the girl admitted the "relationship" during an argument, which occurred because the girl had been "acting especially negative and depressed for the past several weeks," according to the arrest report, which describes Poni as a family friend.
Poni pulled the girl out of class on multiple occasions, according to the report. On at least one occasion, he kissed the girl in a maintenance closet on the school's campus, he told police.
He pulled the girl out of class so many times — about 30 to 40, the girl estimated — that multiple teachers at the school were aware of the issue, according to the arrest report. It is unclear whether any of those teachers reported Poni to the administration, however, because Melinda Malone, a school district spokeswoman, said the district cannot comment on personnel issues.
A dean at the high school also caught Poni hugging the girl in a school hallway once and "reprimanded him for it," according to the report, though Malone again said she could not explain what "reprimanded" meant because the matter is a personnel issue.
Throughout the "relationship," Poni messaged the girl on a free chat application and once told her "he was having dreams about her," the girl told police.
Twice when Poni pulled the girl out of class, he drove her to a nearby commercial complex, where they chatted in his car. "In one incident, (he) tried to kiss her" but the girl told him she was "not in the mood," the report reads.
In October, Poni again pulled the girl out of class, then drove her to his home, the girl told police. While at the house during school hours, the two had sex, Poni told police. He said his wife was on vacation at the time.
"They returned to school and did not say much in the car," according to the arrest report. "She was angry at herself because she never resisted."
Poni is being held without bail at the Clark County Detention Center. He had been working for the school district since 2015 but was suspended without pay after his arrest, pending the ongoing investigation.
He is due in court for a preliminary hearing Dec. 14.
Contact Rachel Crosby at rcrosby@reviewjournal.com or 702-387-5290. Follow @rachelacrosby on Twitter.