Father of first 2017 newborn in Las Vegas accused of sexual misconduct with student
January 5, 2017 - 7:48 pm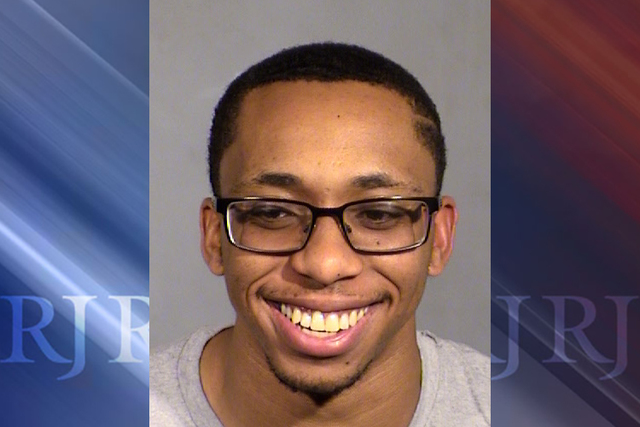 On Sunday, Ryan Davis celebrated the new year by welcoming his second daughter into the world. Rylin Zyairah Davis — born at 12:27 a.m. on Jan. 1 — was heralded as the first baby of 2017 in a Las Vegas Valley hospital.
On Wednesday, Davis, a substitute teacher and a football coach at Legacy High School, was arrested on charges of sexual misconduct with a student after Clark County School District police discovered he had inappropriate contact with an 18-year-old female, according to Capt. Kenneth Young.
Davis, 29, was pictured smiling for his mugshot, a stark contrast to the father featured in photos and a video that accompanied a Review-Journal story about his daughter being the first child of the new year.
Rylin Davis was born at Sunrise Children's Hospital about three weeks before her scheduled due date of Jan. 20. Her mother, Joslind Nathan, said she named her daughter Rylin, because it closely mirrored her father's first name.
Nathan, 23, had expressed her excitement regarding her daughter's birth, saying, "I just want to be a good mom."
The baby and her mother were scheduled to leave the Maryland Parkway hospital on Monday.
Young said police became aware in the last five days of two incidents that occurred between Davis and the 18-year-old student in late 2016. The incidents did not occur on school property, Young said.
Young said Davis was not teaching and was not at the school when he was taken into custody, adding that the arrest was made at district police headquarters after Davis was asked to come in for questioning.
Davis' bail was set at $50,000 for each of two counts, according to jail records. Records showed Davis was freed on bail from the Clark County jail. It wasn't immediately clear if he had a lawyer.
Last year, district police arrested Frank Bayer, an English teacher at Legacy High on Deer Springs Way, after he told investigators that he had sex with a student on multiple occasions in his van, according to a police report.
Contact Natalie Bruzda at nbruzda@reviewjournal.com or 702-477-3897. Follow @NatalieBruzda on Twitter.