Las Vegas illusionist's release from jail sought in child porn case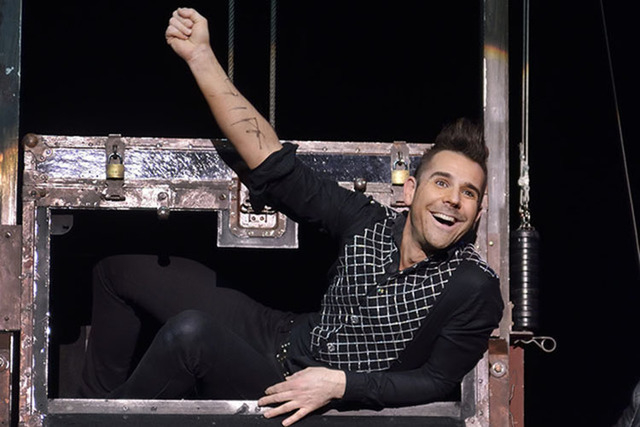 Jan Rouven's defense lawyer has filed court papers seeking to overturn an order keeping the former Tropicana illusionist in federal custody while he fights a felony child pornography charge.
The lawyer, Jess Marchese, late Monday challenged a detention order filed by U.S. Magistrate Judge Peggy Leen, who found Rouven a danger to the community. Marchese wants Rouven released under court supervision that would include electronic monitoring and the surrender of his passport.
Rouven, the former star of the "The New Illusions" show at the Tropicana, was charged in a criminal complaint last week under his full name, Jan Rouven Fuechtener, with one count of receipt or distribution of child pornography.
The Tropicana canceled Rouven's show and severed ties with him after the Las Vegas Review-Journal reported that he had been arrested by FBI agents.
The case has attracted international media attention, primarily from Rouven's native Germany.
In his court papers, Marchese said Leen improperly relied on statements about Rouven that FBI agents obtained from his manager and husband, Frank Alfter.
Marchese argued that Rouven hasn't had a chance to challenge the statements because Alfter is asserting spousal privilege in refusing to testify against Rouven.
"As a result, the government 'gets their cake and eats it too,'" Marchese wrote.
Marchese also questioned the relevancy of Skype chat messages federal prosecutors presented to Leen. They show an unidentified man asking Rouven if he wanted to watch him have sex with his young daughter.
Prosecutors "greatly exaggerated" an incident in which a young boy was found backstage during one of Rouven's shows and incorrectly portrayed Rouven as frequently being around children, Marchese wrote.
"The boy was simply a fan and didn't tell his mother where he was," Marchese said. "No action was taken against Jan and the mother actually apologized for her overreaction."
According to the criminal complaint, the investigation of Rouven began in August when an undercover FBI agent from Buffalo, N.Y., infiltrated a computer file-sharing network dealing in child pornography.
Some of the files linked to Rouven held videos of young boys engaging in sex with men, the complaint alleges.
FBI agents seized two computers and an external hard drive at Rouven's home on Jan. 21. An analysis of the hard drive found 3,235 videos and 105 images depicting child pornography, the complaint alleges.
The FBI interviewed both Rouven and Alfter about the porn allegations. They share the home.
Rouven said he used the file-sharing program to view German television shows and magic shows, according to the complaint.
But Alfter told agents he did not download child pornography and was upset because Rouven was "on the Internet looking at porn all of the time, 24/7."
Rouven has an April 1 preliminary hearing to determine whether he should be bound over for trial, but prosecutors are likely to obtain an indictment beforehand, which would automatically put the case on track for trial.
He faces a five to 20 years in federal prison if convicted.
Natalie Collins, a spokeswoman for the Nevada U.S. Attorney's office, said Rouven's arrest was part of Project Safe Childhood, a national Justice Department initiative aimed at combating child sexual exploitation and abuse.
Over the last five fiscal years, 281 people have been charged with violating federal child exploitation laws in Nevada and most were convicted and sent to prison, Collins said.
Contact Jeff German at jgerman@reviewjournal.com or 702-380-8135. Find him on Twitter: @JGermanRJ