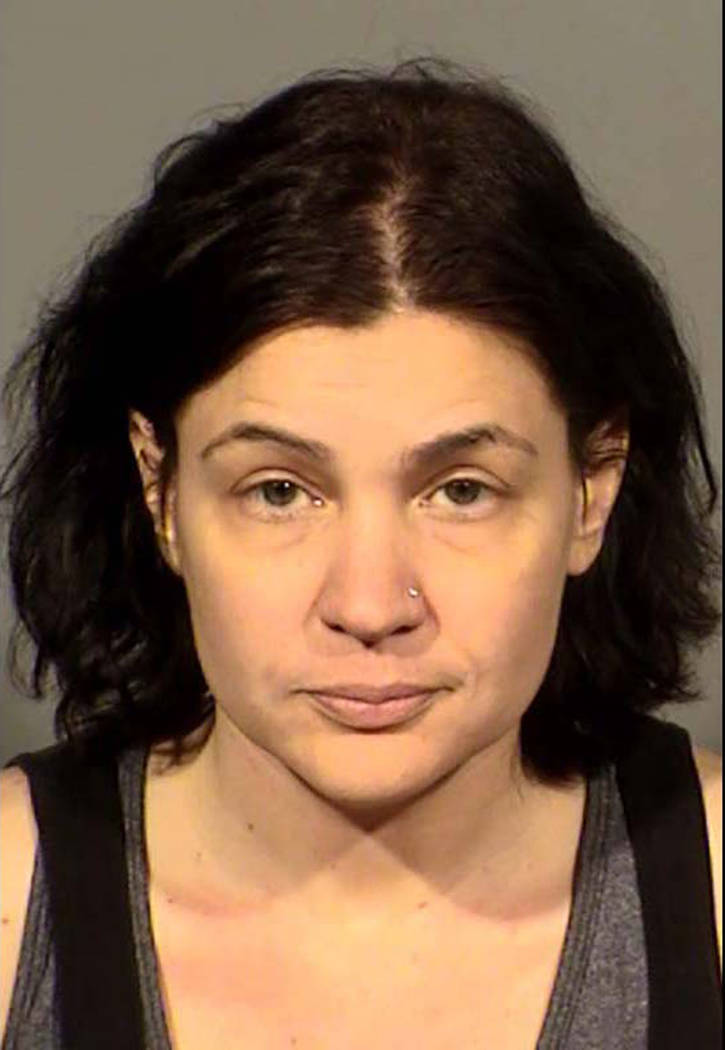 A Las Vegas high school teacher engaged in improper sexual conduct with a teenage student for almost three years, sending him nude photos and explicit messages and attempting to arrange trysts at a hotel and her home, according to an arrest report.
Renee Rine, 36, a math teacher at West Career and Technical Academy, was arrested by Clark County School District police in late January after police became aware of the messages.
She faces one count each of being a school employee in a position of authority engaging in sexual conduct with a pupil 16 or older, first-degree attempted kidnapping to engage in sex, lewdness with a child who is 14 or 15 years old, contact with a minor or mentally ill person and child abuse or neglect.
The charges stem from Rine's relationship with a male student, now a senior, who met her during his sophomore year in 2015, according to the arrest report. The student detailed the relationship in a voluntary interview with police, according to the arrest report, calling it "a sexual relationship without sex."
Rine is the ninth Clark County School District employee arrested in the 2017-18 school year, and the fifth charged with sexual misconduct. In the 2016-17 year, 13 district employees were arrested on sexual misconduct charges. The issue was examined by the Review-Journal in a series called "Broken Trust," and the arrests led to several reforms in the school district.
Repeated advances alleged
In the teenager's sophomore year, Rine would touch the student's arms and chest and class, commenting on his biceps, and that made the student uncomfortable, according to the report.
The behavior escalated in the student's junior year, and Rine began emailing the student's school email address, according to the report. He eventually gave her his phone number, and they began texting, according to the report.
At one point in his junior year, the student said he was called into the dean's office at the school and questioned about the relationship.
He told the dean nothing was going on "because it was only conversation at that point, she had not sent any photographs to me," the student said in the arrest report.
But at some point after that meeting, Rine began sending the student photos on a social media network called Snapchat, according to the report. Photos sent on Snapchat disappear after a certain amount of time, unless the user takes action to save them. The student saved the photos to a folder he marked "for my eyes only."
During the student's senior year, Rine began asking him to meet her at certain places including a hotel room and Rine's house, the student said. The student never went to meet her but said he thought she wanted to have sex with him if they met.
The student said the messages and the nude pictures changed his school environment.
"I do not feel comfortable when I see her, the messages she sends me makes me feel like she is not very contained, I feel like she might try and do something that I do not want to happen," the student told police.
The student allowed police to search his phone, where, according to the report, they recovered several nude photos of Rine and explicit text messages she sent to the student.
A preliminary hearing for Rine is scheduled for Feb. 13.
Academic concerns
At a recent school organizational team meeting, parent Lilach Levaton said she had voiced concerns over Rine's teaching ability, saying her daughter's class fell behind on math in her classroom.
"I personally came and complained," she said, adding that she had hoped Rine would not return to teaching after the winter break.
Principal Amy Dockter-Rozar said things were happening "behind the scenes" in regards to Rine's teaching style in response to parent complaints but said she couldn't discuss them because it was a personnel matter.
Dockter-Rozar said that while a long-term substitute is teaching Rine's classes, other math teachers are pitching in to help the students and make sure they don't get too far behind.
"We're going to err on your side in every situation we can," she said, referring to West Tech students and their families.
Contact Meghin Delaney at 702-383-0281 or mdelaney@reviewjournal.com. Follow @MeghinDelaney on Twitter.
Other employee arrests
Other arrests of Clark County School District employees during the 2017-18 school year:
— Kathryn Navrides, a special education teacher at Ruthe Deskin Elementary School arrested on child abuse charges.
— Jeffrey Schultz, a teacher at Brown Middle School, arrested on four counts of unlawful contact with a minor. Schultz was also arrested on sexual misconduct charges in the 2016-17 year and the new charge date from that time period.
— Betty Seward, a custodian at Coronado High School, arrested on theft charges.
— Scott Weissinger, a truancy officer for the district, arrested on battery charges.
— Theodore Levrich, a teacher's assistant at Doris French Elementary School, arrested on child abuse charges.
— Juan Chavez, a volunteer soccer coach at Clark High School, arrested on lewdness charges.
— Luis Busso, a third-grade teacher at Ira Earl Elementary School, arrested on lewdness charges.
— Kweku Turkson, a middle school English teacher at West Prep Academy, arrested on lewdness charges.