Man convicted of impersonating cop, raping escorts on Strip gets two life sentences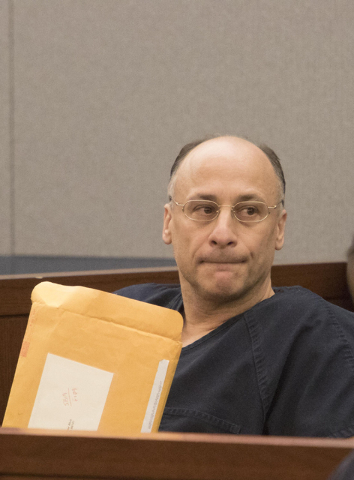 A judge on Thursday handed down two life sentences for a 50-year-old man convicted of impersonating a vice officer and raping two prostitutes on the Las Vegas Strip.
Mark Picozzi, who has a lengthy, violent criminal past, was found guilty earlier this year of four counts of sexual assault, three counts of open or gross lewdness, two counts each of impersonation of an officer and oppression under color of office, and one count each of robbery and battery with intent to commit sexual assault.
For two of the sexual assault convictions, District Judge Eric Johnson ordered Picozzi to serve back-to-back terms of life behind bars without the possibility of parole. Picozzi also must serve 10 years to life in prison for the robbery conviction.
The judge's decision means that Picozzi could still have life sentences even if one was overturned, according to Chief Deputy District Attorney Dena Rinetti.
The prosecutor said she was "extremely pleased" by the sentence, which was "deserved because of his history of violence in not only our community but elsewhere."
Picozzi, a convicted felon in two other states, was arrested in January 2014 after being accused of posing as a vice officer and attacking a woman.
"We're glad that the state of Nevada has ensured that Mark Picozzi will not have any other victims," Rinetti said.
Defense attorney Michael Schwarz declined to comment on the sentence but said he planned to appeal Picozzi's conviction.
Prosecutors said Picozzi somehow sneaked into a room not registered in his name on the 32nd floor of The Cosmopolitan and called the Las Vegas Dream Girls escort agency, summoning a woman to the room.
After the woman arrived, Picozzi negotiated a price of about $8,000 for her daylong company, according to her testimony and phone calls played in court during Picozzi's trial in April.
Picozzi stopped the woman before she received any cash and told her he was with the police, Rinetti said. Picozzi promised the woman he would not have her arrested if she "did what he wanted," the prosecutor said.
The Las Vegas Review-Journal typically does not name victims of sexual assault.
As she left the hotel room, the crying woman called the escort agency and said, "He just raped me."
The woman was stopped by a Nevada Highway Patrol officer as she left the hotel. She was arrested on a series of warrants and told the officer that she had been sexually assaulted.
Not long after that incident was reported, another woman, who lived at the MGM Signature, contacted police after seeing news coverage of the allegation against Picozzi.
The woman told police Picozzi arranged a date with her on Jan. 18, 2014, at the apartment and then claimed he was a police officer before forcing her to perform oral sex and taking $2,000 from her safe, according to prosecutors.
Picozzi has been convicted of several felonies in New Jersey and Florida, including robbery, kidnapping and impersonating an officer, fleeing from police and grand theft auto, according to court records.
Contact David Ferrara at dferrara@reviewjournal.com or 702-380-1039. Follow @randompoker on Twitter.
RELATED
Trial starts for felon accused of impersonating cop, raping women on Las Vegas Strip
Jury finds man guilty of impersonating cop, raping escorts
Man accused of impersonating police officer faces new sexual assault charges