Nevada receives $1.17m to help erase backlog of untested rape kits
December 15, 2016 - 9:07 pm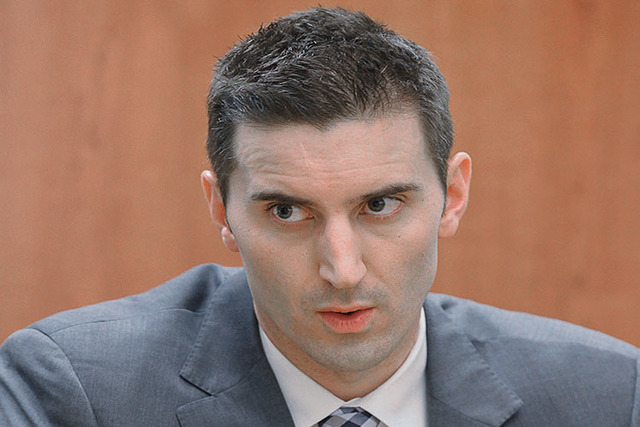 CARSON CITY — A panel of lawmakers Thursday accepted a $1.17 million federal grant to continue to chip away at the backlog of thousands of untested rape kits in Nevada.
The Legislature's Interim Finance Committee authorized the use of the National Sexual Assault Kit Initiative funding for the attorney general's office and local police agencies to continue the effort, even as some lawmakers expressed frustration at the pace of the effort.
So far, the state has received nearly $5 million in grants and settlement funds earmarked for the endeavor statewide. That funding is in addition to a separate $2 million grant received by Southern Nevada law enforcement for rape kit testing.
Even so, clearing the 6,300 untested kits from Southern Nevada, some dating back decades, could take another few years, Wes Duncan, first assistant attorney general, said Thursday. Another 1,500 or so untested kits are awaiting testing in Northern Nevada.
Duncan said as of mid-November, 1,514 kits from the Las Vegas area had been sent to a lab in Virginia. Of those, 43 DNA matches were found in the nationwide criminal identification system, leading to eight arrests.
Each kit normally costs about $1,500 to process, but Southern Nevada law enforcement negotiated a fee of roughly half that amount with the Virginia lab.
"One thing that's important to note, the labs only accept kits in small batches," Duncan said, adding, "Because there are so many jurisdictions testing those kits, there is a slower turnaround time."
Nationwide, tens of thousands of rape kits are awaiting testing, and there are only a handful of labs able to handle the volume, he said.
Assemblywoman Maggie Carlton, D-Las Vegas, questioned whether the progress is enough, noting millions of dollars are yet to be spent and thousands of kits from Southern Nevada are awaiting testing.
"Everyone knew when we wanted to tackle untested kits in the state is was going to be a huge task," Duncan responded. "We continue to send out kits, the labs will continue to test them, we'll continue to march forward."
Nevada hasn't spent some previously awarded federal grant money because the funding came with no time restriction, Duncan said, adding that other sources must be spent before they expire.
"As far as we're concerned, we're right on schedule," he said. "We don't want any funding to go to waste."
Duncan said the oldest kits are being tested first. While Nevada has two state labs that test evidence in active investigations, they do not have the capacity to handle the large backlog.
Carlton suggested Nevada should consider trying to attract a large lab as part of its economic development efforts.
Sen. Pete Goicoechea, R-Eureka, agreed.
"Maybe we better be looking for an agency that can do that in the state," he said.
Contact Sandra Chereb at schereb@reviewjournal.com or 775-461-3821. Follow @SandraChereb on Twitter.