Prosecutors add 20 new charges against former Desert Pines teacher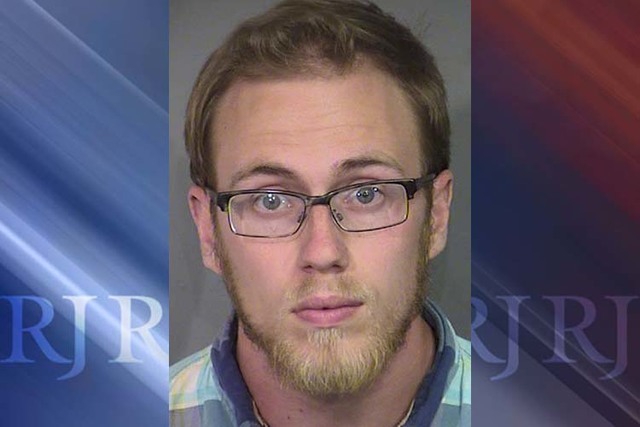 A judge set bail at $100,000 Wednesday for a former Desert Pines High School science teacher accused of sexually assaulting a 16-year-old student.
Prosecutors added 20 counts Wednesday against Jonathan Scheaffer, 23, including first-degree kidnapping, child abuse, use of a minor as the subject of sexual portrayal, open and gross lewdness, and six counts of sexual assault.
The victim reported "shaking and crying" as Scheaffer forced himself on her, said prosecutor Michelle Jobe, who asked for $500,000 bail.
Las Vegas Justice of the Peace Joe Sciscento said he had concerns about the allegations.
Defense lawyers Robert Draskovich and Louis Schneider requested $20,000 bail.
"We're in no way condoning unlawful sexual contact between a student and a teaching member of the faculty. That's wrong," Draskovich said. "However, to create charges that carry life sentences that don't fit the facts, not only is that wrong, that's abusive, and, I would submit, sadistic."
Scheaffer was arrested June 1 after an interview with detectives. He also faces 11 counts of sexual conduct between a school employee and a pupil.
The reported relationship happened for about 10 months between the end of 2014 and mid-2015, both Scheaffer and the girl told police.
Throughout the reported relationship, the girl told police, Scheaffer sometimes tried to pressure her into sex.
Scheaffer told police "they did go further than kissing," referencing different sexual acts, "but did not have sex." The girl said the same, though she told police that during at least one instance of oral sex "she was too stupid and scared to say no."
Scheaffer was 22 when he met the girl at a school club and started liking her, which he told police was "really bad."
According to a police report, he then talked to his mentor about his feelings, and she told him what to say to the girl.
Scheaffer was involved with Teach for America, a national nonprofit organization that helps place recent college graduates into at-risk schools for two years. It is unclear whether the mentor was involved with the group or whether she reported the teacher's initial feelings to anyone.
The organization assigns its teachers to a coach who meets with them regularly and helps them work through problems.
"We're confident no one on our team was aware of this relationship," Teach for America spokeswoman Mavis Baah said Wednesday. "We denounce the behavior."
She said the organization is "taking action" against Scheaffer but declined to give specifics.
Clark County School District teachers have for years been warned to avoid inappropriate relationships with students, spokeswoman Melinda Malone said. In April, educators were required to watch an eight-minute video with information about mandatory requirements for reporting suspected misconduct.
"They're supposed to say something," Malone said. "If you see something, say something."
Without details on what Scheaffer shared with his mentor or whether she works for the district, there is no way of knowing whether state law would have required her to report the conversation, Malone said.
The age of consent in Nevada is 16, but Nevada law prohibits teachers from having sexual conduct with students younger than 18.
Scheaffer, who also was the head coach of the girls swim team, resigned June 2. As of Wednesday night, he remained at the Clark County Detention Center.
Review-Journal writer Amy Nile contributed to this report. Contact reporter David Ferrara at dferrara@reviewjournal.com or 702-380-1039. Find @randompoker on Twitter.