Hospital chaplain comforted patients after Las Vegas shooting
December 24, 2017 - 6:46 pm
Updated December 24, 2017 - 7:55 pm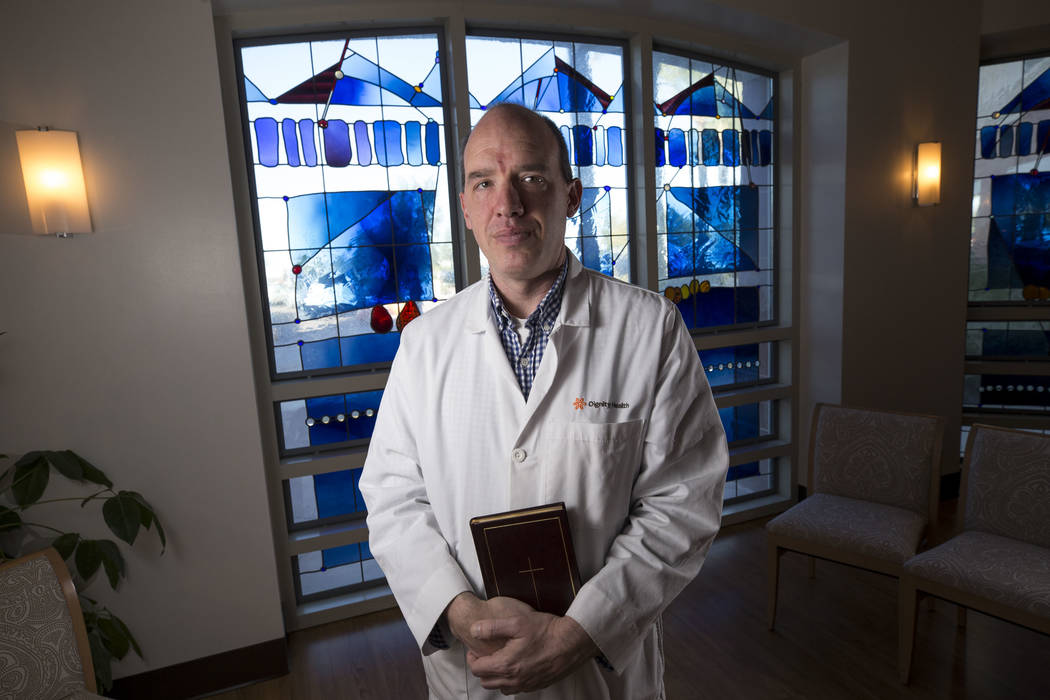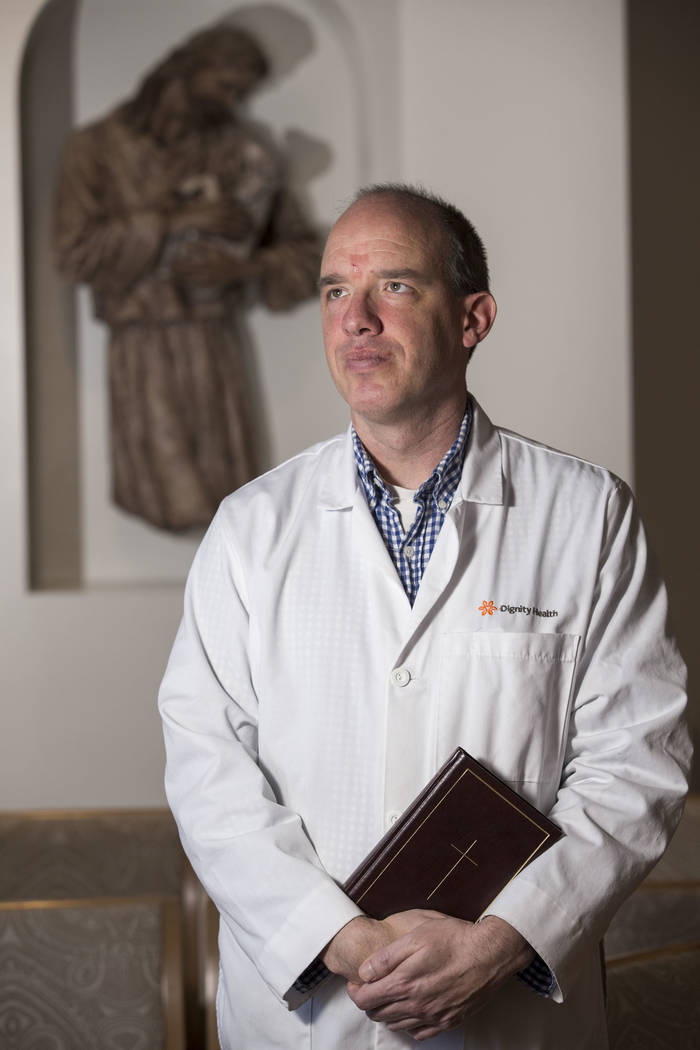 Nobody questioned God the night of Oct. 1, though that unanswerable query is common in the Rev. Ian Burgess' line of work.
The chaplain at St. Rose Dominican Hospital, Burgess floated bed to bed that terrible night, as patients flooded the Henderson hospital's emergency room.
But not one person asked him, "How can a good God allow this?" he recalled. "You'd think it would've happened in a time like that."
Instead, people were thankful they had survived and spent their energy comforting one another, Burgess said.
The kindness of strangers helped Burgess stomach the carnage, a first for him though he had returned one year ago from a National Guard deployment in Kuwait.
"Nobody's really ready for something like that," he said.
'He hasn't told me why'
In the days after the shooting, Burgess felt a pounding in his head, which he attributed to the after-effects of a rush of adrenaline.
He would calm the concerns of nurses and doctors who pulled him aside during rounds to talk about their own thoughts after the massacre. But inside he was anxious, and he had trouble eating and sleeping.
So he sought counseling, an outlet he regularly recommends to hospital patients.
"There's nothing more healing than just talking about it," he said.
Not once, however, did his faith waver .
"There could've been many times when it could've been challenged." he said. "I don't know why God allows why bad things happen to good people. He hasn't told me why."
'Olympics of chaplaincy'
Nearly three months later, Burgess said he still prays for the victims and survivors of the Las Vegas shooting, the 58 who died and the hundreds of injured.
He also remembers how Route 91 Harvest festival concertgoers who happened to be nearby stood by the the injured, acting like fill-in family for the night.
"It took away from my own stress and anxiety, seeing how complete strangers were taking care of each other," he said.
On a normal day, Burgess starts his shift making the rounds with doctors. Sometimes, he works the intensive care unit, seeing folks on their worst days. Other times, he is in labor and delivery, congratulating new parents on their best.
He invites them to pray, or asks if patients would like him to share a blessing. If need be, he connects family with counseling services. Either way, he is usually leading the conversation.
But on Oct. 1, Burgess watched as patients and their companions became their own guides.
"For the most part, people are fully capable of taking care of one another, and the only thing you have to do as a chaplain is make sure it doesn't get too chaotic, that the emotions don't get too out of hand," he said.
He remembers the night, full of difficult images and conversations, as "the Olympics of chaplaincy."
"That these people were placed together and able to take care of each other … that was a miracle in itself," Burgess said.
A lot of good
People often ask Burgess how he survives in the city known for sin.
"When you're a transplant to Las Vegas, people are like, 'Well, how can you stand it?'" he said, laughing. "They think it's a big party all the time and not really conducive to the spiritual life, especially being a priest.
"But if you just look below the surface of this town, there's a lot of good here."
He saw that again on that awful night and remembered that God didn't need him around — he was exerting his will through the shooting's survivors.
"I think the challenge for chaplains, priests, ministers is allow God to work without us always inserting ourselves into every situation and to be humble enough to realize he's always working miracles around us," Burgess said. "We just have to have the eyes of faith to see it sometimes."
Contact Jessie Bekker at jbekker@reviewjournal.com or 702-380-4563. Follow @jessiebekks on Twitter.