Mandalay Bay security guard appears on 'Ellen' — VIDEO
October 17, 2017 - 11:41 am
Updated October 17, 2017 - 10:46 pm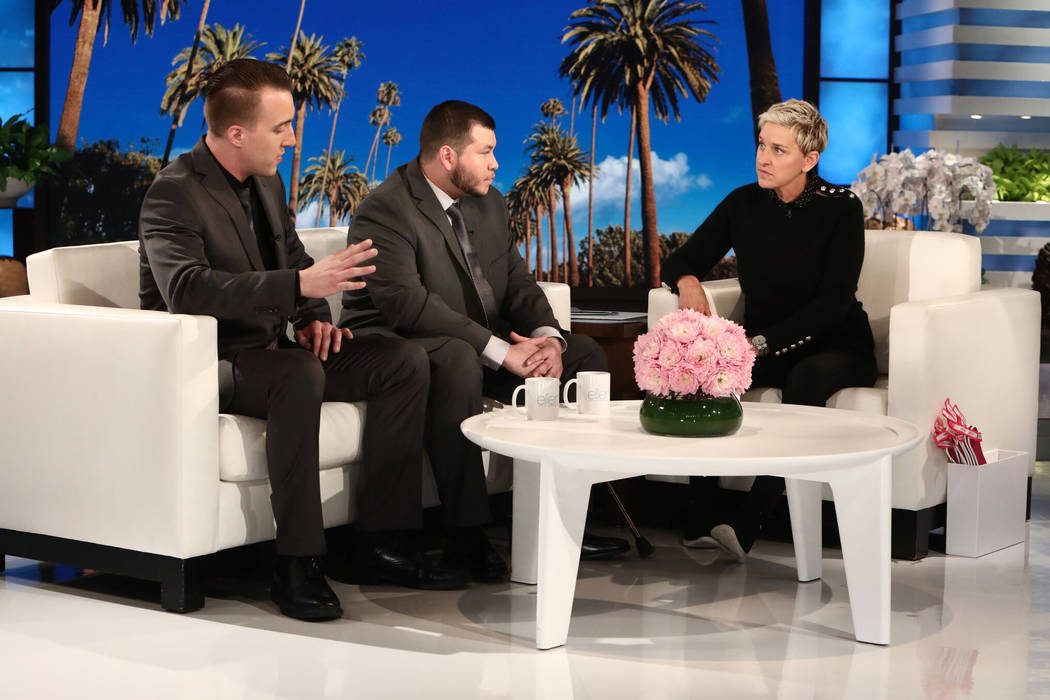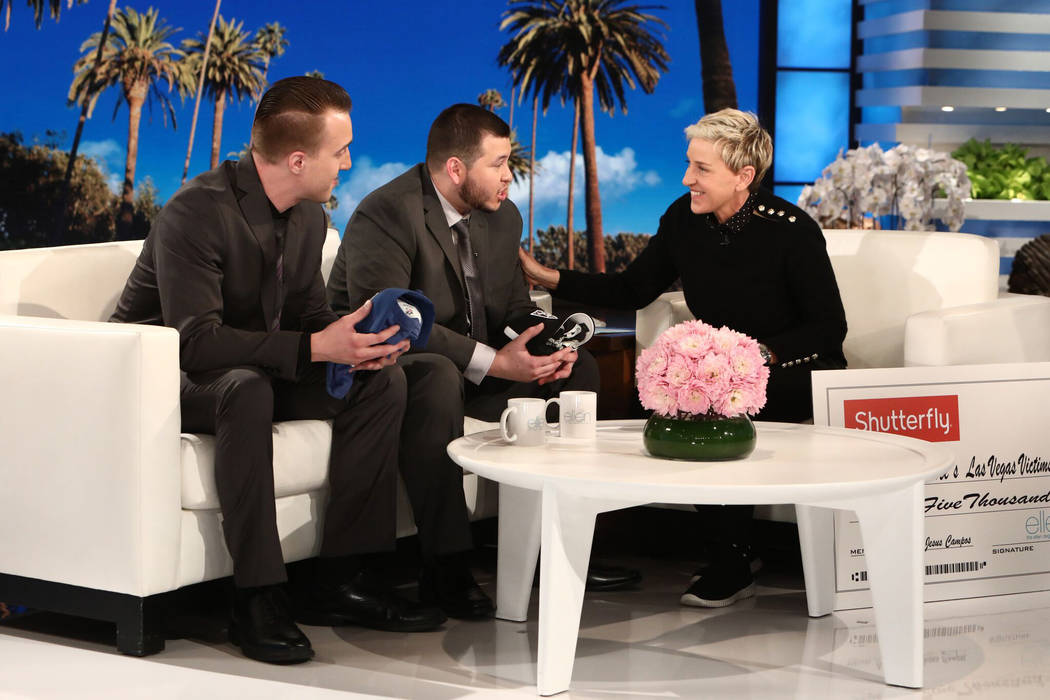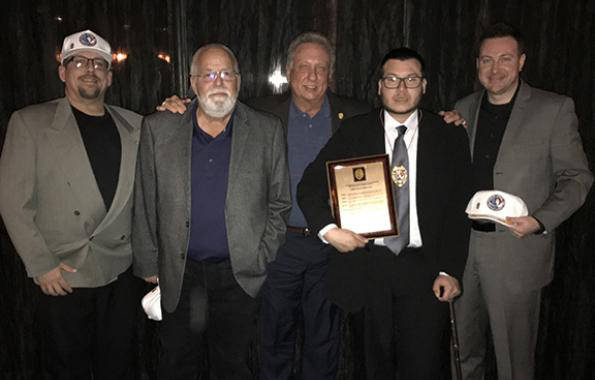 By all accounts, Jesus Campos has not disappeared. He's landed on Ellen DeGeneres' couch.
The 25-year-old had been dodging reporter interviews. Signs outside his east valley home still read, "NO TRESPASSING" and "NO MEDIA ON PROPERTY."
But the Mandalay Bay security guard whom a gunman shot in the leg Oct. 1 before opening fire on a nearby country music festival crowd continues to stay in contact with his employer, and police don't consider him missing.
"Jesus Campos wants to tell his story at a time and place of his choosing," MGM Resorts International, which owns and operates Mandalay Bay, said in an email to the Las Vegas Review-Journal early Tuesday. "He's asked that everyone respect his request for privacy. We could not be more proud of Jesus."
Apparently the place of his choosing is the "The Ellen Degeneres Show." In an episode that will air at 3 p.m. Wednesday on KVVU-TV, Channel 5, Campos and Mandalay Bay maintenance worker Stephen Schuck will describe what happened to them Oct. 1.
Schuck was caught in the initial hallway gunfire and helped direct police to gunman Stephen Paddock's room. He previously appeared on "The Today Show" but otherwise has also kept a low profile since the shooting.
In clips of "The Ellen DeGeneres Show" supplied to the Las Vegas Review-Journal, Campos reviewed the events of the shooting, recounting how he was alerted to check on a door that was ajar. He said he was on the stairwell going from the 31st to the 32nd floor and came upon a door that was blocked and wouldn't open. So he rerouted through a hallway and called security dispatch to get an engineer to check on the blocked door. The worker summoned would be Schuck.
Campos said he then heard drilling sounds and believed the slamming of the heavy door he passed through to get to the 32nd floor alerted Paddock to his presence. Paddock shot through the door and hit Campos in the leg.
"I was walking down and heard rapid fire," he said. "And at first I took cover. I felt a burning sensation. I went to go lift my pant leg up and I saw the blood. That's when I called it in on my radio that shots have been fired.
"And I was going to say that I was hit, but I got on … my cellphone just to clear radio traffic so they could coordinate the rest of the call."
Schuck said he came to the 32nd floor from a higher floor via a service elevator and rounded the corner. Campos was toward the end of the hallway, but Schuck said he didn't know that at first.
"I thought I saw someone hop out of the cubby, and I kept walking," Schuck said. "Once I got more than halfway is when I saw Jesus and I started to hear shooting."
Shuck said he thought the sound was a jackhammer at first but knew that was unlikely. He also thought the shooting sound was outside and not in the hallway yet.
Campos leaned out and said, "Take cover, take cover," Schuck said.
Tomorrow, the first people to encounter the Las Vegas shooter are here – security guard Jesus Campos and building engineer Stephen Schuck. pic.twitter.com/dDmjzN6xBx

— Ellen DeGeneres (@TheEllenShow) October 18, 2017
"He yelled at me, and within milliseconds, if he didn't say that, I would have got hit. I wasn't fully in cover, and (shots) were passing behind my head and I could feel the pressure."
Campos said a female guest came out of another room's door and he told her to go back in because it wasn't safe. Campos told Schuck to stay back and take cover. More rounds from the shooter's guns followed, Campos said.
Campos seemed to acknowledge that he wouldn't revisit the events of Oct. 1 after his interview with DeGeneres.
DeGeneres said, "You're talking about it now and then you're not going to talk about it again, and I don't blame you because why relive this over and over?" Campos nodded.
Campos then thanked Metro, the FBI, the first responders, people who got called into the hospitals, and the community for coming together valiantly.
"Everything puts pieces together on how everyone came together to help that night even in the darkest hour," Campos said.
The question of Campos' location first arose Thursday, when Campos failed to show up to five television interviews scheduled by the International Union, Security, Police and Fire Professionals of America.
His neighbors haven't seen him in a few days. No "Jesus Campos" is registered as a guest at any MGM properties on the Strip.
And while calls to his listed telephone numbers continue to go unanswered, Metropolitan Police Department spokesman Larry Hadfield said Campos is "fully cooperating with the investigation."
Fluid timeline
Campos became a critical witness the second he was shot in the right thigh.
Interest in speaking with Campos intensified after Clark County Sheriff Joe Lombardo began changing the timeline of the shooting, which left at least 58 dead and more than 500 injured.
Lombardo first said Campos had been shot after the gunman opened fire on the festival crowd. He hailed the guard as a hero and even cited Campos as a reason why Paddock may have stopped firing on the crowd, fearing authorities were closing in.
Paddock shot himself in the room sometime after that, the sheriff said.
During that initial explanation of events, Lombardo said it was a "miracle" Campos survived. Investigators recovered about 200 rounds in the 32nd-floor hallway where the security guard had ducked and covered while nursing his wound.
When the gunfire stopped, the sheriff said, Campos even helped hotel guests to safety until officers arrived to breach the gunman's room.
Then, without much context, Lombardo said early last week that Campos had actually been shot at 9:59 p.m., six minutes before the gunman ever opened fire on the festival. He added that Campos never actually helped hotel guests out but he still considered Campos a hero.
Within a day, MGM disputed the sheriff's new timeline. Then, the hospitality and entertainment company went on to say Campos had actually been shot within a 40-second window prior to when the gunman opened fire on the festival crowd.
A day later, the sheriff agreed with MGM.
"I'm not in conflict with their statement," he said during a Friday press conference.
MGM said Campos is on paid leave while he continues to heal, adding that he has access to counseling options "that are available to all employees injured in the shooting."
Contact Rachel Crosby at rcrosby@reviewjournal.com or 702-380-8135. Follow @rachelacrosby. Contact Matthew Crowley at mcrowley@reviewjournal.com or 702-380-8135. Follow @copyjockey.
Funds for Jesus Campos:
Two separate GoFundMe campaigns have been created to raise money for the Mandalay Bay security guard as he continues to heal.
The first campaign, created by Mandalay Bay employee Liliana Rodriguez, had raised more than $35,000 as of Tuesday evening. David Hickey, president of the International Union, Security, Police and Fire Professionals of America, personally donated $5,000.
The second campaign, created by Encore Event Technologies, which bills itself as "the AV partner to Mandalay Bay," had raised more than $11,000 as of Tuesday evening. "This campaign is for Encore employees," the fund reads.
Heroes rewarded
Although Mandalay Bay security guard Jesus Campos and Mandalay Bay maintenance worker Stephen Schuck were offered money to come on "The Ellen DeGeneres Show," neither accepted.
On the show airing Wednesday, DeGeneres praised Campos for his heroics the night of the Oct. 1 Route 91 Harvest festival shooting.
"It's helpful for people to understand what a hero you are, because you being shot in the leg saved so many people's lives and you instead of getting out there, saved the woman's (a female guest's) life, saved Stephen's life and who knows how many other people and so we just wanted to celebrate you. That's why you're here today."
As rewards, the National Football League will fly Schuck to Indianapolis to meet the Colts and have VIP game tickets. Photo-sharing site Shutterfly will give Campos season tickets to see the Raiders when they come to Las Vegas to play and will donate $25,000 in Campos' name to the GoFundMe page for the victims.