Mandalay Bay security guard skips TV interviews after Las Vegas shooting
October 13, 2017 - 11:01 am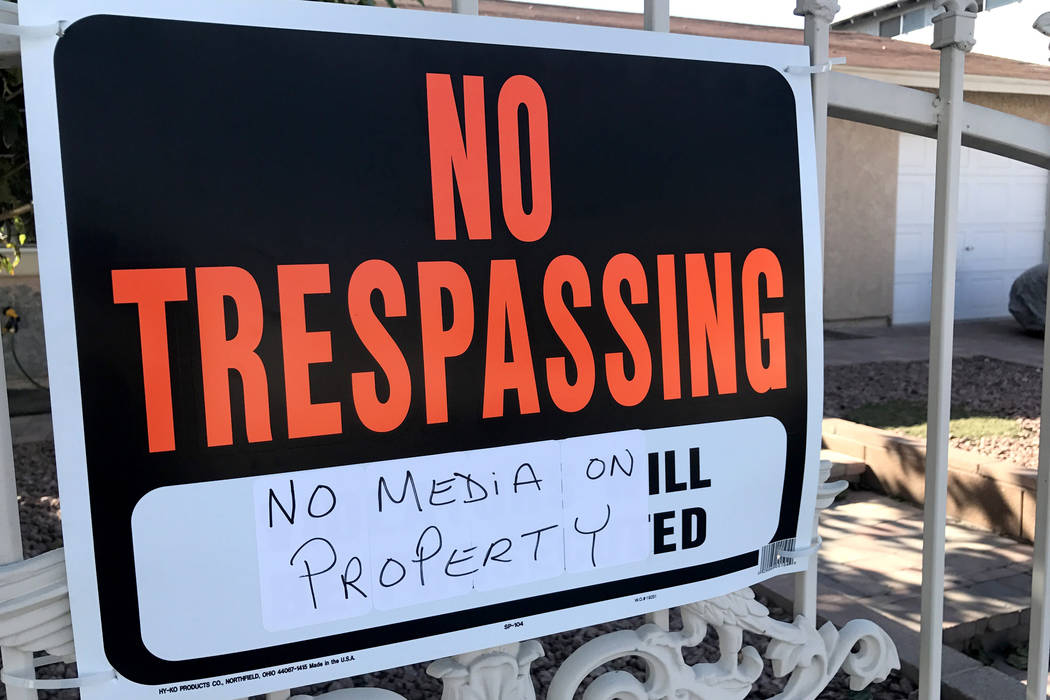 Jesus Campos, the Mandalay Bay security guard who first encountered mass shooter Stephen Paddock, vanished Thursday afternoon hours before planned interviews with five TV networks, his union president said Friday.
"The union doesn't have any idea where he's at at this time," said David Hickey, international president of the International Union, Security, Police and Fire Professionals of America, which represents security guards at Mandalay Bay.
Hickey said he had been with Campos for the last four days, along with another union member, helping him prepare for media interviews. He said Campos was staying in a Las Vegas-area hotel suite, with a living room and an adjoining bedroom.
On Thursday at about 1 p.m., Hickey said he and the union's local president took a meeting with MGM officials in the bedroom, while Campos, the other union member and a security guard hired by MGM to protect Campos waited in the living room.
At 2 p.m., when Hickey emerged from the meeting, he said Campos and the other people were gone.
Hickey said he called and texted the other union member. The only response he received is that Campos was being taken to a Quick Care health clinic.
Since then, he indicated Friday afternoon, he has heard nothing about the trio's whereabouts.
"It's a strange story," Hickey said. "But it is what it is."
Local USPFPA President Dennis Lang did not respond to multiple calls from the Review-Journal on Friday.
Hickey said Campos was scheduled to do the Sean Hannity show on Fox News at about 6 p.m. Thursday from a local TV studio. After that, he was going to do interviews with NBC, ABC, CBS and CNN.
Hickey said he is not concerned for Campos' safety, just his health. When asked if he thought MGM had anything to do with Campos' disappearance, Hickey simply noted that the corporation was taking care of him.
He cancelled. https://t.co/fWCb4X8cNQ

— Sean Hannity (@seanhannity) October 13, 2017
In a statement, MGM Resorts International said it had nothing to do with the cancellation.
"Jesus Campos is a hero who has been credited with saving lives and being a part of interrupting a shooting rampage. MGM Resorts could not be more proud of him," it said. "The notion that we are in any way preventing him from telling his story is absurd. When it comes to media appearances by Jesus, our only concern has been and will continue to be Jesus."
Police in Las Vegas have said Campos first encountered Paddock when he checked on a door alarm on the 32nd floor and heard the sound of drilling. He was shot in the leg as he neared Paddock's hotel suite, they say.
Jesus Campos was set to do 5 intvs tonight per union president, but they've lost contact. "We were in a room & we came out & he was gone"

— Stephanie Wash (@WashNews) October 13, 2017
Media scrum tonight as we learn security officer shot in Vegas attack, Jesus Campos' whereabouts are unknown. pic.twitter.com/Jk09tRlPsX

— Stephanie Wash (@WashNews) October 13, 2017
"This was a remarkable effort by a brave and remarkable man," Clark County Undersheriff Kevin McMahill said on Oct. 6.
Campos' house in the Sunrise Manor neighborhood in east Las Vegas has been staked out by reporters since he was identified as the guard who encountered Paddock on the 32nd floor of the hotel on Oct. 1. Piles of business cards from reporters are often stacked on top of his mailbox.
On Scene Investigation & Security Inc. was hired to provide 24-hour security at the home. A white truck is often parked outside or near the house, manned by security officers who intercept any strangers who approach the house.
A security guard named Troy, who declined to provide his last name, said CNN, Fox and various other local media outlets were camped outside the home for several days, typically arriving at 8:30 a.m. and leaving around 6 p.m.
Troy declined to say how many guards had been hired, who hired them or whether Campos was in the house.
Hickey said Campos was eager to tell his story and wanted to get it out in one day. "He's got a great story to tell," Hickey said.
Contact Brian Joseph at bjoseph@reviewjournal.com or 702 387-5208. Follow @bjoseph1 on Twitter. Contact Sandy Lopez at slopez@reviewjournal.com or 702-383-4686. Follow @JournalismSandy on Twitter. Contact Mike Brunker at mbrunker@reviewjournal.com or 702-383-4656. Follow @mike_brunker on Twitter.