Shooting suspect killed by semitrailer on US 95 had lengthy criminal history
September 30, 2016 - 7:11 pm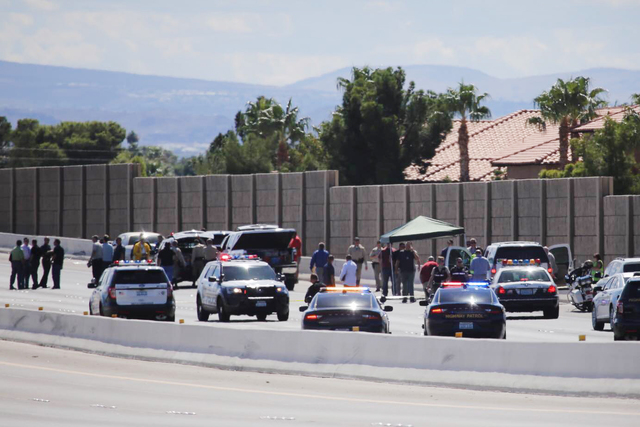 The shooting suspect killed Thursday after crashing his car on U.S. Highway 95 then trying to run across the highway's northbound lanes during a southeast valley police pursuit had been arrested more than 20 times, police said Friday.
Lewis Borland, 34, of Las Vegas, died on U.S. 95 after a semitrailer slammed into him near the northbound Boulder Highway exit, the Clark County coroner's office confirmed Friday. He was wanted in connection with a shooting last week that left another man hospitalized with skull fragments in his brain.
Borland had a lengthy criminal history, police records show. He had been arrested on numerous charges, including driving under the influence, battery with a deadly weapon, trafficking of controlled substances, possession of a stolen vehicle and evading a police officer.
Metropolitan Police Department detectives who were following up on the shooting investigation Thursday watched as Borland got into his car and pulled away that morning. The plainclothes detectives then asked a marked patrol car to pull Borland over because police had probable cause to arrest him, Metro spokesman Michael Rodriguez said.
When police tried to stop Borland, he continued driving, making his way onto southbound U.S. 95.
Shortly after, for reasons unknown, Borland turned sharply and veered his Ford Expedition straight across the southbound lanes into the median, police said.
With his car damaged, Borland climbed out, hopped the highway median and tried to run across traffic, police said. Because the area of the crash is near the Boulder Highway exit, Borland may have been heading toward the exit ramp, trying to run down to the surface streets near Boulder Station, Rodriguez said.
But before Borland crossed the highway, a semitrailer — operated by a Las Vegas Paving Corporation driver — struck him. Borland died at the scene, and police shut down both directions of U.S. 95 between Boulder Highway and Flamingo Road for hours Thursday as they investigated.
The Sept. 22 shooting to which Borland was linked happened at the Miracle Mile Trailer Park, 3642 Boulder Highway. During the shooting, at least one bullet grazed a man's head, and police said Friday that the man shot was still hospitalized.
Borland's death is the 81st traffic fatality in Metro's jurisdiction this year. The crash is still under investigation.
Review-Journal writer Jessica Terrones contributed to this report. Contact Rachel Crosby at rcrosby@reviewjournal.com or 702-387-5290. Follow @rachelacrosby on Twitter.
RELATED
Fleeing suspect hit by truck, killed on 95 near Flamingo
Man shot in head, drives himself to hospital