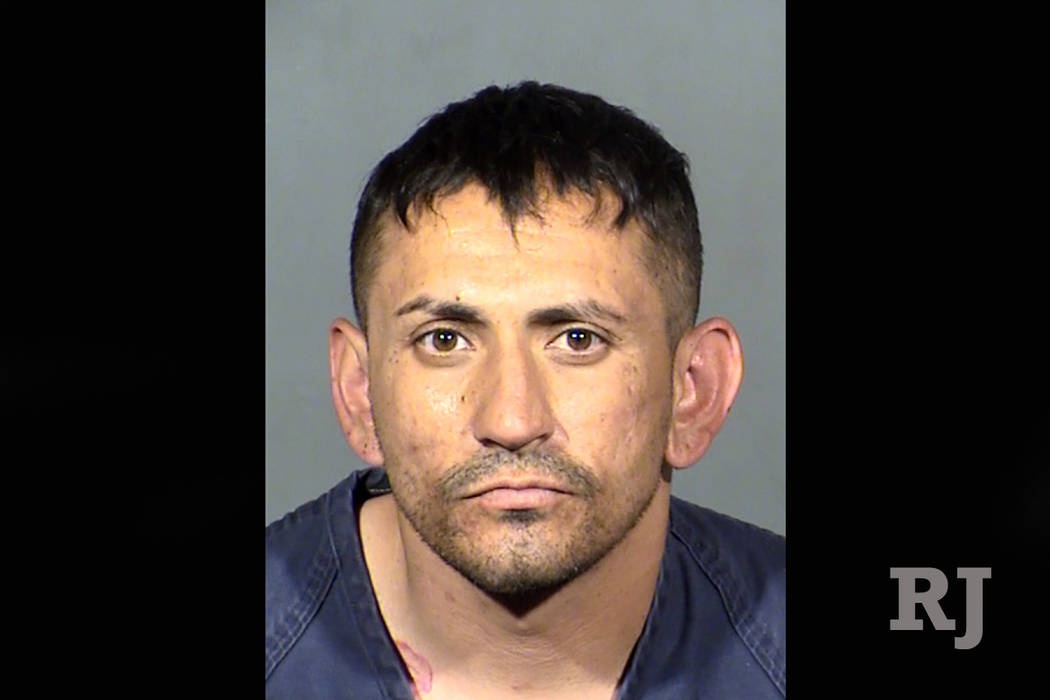 The man arrested in connection with a series of stabbings in the east valley Wednesday has a history of erratic behavior, Las Vegas police records show.
Richi Briones, 32, was booked into the county jail Wednesday night after an hourslong manhunt. The Metropolitan Police Department said Briones stabbed two people at two different locations Wednesday morning in the area of East Charleston and North Lamb boulevards. One victims died at University Medical Center. Police also say he tried unsuccessfully to stab someone at a third location.
Briones was booked on charges of murder, attempted murder and assault. A charge of battery by a prisoner was later added. He had not been formally charged as of Thursday.
In November, he was arrested and placed on a mental health hold after dousing himself in lighter fluid with the intention of lighting himself on fire and running into traffic, records show.
In that incident, officers had been looking for Briones since the previous day, when a former roommate told officers that he saw him stab a neighbor. As officers responded to that call, another call came in that a suspect matching Briones' description had stolen a car nearby, records show.
An officer located Briones near the stolen car, and there was a strong odor of lighter fluid. Briones told paramedics of his plan to burn himself, and he was placed on a mental health hold, known as a Legal 2000.
A grand larceny charge stemming from that incident was dismissed in Las Vegas Justice Court in February.
In January, Briones was determined to be fit to stand trial in that case, because he was capable of understanding the nature of the charges against him and assisting his public defender with his case, court records show.
Police described Wednesday's stabbings as related but also random, as Briones had no connection to the victims.
The first incident occurred at a convenience store on the 4300 block of Stewart Avenue, where a man chased another person around with a large knife and made statements described by police as "delusional."
A short time later, a man was stabbed on the 4400 block of East Charleston Boulevard, behind a sushi restaurant. That victim was in critical condition, police said Wednesday.
Then a customer at the ARCO gas station at North Lamb Boulevard and Bonanza Road was stabbed multiple times. That person died at an area hospital and will be identified by the Clark County coroner's office once family has been notified.
Contact Wesley Juhl at wjuhl@reviewjournal.com and 702-383-0391. Follow @WesJuhl on Twitter.