US moves to shut down mail-fraud schemes that stole hundreds of millions
September 22, 2016 - 11:59 pm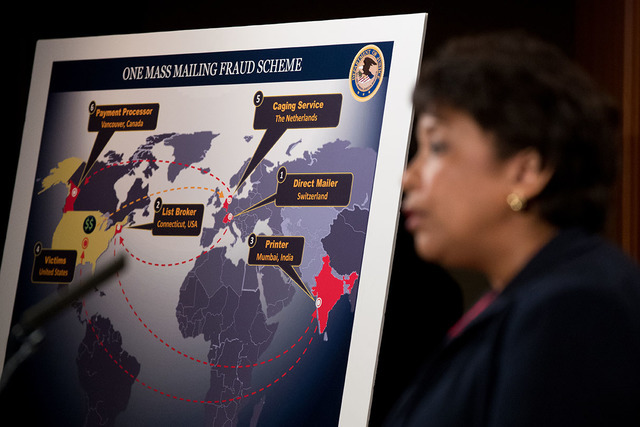 The U.S. Justice Department and other agencies said Thursday they have moved to shut down a series of mail fraud schemes — including one out of Las Vegas — that have stolen hundreds of millions of dollars from victims in the United States.
The Justice Department said it was seeking to close mailing companies that directly contacted victims, a printer in India that produced solicitation letters, people who traded in lists of potential victims, and a Canadian company that processed the money.
"The activities we are talking about today have cheated Americans out of hundreds of millions of dollars," Attorney General Loretta Lynch said at a news conference. "This fraud is massive in scale and global in scope, and it can be devastating on an individual level."
One of the cases cited in the crackdown was the Sept. 20 indictment of Glen Burke, 56, of Las Vegas. Burke was arrested on charges related to operating fradulent schemes, including mailing "solicitations designed to fool recipients into believing that they had won thousands or millions of dollars," a statement said.
Michael Rossi, 51, of Las Vegas was also indicted and arrested in Burke's case, which accused the two of also running a fradulent telemarketing campaign similar to the solicitations sent by mail.
"Telemarketers hired by Burke and Rossi falsely told consumers that they had been selected to receive a valuable prize worth thousands of dollars, and that they would receive the prize if they bought certain products," the statement said.
Both Burke and Rossi are each facing 16 counts of wire fraud, five counts of mail fraud and one count of conspiracy, amoung other charges.
On Thursday, the Treasury Department's Office of Foreign Assets Control and the U.S. Postal Inspection Service also moved against PacNet Services, a Canadian payments processing company.
OFAC designated the company a significant transnational criminal organization, meaning its property has been frozen. OFAC also froze the U.S. assets of 12 people associated with PacNet.
The USPIS obtained a warrant to seize a PacNet bank account in the United States that was used to process payments.
"PacNet has a 20-year history of engaging in money laundering and mail fraud, by knowingly processing payments on behalf of a wide range of mail fraud schemes," the department said in a statement. "In 2016 alone, PacNet has processed payments for the perpetrators of more than 100 different mail fraud campaigns, collectively involving tens of millions of dollars."
PacNet did not respond to a request for comment.
The Justice Department also filed a criminal complaint against Ercan Barka, who operated True Vision LLC, and accused him of conspiracy to commit mail fraud. He was placed under arrest on Sept. 3 as he tried to fly to Turkey, the department said.
Barka defrauded victims of more than $29 million, the department said.
The government has sought to shut down other direct mail schemes based in New York and Europe.
Review-Journal writer Rachel Crosby contributed to this story.