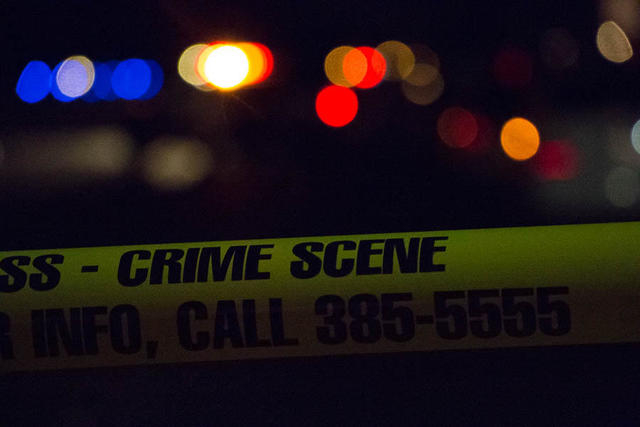 A woman attending a birthday party at a west valley apartment complex died Sunday night when she was caught in the crossfire after a fight broke out and escalated into gunfire, according to Las Vegas police.
Police received about six calls just before 9 p.m. about a fight and then gunshots at the Lantana Apartments, 6501 W. Charleston Blvd. near the intersection with Redwood Street, Metropolitan Police Department Lt. Dan McGrath said at a press conference Sunday night near the complex. "Officers were here very quickly, and they found a female over near Building 26. She was deceased on the scene from a gunshot wound," he said.
Police as of late Sunday had only preliminary information, as many of those on the scene scattered after the shooting, McGrath said. "It appears that there was some kind of a party going on at one apartment and then the next building over another party was going on separately," he said. "These two groups somehow had a confrontation in the parking lot and then there was a physical fight and that somehow escalated into gunfire."
The woman who was killed appeared to be between 30 and 40 years old. "We don't have her ID'd yet, but my understanding is she may live in the complex, and she may have been attending this little get-together"— a cookout-type event for a neighbor's birthday — when a gunfire exchange occurred and she was hit," McGrath said.
Police had little to immediately go on, McGrath said. "Nobody hung around. We don't even know what started this (between the two groups of people). Somehow they had a run-in with each other, and we're not sure why."
Police hoped to have a better handle on what happened within a few hours, McGrath said at about 12:30 p.m.
McGrath estimated at least eight to 10 shots were fired, judging by the casings he saw on the ground at the scene.
Some of the shots entered other apartments in the complex, breaking windows and piercing walls, he said. "I actually went inside one of the apartments, and some of the rounds that were fired went through the wall and into a woman's bathroom and shattered her shower door," he said. "She probably had four or five holes that went through her wall and right into the bathroom, and she had children in there, too, so it was pretty scary stuff."
The identity of the woman will be released by the Clark County coroner's office.
This is the 41st homicide in Metro's jurisdiction for 2016, according to a press release.
Review-Journal reporter Christian Bertolaccini contributed to this story. Contact Marian Green at mgreen@reviewjournal.com or 702-387-5205. Find her on Twitter: @mgreen0708. Contact Christian Bertolaccini at cbertolaccini@reviewjournal.com and 702-383-0381.