Woman killed in 'totally random' shooting on Interstate 15 in Las Vegas
October 15, 2016 - 10:43 pm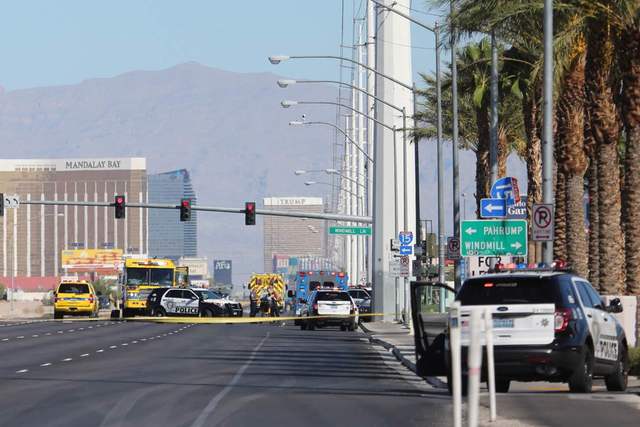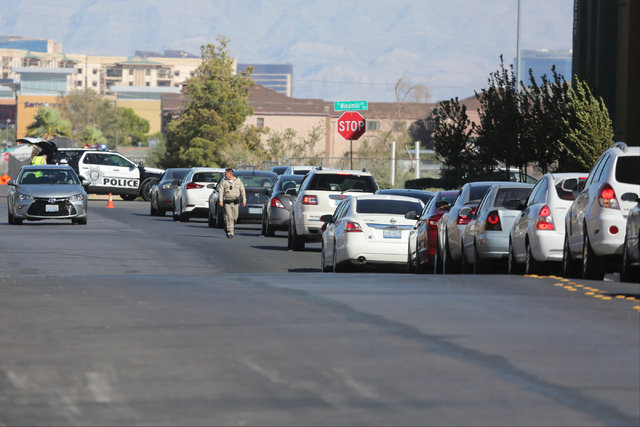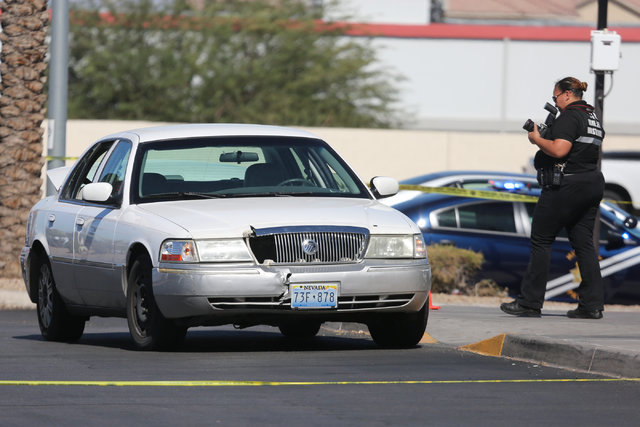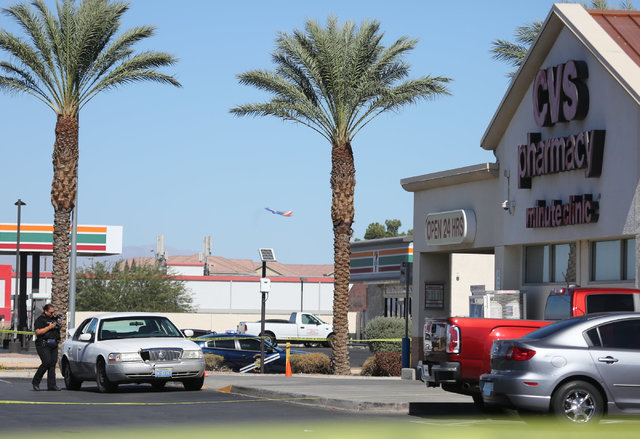 A man shooting a gun from a car on southbound Interstate 15 struck two people in another car Saturday, injuring a man and killing a woman, Las Vegas police said.
The Metropolitan Police Department received calls just before 9:30 a.m. from several witnesses reporting there had been a shooting on southbound I-15 near Charleston Boulevard, Metro Lt. Patrick Charoen said about 11:30 a.m. Saturday.
Police believe a man in his late 20s or 30s shot a gun from his vehicle, striking the driver and front-seat passenger of a second car. Late Saturday, police identified 29-year-old Kenneth McDonald as a suspect in the shooting.
After the woman and man were shot, their car crashed into a barricade on I-15, just south of the Spring Mountain Road overpass.
The 48-year-old woman who was shot was rushed to University Medical Center with three gunshot wounds, Metro Lt. Dan McGrath said. She was pronounced dead just before 11 a.m., he said.
The 55-year-old man, who was driving the second car and was one of the witnesses who called police, is in stable condition at UMC, McGrath said.
About 20 minutes after they learned of the shooting, police were called by employees of a CVS at Windmill Lane and Las Vegas Boulevard South who reported a man had entered the store armed with two handguns.
One employee, whom McGrath called a "very good witness," told police the shooting suspect pulled his pants down and tried to sexually assault her. She pushed him away, and CVS employees moved to the back of the store, where police were evacuating the building.
Police surrounded the pharmacy. And at about 10:20 a.m., nearly 40 minutes after officers were called, McDonald entered the enclosed entryway to the CVS, where "there was a bit of a standoff," McGrath said.
"He did not have a gun in his hand, but they didn't know if there was a gun on his person because he was seen with two handguns," McGrath said.
McDonald wouldn't listen to officers' commands, the lieutenant said.
"They weren't going to allow him back in the store or back in the vehicle," which was parked in the middle of the lot, outside the store's glass doors, McGrath said. "So since he was not complying, they let the dog loose."
The police dog bit McDonald on the lower leg and thigh, and he was promptly arrested. McGrath said he continued to disobey officers as he was herded into the back of an ambulance.
McGrath couldn't say whether McDonald was intoxicated. But McGrath added that McDonald wasn't coherent enough to answer questions when he was in the back of the ambulance. He was taken to UMC to be treated for the bites.
"I'm told he has a criminal history, but I don't know exactly what it is," McGrath said. "I was told also he has a gang affiliation."
The lieutenant didn't have details on McDonald's gang involvement and said as far as he knew, the shooting on I-15 was "totally random." In a statement Saturday, police said they believe McDonald randomly shot at vehicles while driving south on the freeway and eventually pulled into the CVS.
Metro officers had to sweep the interstate between Charleston Boulevard, where the initial call came from, and Spring Mountain Road, closing the freeway for at least an hour Saturday morning, McGrath said. The crashed car was towed to police headquarters about 1:45 p.m., and Nevada Highway Patrol officers opened the remaining three of five lanes, he said.
McDonald was arrested and booked into the Clark County Detention Center on charges of murder, attempted murder with deadly weapon and several counts of shooting into an occupied vehicle, Metro said in the statement. He will be held without bail. Because of the number of victims and multiple crime scenes, Metro added, detectives will file further charges later this week.
This is the 134th homicide investigated by Metro this year. The Clark County coroner's office will release the identity of the woman who died later, police said.
Anyone with information about these incidents is urged to call Metro's Homicide Section at 702-828-3521, or Crime Stoppers 702-385-5555.
Contact Kimber Laux at klaux@reviewjournal.com or at 702-383-0283. Follow @lauxkimber on Twitter. Contact Max Michor at mmichor@reviewjournal.com or 702-383-0381. Follow @MaxMichor on Twitter.