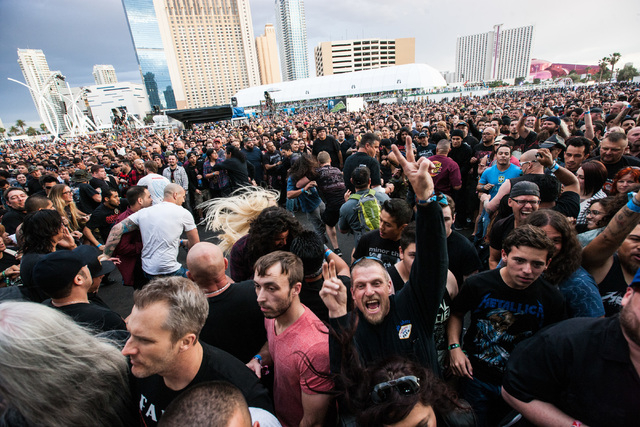 Some 82,000 people attended the first two days of the inaugural Rock in Rio USA inside the sprawling 40-acre City of Rock venue at the corner of Las Vegas Boulevard and Sahara Avenue.
While that number was less than half of the two-day capacity of 170,000, Roberta Medina, vice president of Rock in Rio, was excited by the turnout.
"We have higher expectations for this country," she acknowledged. "But for a first edition, this number is amazing." Music festivals take time to grow, Medina explained. And she's confident that Rock in Rio USA will soon reach that capacity, although maybe not in time for the next edition, scheduled for 2017.
There were a few growing pains on Friday. The Ferris wheel wasn't operating, there were technical issues with two of the six top up stations where attendees could add money to their wristbands, and traffic wasn't moving as smoothly as expected. But after what Medina called "a few adjustments," those problems were solved by Saturday.
"I think it was a wonderful weekend," she said. "We'd done this in three countries already, but we had to confirm that this (concept) would also work with the American audience, and it worked perfectly."
With good word of mouth, Medina expects a larger crowd for Friday and Saturday, the festival's pop weekend headlined by Taylor Swift and Bruno Mars. But there's still plenty of work to be done.
"We still have two days to go," she added, "and we only celebrate at the end."
Contact Christopher Lawrence at clawrence@reviewjournal.com. Follow him on Twitter: @life_onthecouch
RELATED
Rock in Rio: Top 5 moments from day two
Rock in Rio: Saturday gets loud
Rock in Rio: Get lost amid the jugglers, dancers and some hipster with a hula hoop
Rock in Rio: Top 5 moments from day one
Rock in Rio: What $26,552.23 will buy you
Rock in Rio: Get there early if you want to zip line
Rock in Rio: Top up those wristbands before you go