February 15, 2008 - 10:00 pm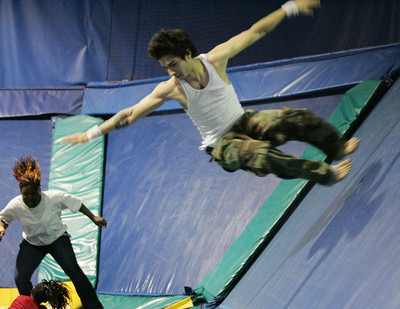 Minimissiles are launching and landing, relaunching and relanding and. … Wait a sec: Do missiles have limbs and giggle? Think of them as human projectiles, a most liberating concept (assuming none of them packed away a big meal just before liftoff).
Excepting Cirque du Soleil extravaganzas, there are few venues around town where you can tell gravity to take a flying leap.
"It can get pretty hectic in here," says Jon Hastings, a court monitor at SkyMania Fun Center, home to a sprawling, across-the-floor-and-up-the-walls trampoline arena. "One night we had three parties, all different church groups, probably a hundred people, a little crazy. And we get sports teams, gymnasts, firefighters, wrestlers, military, Cirque performers. A couple nights ago, we had some elderly women. There was a lot of screaming."
Flailing about in midair will do that.
Born out of SkyZone, a trampoline-based sport that crosses basketball with gymnastics, plus a few wildcard elements tossed in, SkyMania — beyond being a flashback to high-school gym class — is ground zero for off-the-ground enthusiasts.
"Kids are kids, they just go out there and are carefree and open to anything," says manager Braden Holcomb.
"The adults go out there, and they haven't been on a trampoline for 10 or 20 years. Once you get a little older, you have that warning voice in your head, but after a few minutes, that's completely erased," he says. "They love the dodgeball court, and they notice the benefits that come to their bodies. It's very stress-free on their joints, a great workout — we're talking 900 calories an hour burned."
Flying fitness programs even have a cool name — "SkyRobics" — to enhance their aerial appeal.
Bouncing your inhibitions into oblivion is the lure on a field of interconnected trampolines that arch upward into even more mats against side walls that can act either as an oddly angled running track — Hastings is particularly proficient at the horizontal sprint-bounce around the arena, inspiring others to let loose — or propel you back onto the springy court, a portion of which is cordoned off for 3-D dodgeball.
"The first time I did it, after 10 minutes I was gone, just really tired. But I got into it, started playing dodgeball, started my own team — The Headbusters," says Hastings. "It's safe, as long as you don't intentionally try to kill yourself."
Suicide aside, the injury rate is low.
"A couple of bumps and bruises, but no more than kids would get at the park," says Holcomb, adding that participants must sign a safety waiver, or have parents or legal guardians sign if they're 17 or younger. There is a posted warning against jumping with specific medical conditions.
"We see some anxious parents. They see a lot of kids up there, the perception of chaos and no control, but once they see we have very specific rules about things like climbing up the walls, and do daily inspection and maintenance, their anxiety lowers," Holcomb says.
Green mats divide blue tarps into squares, the field resembling a bouncy chessboard. (Imagine if some enterprising tournament director dressed competitors as kings, queens, rooks and pawns and played spring-loaded chess — if it happens, remember you read it here first.) Jumpers are forbidden from laying or lounging on the court to avoid getting flattened by a neighbor's landing, so yellow-matted rest areas are provided. Monitors make sure no one flips over the green dividers and gets smacked by an oncoming runner, and that folks are kept at least arm's-length apart.
Only athletic shoes or bare feet are allowed to minimize the risk of ripping the trampolines.
"We want to be sure they're not wearing heels or big boots, also so shoes aren't flying all over the place when they're doing flips," Holcomb says. "And no things in their pockets, like cell phones or things that can break when they land. They want to take pictures in midair, and they're behind the lens and not paying attention to what's going on around them."
We'll add our own advisory: If bouncing in shorts, kindly include undergarments.
And for the record, those aren't UFOs up there — those are GSLWH-FOs: Giggling Screaming Laughing Woo-Hoo-ing Flying Objects.
Contact reporter Steve Bornfeld at sbornfeld@reviewjournal.com or (702) 383-0256.
what: SkyMania Fun Center when: 3-10 p.m. Tuesdays-Fridays;Noon to 9 p.m. Saturdays-Sundays where: 4915 Steptoe St. admission: $5 for a half-hour, $9 for an hour (436-6887)