Arts briefs: Music and theater, Feb. 21-27
February 20, 2014 - 10:11 pm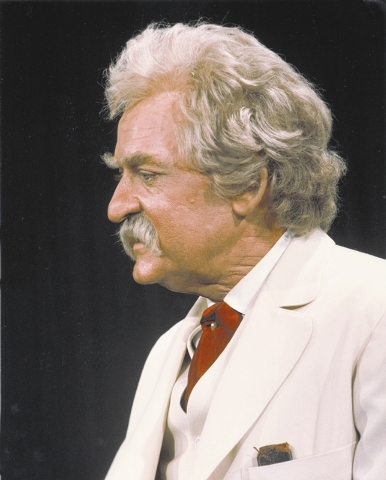 Theater
HOLBROOK REPRISES
MARK TWAIN ROLE
The more things change, the more they stay the same. Consider this sardonic comment — "There is no distinctly native American criminal class except Congress" — from the acid tongue of Mark Twain, who returns to UNLV Saturday, courtesy of actor Hal Holbrook in "Mark Twain Tonight!"
Indeed, Holbrook's been doing Twain even longer than Samuel Langhorne Clemens did; the famed writer, social commentator and lecturer died in 1910 at 74, while Holbrook celebrated his 89th birthday earlier this week.
The actor (who's received Tony and Emmy awards for his performance) has been playing Twain since 1954; by now, he has 14 hours of material, enabling him to tailor each performance to the events of the day — and the locale. (Lest we forget, Twain's early fame came during Nevada's Comstock Lode boom as a reporter for Virginia City's Territorial Enterprise, where Clemens first employed his now-immortal nom de plume.)
Holbrook will perform "Mark Twain Tonight!" at 8 p.m. Saturday in Artemus Ham Hall at the University of Nevada, Las Vegas, 4505 S. Maryland Parkway. For tickets ($25-$75), call 702-895-2787 or visit pac.unlv.edu.
Dance
SHEN YUN RETURNS
TO SMITH CENTER
Dances reflecting 5,000 years of traditional Chinese culture return to The Smith Center stage this weekend as Shen Yun checks into Reynolds Hall for four weekend performances.
The New York-based company, which specializes in classical Chinese dance, recounts a number of folk legends, including one about a daughter who disguises herself as a son and takes her father's place in battle. (Sound familiar? It should, if you've seen the Disney animated feature "Mulan.")
Central to Shen Yun performances: the expressive techniques and synchronized movements that bring the tales to life, aided by large animated backdrops that transport audiences from the Himalayas to the tropics. The Shen Yun orchestra provides musical accompaniment by blending both classical Western and Chinese instruments.
Shen Yun will perform at 7:30 p.m. Friday, 2 and 7:30 p.m. Saturday and 2 p.m. Sunday in Reynolds Hall at The Smith Center for the Performing Arts, 361 Symphony Park Ave. For tickets ($53-$183), call 702-749-2000 or visit www.thesmithcenter.com. For more information, visit www.shenyunperformingarts.org.
Music
PIANO MEN PLAY
CABARET JAZZ
Two piano-centric performers hold court this weekend at The Smith Center's Cabaret Jazz, 361 Symphony Park Ave.
First up: singer-pianist Michael Cavanagh, who's moving on from "Movin' Out" — the Billy Joel Broadway musical for which he received both Tony and Grammy nominations — to explore "the American Rock &Roll Songbook" at 7 p.m. Friday and 3 and 7 p.m. Saturday.
A former regular at New York-New York, Cavanagh was chosen for "Movin' Out" by Joel himself; in this weekend's show, he expands his repertoire to explore other rock favorites.
And on Sunday, Las Vegas-based pianist Danny Wright — whose instrumentals have earned him the nickname "Healer of Hearts" — returns with "Real Romance," sharing signature arrangements of stage and screen favorites (from "My Funny Valentine" to "For Good"), along with real-life love stories behind the music, at 2 and 6 p.m. Sunday.
Tickets for Cavanagh's show are $39-$56; admission to Wright's shows ranges from $30 to $75. For tickets, call 702-749-2000 or visit www.thesmithcenter.com.
Family fun
NEON MUSEUM SALUTES
ARCHITECT WILLIAMS
On Saturday afternoon, kids can learn about the architect behind the Neon Museum's distinctive, shell-shaped visitors' center — formerly the lobby of the La Concha Motel — by creating small pop-up books featuring Las Vegas buildings designed by famed architect Paul Revere Williams.
It's the second Black History Month program honoring Williams, following a lecture by the Neon Museum scholar-in-residence Leslie Luebbers.
In addition to La Concha, Williams designed housing for workers at Basic Industries during World War II — many of whom were African-Americans recruited to manufacture titanium for war-time uses.
"Pop-Up Architecture: Paul Revere Williams in Las Vegas" is recommended for third- through sixth-graders and runs from 2 to 4 p.m. Saturday at the Neon Museum, 770 Las Vegas Blvd. North.
To register for the program, book a Neon Museum tour or learn more, visit www.neonmuseum.org or call 702-387-6366.
Family fun
MAGICIAN PLANS
ESCAPE ATTEMPT
Local magician Jackson Rayne used to hold the Guinness World Record for fastest escape from a regulation strait jacket. Tuesday night, he launches his quest to reclaim the title — at a free Summerlin Library show.
Rayne lost the title about a year ago to a European escape artist who beat his previous record — 7.26 seconds — and plans to use Tuesday's show "to get a feel for having a live audience and still executing the escape," he emails. "There's a chance I could actually break the record that night."
Magician Rob Pellissier also will be featured in the all-ages show, which begins at 7 p.m. Tuesday at the Summerlin Library and Performing Arts Center, 1771 Inner Circle Drive. Although the performance is free, Rayne requests audiences reserve seats by emailing vipcomp@jacksonrayne.com; a limited number of seats will be available at showtime.
— By CAROL CLING