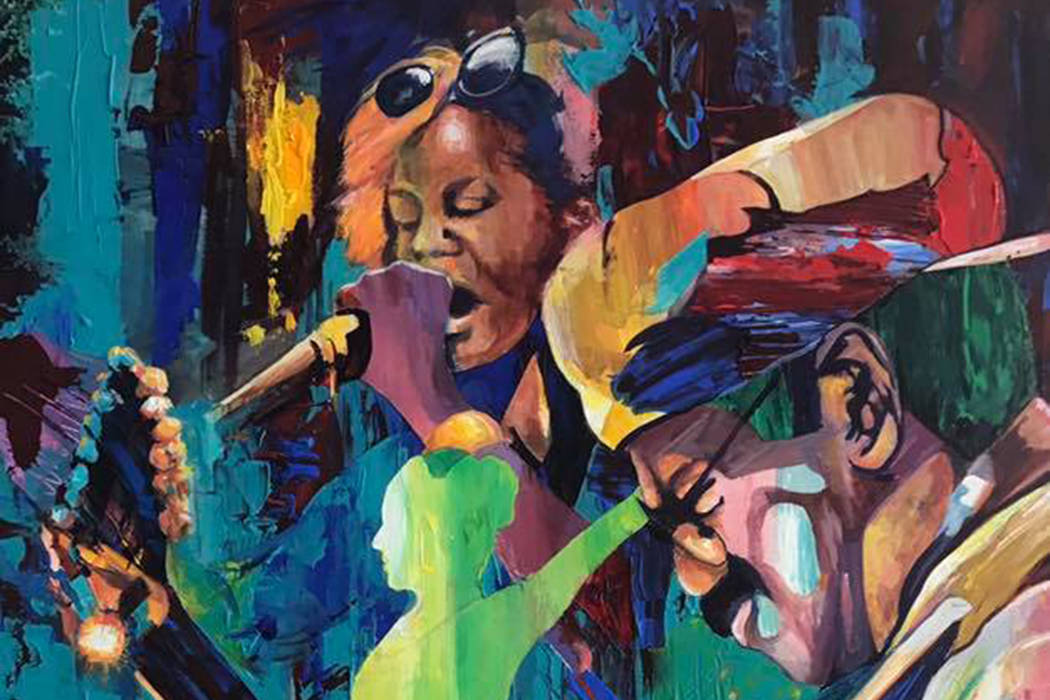 Harold Bradford
"A Thin Line" is a retrospective of the art of Harold Bradford. The exhibit showcases his range of work from illustration to abstract. A reception will be from noon to 3 p.m. Saturday. Left of Center Art Gallery, 2207 W. Gowan Road, North Las Vegas. facebook.com/leftofcentergallery
Paint the Town
The ninth annual pop-up fine art exhibit to benefit Aid for AIDS of Nevada will be from 7 to 9 p.m. Friday at Zappos headquarters, 400 Stewart Ave. Tickets are $25 in advance and $30 at the door. VIP tickets are $50 and include a reception at 6 p.m. afanlv.org
'Celestial Abstractions'
Abstract paintings by Benjamin Schmitt. Priscilla Fowler Fine Art, Art Square, 1025 S. First St. priscillafowler.com
Chinese Year of the Dog
Forty-five artists explore the idea and imagery of the dog through paintings, drawings and mixed media in this invitational exhibit for the upcoming Chinese New Year. Mayor's Gallery at Historic Fifth Street School, 401 S. Fourth St. artslasvegas.org
'Reminiscent Thoughts'
The juried show by ThinkArt! features paintings, photography and mixed media artwork by visual and literary artists. Artspace at SpringHill Suites Convention Center, 2989 Paradise Road. thinknwonder.org
Bash Fine Art
"The Greatest Show on Earth" is the gallery's annual group show exhibition featuring paintings and drawings from 10 artists. Bash Fine Art &Custom Framing, 750 S. Rampart Blvd., Suite 14. bashfineart.com
Photo exhibit
Temporary photo exhibit depicting drug cartel violence in Mexico, and efforts by security forces and citizens to fight back, by Mexico-based journalists Fernando Brito and Ioan Grillo. The Mob Museum, 300 Stewart Ave. themobmuseum.org
Heritage Gallery
"Over Here: Clark County and World War One" showcases the efforts of Clark County's young community during the war. Items on display include a collection of 1917 Red Cross magazines, railroad artifacts and promotional posters. Heritage Gallery at Clark County Museum, 1830 S. Boulder Highway, Henderson. clarkcountynv.gov
Ann Boulais
Black-and-white photography exhibit by Boulder City Art Guild member Ann Boulais. Boulder City Art Guild Gallery at Boulder Dam Hotel, 1305 Arizona St., Boulder City. bouldercityartguild.com
Obsidian Fine Art
Paintings by Steve Anthony and Mandy Joy focusing on music, dance and the human figure. Obsidian Fine Art at the Arts Factory, 107 E. Charleston Blvd., Suite 240.facebook.com/obsididanfineart
To submit gallery listings, email mrhynes@reviewjournal.com.
'Mojave: Transcendent Desert'
Photography, drawing, stone lithography, painting and poetry by artists and writers demonstrate a deep connection to the desert landscape. Nevada Humanities Program Gallery, 1017 S. First St., No. 190. nevadahumanities.org
'Resonating Objects'
California artist Margaret Noble's exhibition of interactive sound and light sculptures influenced by the beat-driven dance culture of Southern California during the 1980s. Fine Arts Gallery at CSN's Cheyenne campus, 3200 E. Cheyenne Ave., North Las Vegas. csn.edu/artgallery
Windows on First
Camilla Quinn's exhibit "Appropriation" explores the history and evolution of the mandala, a Buddhist and Hindu geometric figure representing the universe. Windows on First at Las Vegas City Hall, 495 S. Main St., located along First Street. camillaquinn.com
'Preservation'
Photography, films and video by international contemporary artists explore the preservation of land, life and legacies in this group exhibition curated by Aurora Tang. East Gallery at UNLV's Marjorie Barrick Museum of Art, 4505 S. Maryland Parkway. unlv.edu/barrickmuseum
Erte
Paintings, limited-edition prints and bronze sculptures by artist and fashion designer Erte. Martin Lawrence Galleries at the Forum Shops at Caesars, 3500 Las Vegas Blvd. South. martinlawrence.com/erte
Cesere Brothers Photography
The fine art underwater photography exhibit features animals, fish, waves, sunset and landscapes. Fashion Show mall, 3200 Las Vegas Blvd. South. ceserebrothers.com
Vinyl banner exhibit
"Red" is the color theme for the vinyl banners on display as part of the city of Las Vegas' Aerial Gallery. The exhibit features artwork by eight artists on light poles spanning eight blocks in downtown Las Vegas. First Street Art Trail, located on First Street from Boulder Avenue to Bridger Avenue.
'World Heritage Collection'
Mario Basner's photographic art collection, celebrating culture, diversity and humanity. Next to Cafe Leone at Tivoli Village, 400 S.Rampart Blvd. mariobasner.com
'Las Vegas Lineup'
Viewers are invited to help identify figures in vintage photos of Las Vegas in this interactive exhibit by the Las Vegas News Bureau and Nevada State Museum. Sahara West Library, 9600 W. Sahara Ave. lvccld.org
Modernist Cuisine
Chef, photographer, scientist and author Nathan Myhrvold's collection of food photography. Modernist Cuisine Gallery in the Forum Shops at Caesars, 3500 Las Vegas Blvd. South. modernistcuisine.com
Samurai warrior exhibit
"Samurai: Armor from the Ann and Gabriel Barbier-Mueller Collection" represents the evolution of the samurai warrior's appearance and equipment over 600 years. Items on display include full suits of armor, helmets, weapons and masks. Bellagio Gallery of Fine Art, 3600 Las Vegas Blvd. South. bellagio.com
'In Dreamy Solitude'
Drawing, paintings and mixed media artwork by Marianic Parra of Beziers, France. College of Southern Nevada Artspace Gallery, 3200 E. Cheyenne Ave., North Las Vegas. csn.edu/artgallery
'Holiday Group Hang'
The group show by local and national artists features small, original artwork, including photos, drawings and paintings. Priscilla Fowler Fine Art, Art Square, 1025 S. First St. priscillafowler.com
'Collide'
Holly Rae Vaughn's large kaleidoscope sculpture was constructed in Plexiglas and framed by wood. Vaughn's artwork explores the visual effects produced by combinations of light refracted through colored material. Rotunda Gallery at Clark County Government Center, 500 Grand Central Parkway. hollyraevaughn.com
'Past Perfect'
Jeana Eve Klein's mixed-media exhibit, inspired by abandoned houses, tells a visual story of a present place with the artist imagining its past. Charleston Heights Arts Center, 800 S. Brush St. jeanaeveklein.com
To submit gallery listings, email mrhynes@reviewjournal.com.