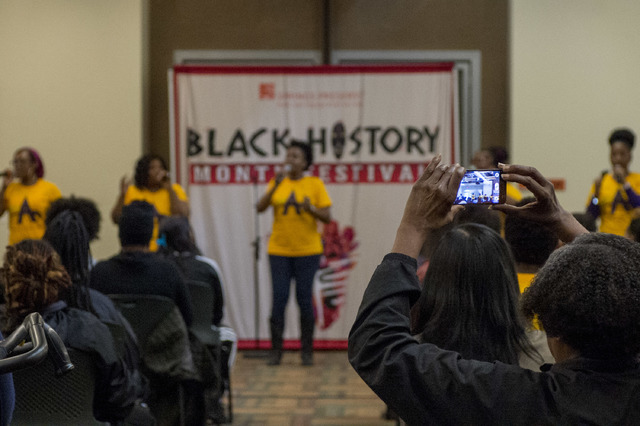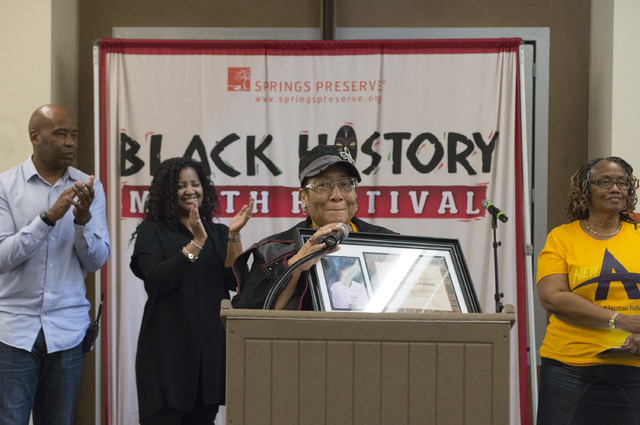 First, a group of synchronized step dancers stomped and slapped their bodies in unison, shaking the walls of a packed building at the Springs Preserve. Then Tymara Walker stepped to the mic.
Walker, with her shock of purple hair in a messy mohawk and gold hoop earrings brushing her shoulders, asked her audience to stand, and belted out the first notes of "Lift Every Voice and Sing," often referred to as the Black National Anthem.
Soon the air was thick with the voices of the full audience, who swayed and sang along Saturday, marking the start of the Black History Month Festival.
"I think history has not done us justice," a man at the back of the room said.
Gene Collins, a former state assemblyman who served two terms as president of the NAACP in Las Vegas, said he came out in the rain because he's a product of the 1960s civil rights movement.
"I think that this should continue and it should be expanded," said Collins, 73. "I think some of the schools should be able to teach the contributions and why we are celebrating Black History Month, because there are a lot of individuals who don't have a clue."
School curriculums don't emphasize African-Americans' contributions to the United States, Collins said. He cited the often untold story of Benjamin Banneker, an African-American scholar and urban planner who helped survey what is now the nation's capital in 1791.
Nicole Lise, the festival's vice chairwoman, echoed Collins' sentiment.
"Black history is American history," said Lise, who helped create the festival in 2010. "The Civil Rights movement was a national movement, and that included right here in Las Vegas."
"What many people don't know is that Las Vegas used to be a very segregated town," Lise said, citing obstacles African-Americans faced such as finding employment and being legally restricted from living in certain areas. "You couldn't even walk into, as an African-American, the front of the casinos. You had to go through the rear, whether you worked there or you wanted to play there."
The Las Vegas event, which featured dance and music, soul food vendors, face painting, caricature drawings and arcade games, honored the late Stella Mason Parson for being the first African-American woman in Nevada to graduate from college.
Parson's daughter, Naida Parson, said her mother opened the door for African-American women to get higher education.
"No black woman had ever gone to college," said Naida Parson, who was in 1992 the first African-American in Nevada to be licensed as a clinical psychologist. "Their life was to be domestic. They graduated high school and went on to become maids."
Parson said celebrating Black History Month shouldn't be just about remembering mistakes that have been made to avoid repeating them.
"When it comes to celebrating African-American history, and our heritage, we want to remember our victories and our accomplishments and contributions, so that we can make sure that we repeat them," Parson said. "What black people have done before, we can do again."
Contact Kimber Laux at klaux@reviewjournal.com. Follow @lauxkimber on Twitter.