First Friday plans interactive art experience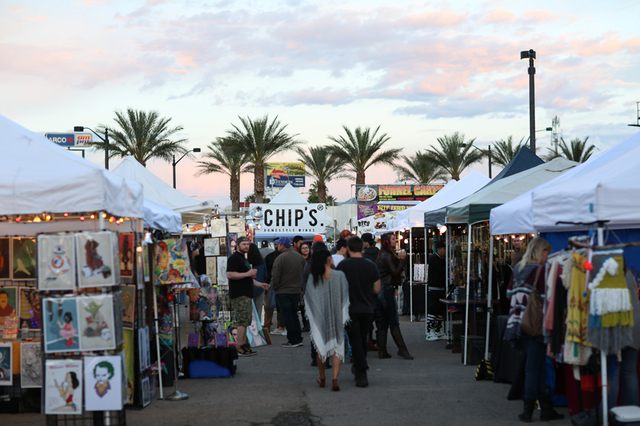 The stage is set for an "Art Attack" at August's First Friday, the monthly arts and culture happening in Las Vegas' downtown arts district.
In keeping with the August theme, the Action Painting Experience will provide interactive experiences for both children and adults; for a small fee, families may create a painting to take home.
Attendees also can get into the act at Jasmine Farro's "Paint by Numbers," where two large frames will be set up for First Friday-goers to participate in the creativity.
A new glowing live painting attraction also joins the "Art Attack" lineup, while both the monthly Art Style and ArtWalk areas showcase works by emerging and established artists. Additional exhibits are on display at the Arts Factory and Art Square's galleries and studios.
Along with visual art, First Friday's "Art Attack" will feature live music at 5, 6, 8:15 and 9:30 p.m.
Dance-related activities include a dance party with Epyk and the monthly Dance DepARTment on Coolidge Avenue between First and Main streets.
Also on tap at August's First Friday:
■ Community Productions' monthly Drum Circle from 5 to 11 p.m.
■ Family fun and entertainment on East Colorado Avenue from 5 to 11 p.m., including Youth Outdoor Unity
■ More than 30 food trucks and artisan food vendors
■ Multiple cooling and hydration stations (donations for lemonade and water will benefit Dazzle for Africa and St. Jude's)
Friday's "Art Attack" runs from 5 to 11 p.m. throughout the downtown arts district; for more information, visit www.firstfridaylasvegas.com or www.facebook.com/firstfridaylasvegas.
Preview
What: First Friday
When: 5 to 11 p.m. Friday
Where: Downtown arts district
Admission: Free (www.firstfridaylasvegas.com, www.facebook.com/firstfridaylasvegas)