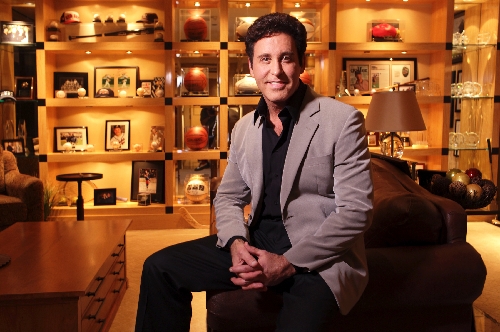 Designer Roger Thomas, Rainbow Company Youth Theatre and entertainer Danny Gans will be inducted into Nevada's Entertainer/Artist Hall of Fame today at the University of Nevada, Las Vegas' Student Union Ballroom.
The eighth annual induction is presented by UNLV's College of Fine Arts. Inductees can be nominated by anyone, but finalists are selected by an independent advisory board made up of nine members who have an interest in the local arts community, say Jeff Koep, dean of UNLV's fine arts college.
Thomas Schoeman, president of JMA Architects, will also be honored with a Dean's Medal for his contributions to architecture and education in Las Vegas.
Gans, who died in 2009, was selected for his influence on local entertainment.
"He was certainly one of those premier solo performers," says Koep, adding that the connection Gans had with Las Vegas is one deserving of recognition.
Thomas, known for his interior hotel designs — most recently Wynn Las Vegas and Encore — also had a hand in the interior design of The Mirage, Treasure Island and Bellagio. Inducting him into the hall of fame is a way to recognize him not only for that work, but for his dedication to the local arts community, Koep says.
The Rainbow Company Youth Theatre is being recognized for the way it has shaped theater in Las Vegas and for the impact it's had on the children who have gone through the program. It's the first group to be honored with induction into the hall of fame, Koep says.
"The board said they're one of the sort of unsung heroes that have really been part of the culture of Las Vegas," Koep says.
It was founded in 1976 with the mission to offer theater classes to children ages 4 to 18 while running an ensemble program for ages 10 years to 18 years old.
"The concept was to create a group of young people who learned about theater, who had professional training in theater and were treated like professionals," says the theater's artistic director, Karen McKenney. "I think that it's a really unique and exciting place for young people to explore their creativity and spread their wings as artists."
The event starts at 6 p.m. Tickets cost $60, which includes cocktails and dinner. They are available online at pac.unlv.edu or by calling 895-2787.
The hall of fame is supported by private donor money, Koep says. Ticket prices are used to pay for the event with any remaining funds going to fine arts scholarships. For the first time, they will host a silent auction during the awards ceremony; those funds will also be used for scholarships.
Contact reporter Sonya Padgett at spadgett@reviewjournal.com or 702-380-4564.
Preview
What: Eighth Annual Induction of the Nevada Entertainer/Artist Hall of Fame
When: 6 p.m. today
Where: Student Union Ballroom, University of Nevada, Las Vegas, 4505 S. Maryland Parkway
Tickets: $60 (895-2787 or pac.unlv.edu)