'Hamilton' deserves its place in musical history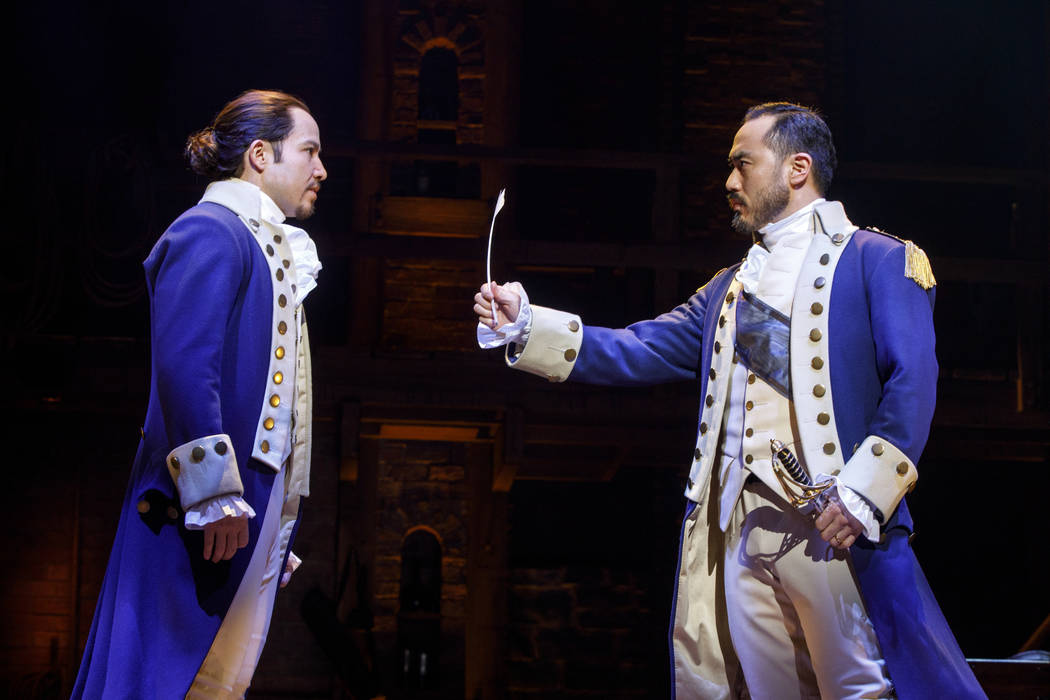 As the soulmate — if not the wife — of "Hamilton's" title character sings in one of the show's numbers, "You want a revolution? I want a revelation."
Either way, "Hamilton's" got you covered.
The Tony-winning, Pulitzer Prize-winning, Grammy-winning phenomenon — at The Smith Center through June 24 — stands tall as a shining exception to the rules followed by most modern musicals.
Sure, it's based on a successful book — Ron Chernow's award-winning 2004 biography, which described orphaned, up-from-his-bootstraps immigrant Alexander Hamilton, first treasury secretary of the fledgling United States, as a "messenger from America's future."
But Lin-Manuel Miranda — who wrote "Hamilton's" book and musical score and originated the title role — remolds its historical source material to create a startling, utterly compelling, contemporary theatrical experience.
And all without the crutches most modern Broadway musicals lean on far too heavily: oversized sets, overdone production values, overly familiar "jukebox" scores, underthought characters and conflicts.
Instead, "Hamilton" trusts the power of its tale to command attention, even when its characters debate (in rap battles refereed by George Washington) such potentially dry topics as the fledgling nation's financial system.
Most of the time, however, "Hamilton" transcends such historical detail to focus squarely on more vital matters, from the timeless — embodied by Hamilton's idealism versus the more pragmatic political approach of friend-turned-rival Aaron Burr — to all-too-timely considerations of what it means to be an American. (Then and now.)
Miranda's almost nonstop score spans musical history in virtuoso style. Quoting everyone from Gilbert and Sullivan to Grandmaster Flash, it transforms ossified Founding Fathers into in-your-face individuals with throwaway ease, from a haunted, haunting Washington (quietly forceful Marcus Choi) to strutting peacock Thomas Jefferson (Kyle Scatliffe, whose comedic chops outweigh his musical ones).
Thomas Kail's equally energetic direction gives "Hamilton" a hurtling-through-time quality that's amplified by Andy Blankenbuehler's perpetual-motion choreography. Both take advantage of David Korins' deceptively simple, shape-shifting set, which morphs from ship to tavern to battlefield with minimal effort but maximum impact, thanks to slowly revolving turntables that suggest the inevitable march of history in the making.
Our guide to Hamilton's extraordinary story is none other than Burr (the outwardly smiling, inwardly seething Nik Walker), whose polished, wait-for-it political perspective is no match for Hamilton (Joseph Morales, adroitly capturing his character's take-charge talents — and the driven, chip-on-the-shoulder past spurring him headlong through life).
Their conflict may remind you of classic dramatic clashes — Othello and Iago, say, or Amadeus and Salieri. But "Hamilton" proudly embraces its identity as an all-American musical, the latest in a long and glorious line stretching from "Showboat" to Sondheim and beyond.
Forging new ground even as it salutes the past, "Hamilton" ranks as a rousing, irresistible clarion call to all those who believe in the sound of music — and the sound of America singing.
Contact Carol Cling at ccling@reviewjournal.com or 702-383-0272. Follow @CarolSCling on Twitter.