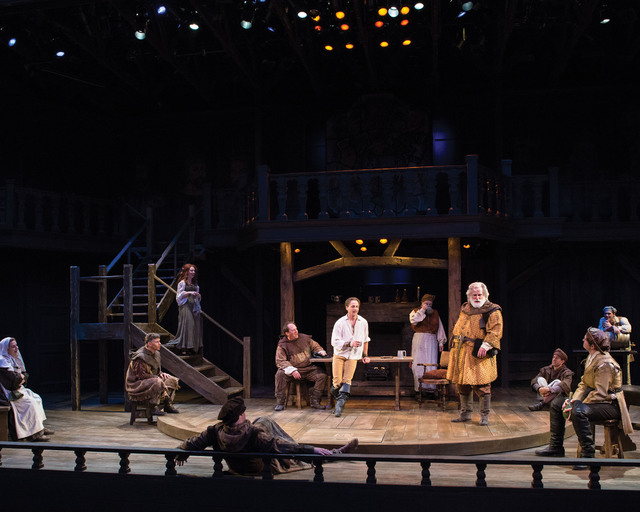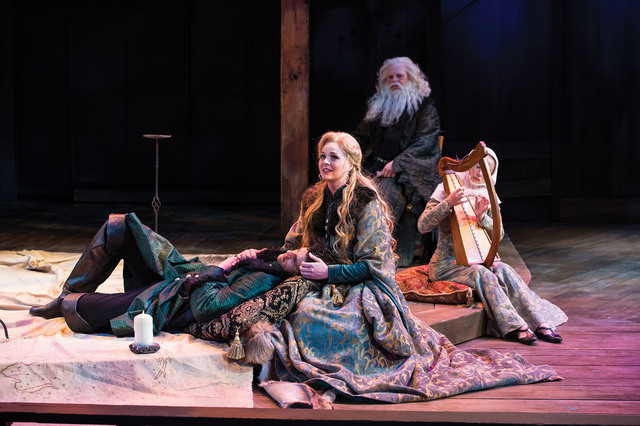 Like father, like son.
Ah, but which father — and which son?
That is the question haunting "Henry IV Part One," the gripping third chapter in the Utah Shakespeare Festival's ambitious history cycle, which launched last year with "King John" and "Richard II." (Continuing in chronological order, future seasons will bring "Henry IV Part Two," "Henry V," all three parts of "Henry VI," "Richard III" and, finally, "Henry VIII.")
But back to "Henry IV Part One," which begins with a haunting reminder of how its title character ascended to the throne: by deposing and imprisoning his predecessor.
Not that Henry (the commanding Richard Bull, reprising the role he first played last fall) seems at peace on the throne. He'd like to ease his guilty conscience by leading a Holy Land crusade, but the king has too many enemies at home to leave.
Besides, there's the troubling matter of his namesake son, the Prince of Wales (a deceptively blithe Sam Ashdown).
Prince Hal should be fighting for his father's (and, assuming the king can hang on to it, his) kingdom. But he prefers to spend his time drinking, wenching and otherwise carousing with his partner in partying, the decrepit yet boisterous Sir John Falstaff (Henry Woronicz, a radiant, raucous and utterly irresistible life force).
But what happens in Eastcheap doesn't always stay in Eastcheap, and Hal's heedless antics don't play well with his embattled father.
There's another young Henry on the scene, however: Henry Percy, aptly nicknamed Hotspur (a fine, furious Steve Wojtas). He's everything Prince Hal isn't: valiant, loyal, focused. Hotspur and his family helped Henry capture the throne, but when the king seems to forget how much he owes the Percys, the hot-headed Hotspur rebels — which finally forces Hal to start acting like the prince he is. (Or could be.)
Director Brian Vaughn (who's played both Prince Hal and Hotspur in previous festival productions) understands the crosscurrents of conflict, personal and political, that power the play.
This handsome "Henry" also maintains a crucial balance between the two, with the serious, grown-up stuff (to borrow Prince Hal and Falstaff's perspective) lending the uproarious hijinks a slightly desperate air.
As Falstaff knows all too well, survival's a tricky business, and sometimes "the better part of valor is discretion." ("Discretion," in Falstaff's vocabulary, being yet another synonym for self-preservation.)
Happily, we'll see him again (along with King Henry and Prince Hal — and the actors portraying them) next season in "Henry IV Part Two." Here's hoping the second half of their story is half as compelling as the opening chapter. To be continued …
Contact reporter Carol Cling at ccling@reviewjournal.com or 702-383-0272.
Review
"Henry IV Part One"
In repertory through Aug. 30
Utah Shakespeare Festival, Cedar City
Grade: B+
ALL THE REVIEWS:
'Twelfth' finds its best, true self with balance of heart and humor
Deep in 'Woods' lies tale of human truths (witch warts and all)
You said it, sisters: Finding right romance requires keeping wits
With Gold Rush-era 'Comedy of Errors,' there's droll in them thar hills
'Measure' of human struggle, marked by moral knots, fistfuls of foibles