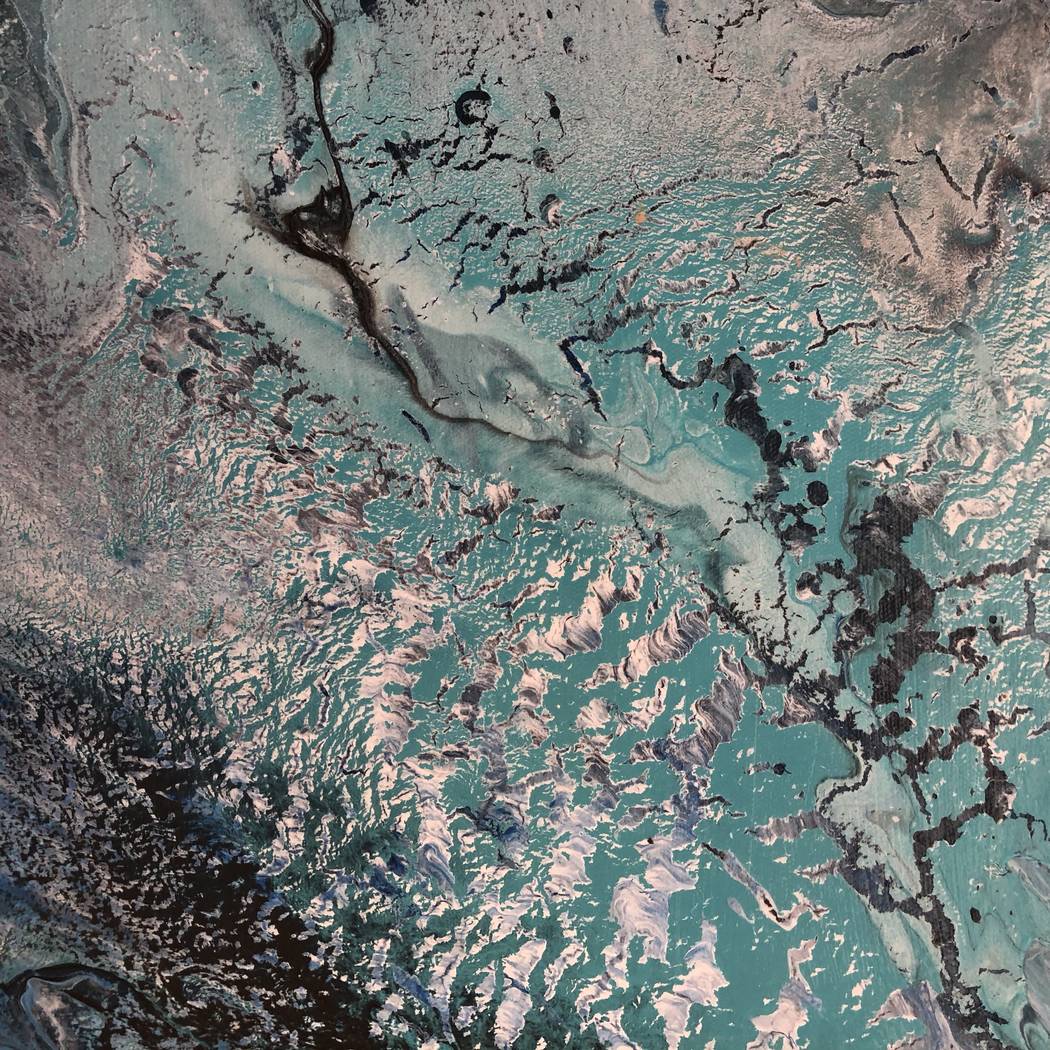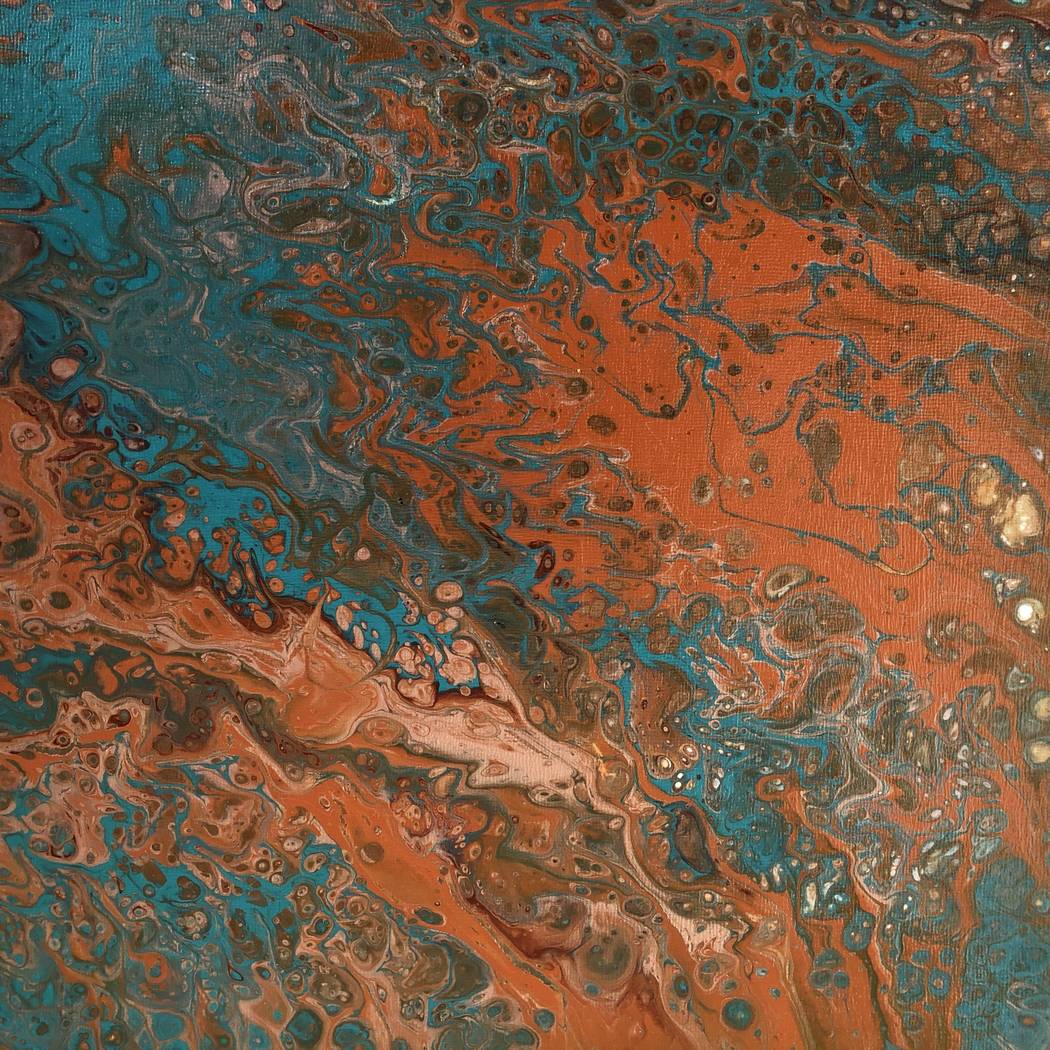 'Earthscapes'
New abstract acrylic paintings by Mark Vranesh are on display in the exhibit "Earthscapes." Vranesh will discuss his work during a reception from 5 to 7 p.m. Thursday. A portion of the sales from the exhibit will benefit the nonprofit organization Adam's Place. Rachel's Kitchen, 9691 Trailwood Drive. markvranesh.com
Nancy Good
Using her original photographs from Burning Man, Nancy Good created large-scale kaleidoscopic images on display in the exhibit "See, Touch & Go Dream: The Burning Tapestries." An artist reception and talk will be from 5 to 8 p.m. Friday. Core Contemporary, 900 E. Karen Ave., Suite D222. corecontemporary.com
Disney artist
Cartoon folk artist Miss Mindy will paint and sign figurines from 4 to 7 p.m. Friday, noon to 2 p.m. and 5 to 7 p.m. Saturday and noon to 2 p.m. July 22. Magical Memories Gallery Featuring Disney Fine Art on the Terrace Level at Forum Shops at Caesars, 3500 Las Vegas Blvd. South. facebook.com/missmindyart
City Lights Arts Gallery
Oil and acrylic paintings by Merle Williams are on display in the exhibit "Memories." A meet-the-artist reception will be from 1 to 4 p.m. Saturday. 3 E. Army St., Henderson. citylightsartgallery.com
'Overcast'
Medium- and large-scale paintings by Shona Macdonald, professor of studio art and Art Department chair at the University of Massachusetts Amherst. Fine Arts Gallery at CSN's Cheyenne campus, 3200 E. Cheyenne Ave., North Las Vegas. csn.edu/artgallery
To submit gallery listings, email mrhynes @reviewjournal.com
Artists in residence
Artwork by Whitney Lynn, Allison Wiese and Karl Orozco are featured in the exhibit "Neon AIR: Radiant Residents." Nevada Humanities Program Gallery, 1017 S. First St., No. 190. nevadahumanities.org
Andrew Schoultz
The Marjorie Barrick Musuem of Art hosts "In Process: Every Movement Counts," a museumwide installation with murals, by Los Angeles-based artist Andrew Schoultz. UNLV, 4505 S. Maryland Parkway. unlv.edu/barrickmuseum
'Vibrance'
Sign designer and artist Brian Henry uses everyday lighting elements in his new series of light art explorations. Windows on First at Las Vegas City Hall, 495 S. Main St., located along First Street.
Obsidian Fine Art
Mandy Joy's paintings show visions of the afterlife, Scottish folklore and dragons in the exhibit "Surrealism and Folklore." Arts Factory, 107 E. Charleston Blvd., Suite 240. facebook.com/obsididanfineart
'Les Folies Bergere'
The Las Vegas News Bureau and Nevada State Museum, Las Vegas exhibition of the long-running Tropicana show features rare photographs and costumes. West Charleston Library Gallery, 6301 W. Charleston Blvd.
'Finding Fremont'
Expedition maps, modern color photographs, an archaeological discovery of mountain howitzer carriage parts and the mountain howitzer believed to be explorer John Fremont's lost cannon are among the objects on display in the exhibit "Finding Fremont: Pathfinder of the West." Nevada State Museum, 309 S. Valley View Blvd., next to the Springs Preserve. nvculture.org/nevadastatemuseumlasvegas
Keith Noble
Oil paintings of seascapes and landscapes of the California coast by Boulder Cit Art Guild member Keith Noble. Boulder City Art Guild Gallery at Boulder Dam Hotel, 1305 Arizona St., Boulder City. bouldercityartguild.com
'Golden Anniversary'
The "50 Years of Preserving History: Celebrating the Golden Anniversary of the Clark County Museum" exhibit presents the museum's history through a collection of photographs and objects. Clark County Museum, 1830 S. Boulder Highway, Henderson. clarkcountynv.gov/museum
'Vessel'
The exhibition of ancient West Mexican ceramics explores the relationship between form and function. Braunstein Gallery at UNLV's Marjorie Barrick Museum of Art, 4505 S. Maryland Parkway. unlv.edu/barrickmuseum
Hearts4Vegas
Drawings, banners and cards sent from people around the world to Las Vegas after the Route 91 Harvest festival tragedy are on display in the Hearts4Vegas Traveling Exhibition. Durango Hills Community Center/YMCA, 3521 N. Durango Hills Drive. artslasvegas.org
'Fading Shadows'
Black-and-white portrait drawings examining light and personality by David Veliz. Enterprise Library, 25 E. Shelbourne Ave. lvccld.org
Sculpture exhibit
Artists used cardboard materials to create detailed sculptures on display in "Outside the Box II." Grand Gallery at Las Vegas City Hall, 495 S. Main St. artslasvegas.org
Photography exhibit
Microscopic crystals that formed in the juices squeezed from fruits and vegetables are on display in Robert Belliveau's exhibit "Microscopic Beauty of Fruits and Vegetables."Big
Crafters exhibit
Handmade crafts created by members of the Las Vegas Crafters Guild are on display in the exhibit "Holy Crafts!" Summerlin Library, 1771 Inner Circle Drive. lvccld.org
'Primal Water'
Paintings, sculptures, photography, site-specific installation and film by 14 artists celebrate the diversity and beauty of Japanese culture in the exhibit "Primal Water."Bellagio Gallery of Fine Art, 3600 Las Vegas Blvd. South. bellagio.com
Jim Atha
Shapes, patterns and colors of nature are on display in Jim Atha's abstract photography exhibit "Wet is Wild: Water Stories." Spring Valley Library, 4280 S. Jones Blvd. lvccld.org
Carnevale Gallery
Mixed media pieces from photographer Art Wolfe's "Human Canvas" project and limited edition fine art prints are on display. Carnevale Gallery, located at Appian Way at Caesars Palace, 3570 Las Vegas Blvd. South. humancanvasproject
Djibril N'Doye
"Taking Root and Blossoming" features drawings on wood with a woodburner and/or oil pencil by Senegali artist Djibril N'Doye. Left of Center Art Gallery, 2207 W. Gowan Road, North Las Vegas. facebook.com/leftofcentergallery
'Quilts for Vegas'
The Vegas Strong Resiliency Center hosts the exhibit featuring handmade quilts donated by quilters from Las Vegas and around the world for victims of the Route 91 Harvest festival tragedy. Rotunda Gallery at Clark County Government Center, 500 Grand Central Parkway.
Dean Martin exhibit
Las Vegas News Bureau photos and video of Dean Martin are on display in the exhibit "Dean Martin: The King of Cool." Clark County Library, 1401 E. Flamingo Road. lvccld.org
Charleston Heights Arts Center
Ethiopian artists Abraham Abebe's three-dimensional abstract paintings depict probability and high contrast in life and reflect the pursuit of identity. Charleston Heights Arts Center, 800 S. Brush St. artslasvegas.org
'World Heritage Collection'
Mario Basner's photographic art collection, celebrating culture, diversity and humanity. Next to Cafe Leone at Tivoli Village, 400 S.Rampart Blvd. mariobasner.com
Modernist Cuisine
Chef, photographer, scientist and author Nathan Myhrvold's collection of food photography. Modernist Cuisine Gallery in the Forum Shops at Caesars, 3500 Las Vegas Blvd. South. modernistcuisine.com
To submit gallery listings, email mrhynes@reviewjournal.com