'Mister Wives,' spoof of TLC reality series, set to make world premiere
November 6, 2015 - 5:00 pm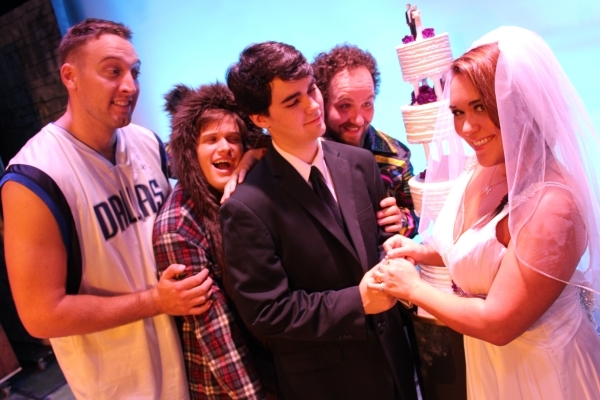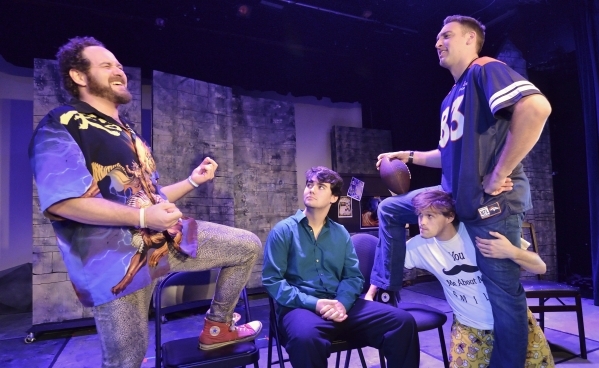 Turnabout is fair play — especially when the play's a musical.
Or, more precisely, a musical spoof.
No prizes will be awarded for correctly guessing that "Mister Wives" — which kicks off a world-premiere run Thursday at the Onyx Theatre — uses as its starting point TLC's long-running, made-in-Vegas reality series "Sister Wives."
Unlike "Sister Wives' " real-life polygamous clan, headed by patriarch Kody Brown, "Mister Wives" focuses on matriarch Kady (played by Shana Brouwers) and her multiple husbands.
Christopher (Eric Angell), John (Mick Axelrod) and Marty (Ryan Hess) are used to sharing the love, brotherly and otherwise.
But Kady's courting prospective Mister No. 4, Robert (Gerald Hallowell), and he's not quite sure what he's getting into, according to writer-director Natalie Shipman.
Shipman wasn't quite sure what she was getting into when Onyx Theatre producing director Troy Heard invited her to shepherd "Sister Wives" to the stage.
Shipman, who's a Second City alumnus — as is her husband Derek, who co-wrote Onyx's "Showgirls the Musical" with Heard — had never written a play before, "let alone a musical," she acknowledges. "All I knew was the title."
And, of course, "the whole culture of reality TV," where "most of the stuff" audiences watch "is stuff we're disgusted by," she says, stuff that's "not really gross, just fascinating" in a train-wreck way.
"Sister Wives' " gender-bending twist also underlines the differences between polygamy — in which the male has multiple spouses — and less common polyandry.
"It's easy to accept a man having multiple wives," Shipman suggests. "But would a bunch of men be fine with sharing a woman? I'm going to guess the answer is no."
All of which enabled her to heighten the satire in "Mister Wives."
Shipman "skips the obvious jokes," in Heard's view, skewering "contemporary gender roles, religion and reality TV in general."
Coming out of the improv comedy world, Shipman was used to a "very collaborative process," she explains. "It's rare that one person will sit down and write the whole thing."
Good thing she had another person to help her: Mark Wherry, who wrote the music for the eight songs (and one reprise).
In late August, Heard approached Wherry — director of vocal music at the College of Southern Nevada — about composing the "Mister Wives" score.
The Shipman-Wherry team wrote "six songs in eight days," Wherry recalls, adding two more the following week.
"We knew we were under the gun," the composer admits. Yet he found the whirlwind songwriting schedule "freeing for me," because he tends to "slave over" his compositions. Besides, "it was nice not to have to worry about the lyrics."
Instead, Shipman — who has no musical experience — handed Wherry her lyrics and explained, "it kind of sounds like this."
For the show's title number, Shipman wanted it "to sound like '70s sitcom music," Wherry recalls. By contrast, Shipman wanted the finale to sound like "a '90s sitcom," so Wherry "listened to 'Growing Pains' and 'Full House' " for inspiration.
For another number, "she said, 'I'm hearing Neil Diamond,' " so Wherry revisited "Coming to America" and came up with "Faithful," in which Robert is "having second thoughts" but sings "I've got to be faithful, no matter what."
Each "Mister Wives" number "has its own particular style," notes Shipman, the mother of two young daughters whose favorite musical — Disney's animated blockbuster "Frozen" — also influenced the score.
The team previewed a country-flavored "Mister Wives" number — "Get on Board," which Robert's fellow "Mister Wives" sing to him — in September at The Smith Center's monthly Composers' Showcase in Cabaret Jazz; "Jersey Boys" cast members handled the vocals.
Regulars at the showcase, where Wherry is a frequent participant, know "I'll go for the cheap laugh," he acknowledges with a chuckle. But "with (Shipman's) Second City background," their "Mister Wives" collaboration is "really clever," Wherry says. "Natalie took the high road across the board."
Even so, "it was a struggle to write," Shipman comments — especially compared to her usual improv-comedy collaborations. "I would never know how a scene was going to end. I had no idea how the story was going to end."
Now that "Mister Wives' " onstage story is about to begin, however, Shipman hopes the comedy comes through.
"I don't know yet," she says. "You need an audience to really tell you when it's funny."
— Read more from Carol Cling at reviewjournal.com. Contact her at ccling@reviewjournal.com and follow @CarolSCling on Twitter.