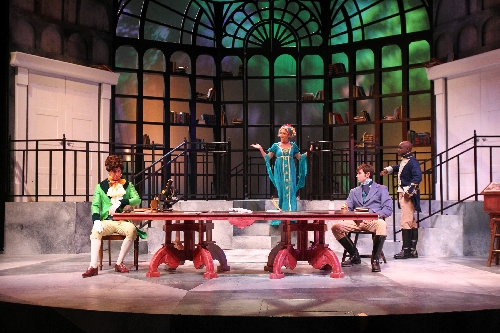 "Arcadia" is the sort of complex drama that universities should do.
Author Tom Stoppard, in his best "Rosencrantz and Guildenstern Are Dead" style, mixes up an intellectual puzzle with passion, naughtiness, and people's touching need to know. His themes are expressed with help from a dozen characters living in two different centuries. The 1993 British script propels itself forward in the second act with the energy of a climatic mystery.
The main question in the 1800s: What role is irresistible womanizer Lord Byron (never seen) playing in the upheavals of the local household?
The dwellers of the modern-day home (the same physical space) are eagerly trying to discover the probability of unknown events; most notably, what role Byron may have played in a fatal duel.
Stoppard demands a lot from an audience. So much of the play is argument, and you've got to be in the mood to listen or you may wake up lost.
But my enthusiasm for Nevada Conservatory Theatre tackling a great, rarely seen work (in Vegas anyway) diminished considerably after the first scene.
We settle into an attractive 1800s British family estate and are immediately informed, through manner, voice and costuming, whom we should like and whom we shouldn't.
For example, a gentleman named Ezra Chater comes bouncing into the room, and the way actor Joshua Nadler preens and prisses makes it obvious director Christopher V. Edwards wants us to laugh at the character. In case we don't get the point, Nadler is dressed in a loud green formal dinner jacket and vest, along with white shirt ruffles and an exaggerated maroon bow tie.
When we glide into the 20th century, a character named Bernard Nightengale (Brooks Asher) is trying to write a novel about Byron. Edwards sees Nightengale as an unredeemable, self-aggrandizing fool, which he may well be. But in both cases, the director doesn't allow us to discover anything.
The first act gets bogged down in self-mocking attitudes because, I suspect, Edwards is trying to make Stoppard's language easier for local audiences. But Edwards' efforts prevent the story's humor and power to properly unfold. He makes it difficult for us to see these characters as human beings. When, late in the second act, all that intellectual exploration is translated into characters' simple wants and needs, it's too late – there are no characters.
Though she appears to be in her 20s, Angela Jonas is surprisingly convincing as 13-year-old student Thomasina. Her unbridled enthusiasm suggests her youth. Melissa Ritz creates an elegant, sensuous, ditzy mother Lady Croom. And Lauren T. Mack's Hannah comes across as a professional, demanding, but not unreasonable woman who has no time for pretense.
Devin Pierce Scheef's set offers a solid impression of an environment that exists for study. It's an airy, detail-rich creation that avoids the obviousness of realism.
Anthony Del Valle can be reached at vegastheaterchat@aol.com.
Review
What: "Arcadia"
When: 8 p.m. Thursday-Saturday, 2 p.m. Sunday
Where: Judy Bayley Theatre, the University of Nevada, Las Vegas, 4505 S. Maryland Parkway
Tickets: $20-$30 (895-2787; pac.unlv.edu)
Grade: C