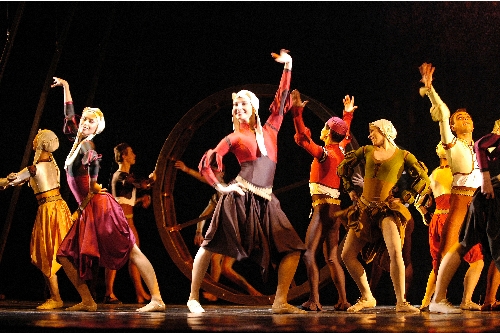 The classic story of star-crossed lovers Romeo and Juliet will be performed by the Russian National Ballet at 8 p.m. today in Artemus Ham Hall at the University of Nevada, Las Vegas.
The ballet, which stars Maria Klyueva as Juliet and Dmitry Shchemelinin as Romeo, is based on the tragedy by William Shakespeare and choreographed to music composed by Pyotr Ilyich Tchaikovsky.
The story depicts the consequences of a love affair between Romeo and Juliet, members of two families who are sworn enemies, and the effect the couple's death has on the families' feud.
At 40 minutes, the Russian troupe's version is shorter than average, but still true to the story, says Alexander Daev, the company's ballet master. The company also will perform Mikhail Fokine's "Chopiniana," a tribute to the music of Frederic Chopin.
The Russian National Ballet last performed in Las Vegas in 2009 and is currently on an 85-show tour of the United States.
For several years, ballet has been without a star like Mikhail Baryshnikov, a dancer who became a widely recognized figure in American popular culture. But the art still enjoys great success, Daev says.
"The response from our audiences (has) been very enthusiastic and passionate," Daev said through an interpreter. "Classical ballet is very much appreciated and it appears to us will be enjoyed as much in the future as it has been in the past."
Tickets to the performance, part of the Charles Vanda Master Series, cost $35 to $70 and are available by phone at 895-2787, online at pac.unlv.edu or at the UNLV Performing Arts Center box office, 4505 S. Maryland Parkway.
Contact reporter Sonya Padgett at spadgett@review journal.com or 702-380-4564.
Preview
What: Russian National Ballet's "Romeo and Juliet"
When: 8 p.m. today
Where: Artemus Ham Hall at UNLV, 4505 S. Maryland Parkway
Tickets: $35-$70 (895-2787)