SeaQuest Interactive Aquarium leads Las Vegas families into another world
January 5, 2017 - 10:09 pm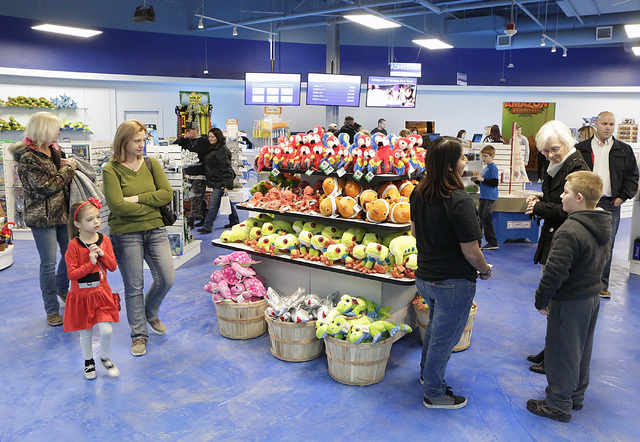 Outside, it's a drippy winter day in the desert.
But inside, the steamy tropics are steps away. As are the California coast, a Caribbean cove, even Egypt's River Nile.
As long as you're inside the new SeaQuest Interactive Aquarium, that is.
With 1,500 species on display — many under 100,000 gallons of water — the new Boulevard Mall attraction may be an educational experience for kids and adults alike.
But there's a difference between learning from a textbook and being able to experience and learn directly, according to Shane Shimada, SeaQuest owner and general manager.
And at SeaQuest, learning directly means up close and personal, whether it's an iguana in your palm, a parakeet perched on your arm — or you in a tank, snorkeling with stingrays.
Many attractions geared toward learning activities say "Do not touch," notes Brad Boyle, another SeaQuest owner. "Our 4-year-old daughter likes to touch everything," and as a result serves as an inspiration for the "ability to connect and interact with everything that's here."
The stingray swim requires reservations and an additional fee ($29.95 for annual members, $39.95 for nonmembers, including all-day aquarium admission).
But even if you have no desire to get wet, SeaQuest provides ample opportunity to ponder those creatures who do.
In another area, a SeaQuest staffer dangles a dead mouse over the water, attracting the attention of a water monitor as he plays cat-and-mouse — or, more precisely, monitor-and-mouse. The technique makes the "water monitors feel like they're chasing their prey," owner Erin Boyle explains.
The California Coast area's star attraction is a giant Pacific octopus that "you can touch and feed," she says. Its 500-gallon tank home is flushed clean every two minutes, rising and falling to simulate the ocean tide.
But a nearby tide pool offers more kid-sized residents: sea stars just waiting to be picked up and perused.
"For a lot of kids who never make their way to the ocean," Erin Boyle adds, SeaQuest's variety of environments — and animal residents — provide a direct connection.
Boyle's 4-year-old, Nicki, has joined Shimada's daughters — and several others — inside the Mayan Jungle-themed aviaries, where colorful parakeets and lorikeets (the latter from Australia) chirp and tweet their delight as they dive-bomb food-proffering visitors.
"It makes me feel like Snow White," Nicki's mom, Erin, says of the birds' tendency to flutter and land on the humans' outstretched arms.
And in the Egyptian Desert area, tiny tortoises — no older than some of the preschoolers picking them up under the supervision of a SeaQuest staffer — are tucked into one corner.
Nearby, an ancient example of a sulcata tortoise, Einstein — so named because his shell resembles a human brain? — prowls in deliberate fashion. (Einstein obviously has the run of the place; he turned up a bit later in the gift shop, roaming between the display shelves like a runaway Roomba robot vacuum.)
The Boardwalk Adventures area provides additional chances to meet and greet some of SeaQuest's animal residents.
Staffer Dina Monzulla introduces visitors to Indy (short for Indigo), a brilliant blue macaw, and PJ, a white Moroccan cockatoo who "loves to dance around."
Dance around is right; PJ's specialty seems to be nonstop pirouettes. Nearby, sibling parrots bob their heads, back-and-forth, as if trading quips.
"They just like to be held, not petted," Monzulla explains to one young visitor as a parrot perches on his arm, triggering a slow smile that lights up his face.
Minutes later, the youngster's off to the Shark Lagoon.
"There's one! That's super-big!" he announces to an accompanying parent.
Across the tank, another kid reports, "One licked my finger, Mommy!"
Keeping the water in SeaQuest's tanks clean and pure is a bit of a challenge because of the harsh water in Las Vegas, notes marine director Grant Carter. As a result, the water is "super-filtrated," going through seven different filtration stations before filling the tanks.
From luminescent, undulating moon jellies — please don't call them jellyfish — to Amazon-native pacus equipped with uncannily human teeth, the aquarium's themed areas showcase an array of international creatures. (Informational signs explain "Creature Features" and point out "Where in the World?" you can find the natural habitats of many SeaQuest denizens.)
Decked out in a furry bomber hat that makes him look like a bear cub, 8-year-old Joe Kimoto ventures between regions, visiting the Amazon Rainforest's iguanas before shifting to the Mayan Jungle to feed the parakeets.
"It's great," Joe's mom, Las Vegan Zumi Kimoto, says of SeaQuest. "There are not many children's activities in Las Vegas."
Especially ones that bring the world to one corner of the Boulevard Mall.
Read more from Carol Cling at reviewjournalcom. Contact her at ccling@reviewjournal.com and follow @CarolSCling on Twitter.
Preview
What: SeaQuest Interactive Aquarium
When: 10 a.m. to 7 p.m. Mondays through Thursdays, 10 a.m. to 9 p.m. Fridays and Saturdays, 11 a.m. to 7 p.m. Sundays
Where: Boulevard Mall, 3528 S. Maryland Parkway
Tickets: $9.95-$14.95 daily admission (children younger than 2 free), $59.95-$399.95 annual memberships (702-906-1901, www.SeaQuestAquariums.com/Vegas)