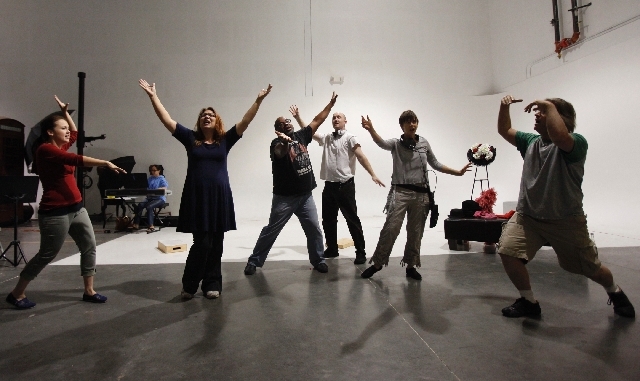 These days, most slot machines spit out jackpots in the form of paper strips rather than cascading coins. And it's tough to find a midnight buffet.
But one Las Vegas tradition still is going strong after almost four decades: Super Summer Theatre at Spring Mountain Ranch State Park.
Super Summer Theatre launches its 38th season at 7:30 p.m. Friday and Saturday with "Broadway Meets Hollywood," a kind of "greatest hits" concert featuring favorite songs from previous summer theater presentations.
It's a warm-up for a new season of outdoor musicals, which gets under way June 12 with "The Music Man," followed by "How to Succeed in Business Without Really Trying" in July, "Legally Blonde the Musical" in August and "The Producers" in September.
Before those shows hit the stage, however, "Broadway Meets Hollywood" recalls previous presentations — starting with "Mack the Knife" from "Threepenny Opera," which was presented in 1977 during Super Summer Theatre's second season.
The other songs included in "Broadway Meets Hollywood" fit the same criteria: featured in shows that were 1) made into movies and 2) presented during a Super Summer season.
Following those rules, the musical selections range from "The Sound of Music" (1989) to "Little Shop of Horrors" (1998) — "and everything in between," says director Rob Winch .
Eight singers (Sara Rose Andreas , Miles Coleman , Vanessa Coleman, Mikey Phillips , Ashley Sutherland-Winch , Jeff Tribbitt , Cass D. Van Gelder and James White) perform such musical hits as "Big Spender" (from 1987's production of "Sweet Charity") and "Age of Aquarius" (from 1991's "Hair").
In addition, there are a few mashups, Winch says, notably one in which "Wilkommen ," from "Cabaret" (produced in 1991) meets "If I Were a Rich Man" from "Fiddler on the Roof" (1988 and 2011).
And, of course, Winch hopes everyone will sing along to "Summer Lovin' " from "Grease" (1990 and 2000).
"There are songs in there for everyone," he says, from the retired grandparents to the grandchildren joining them in the audience.
And that's precisely the point when it comes to Super Summer Theatre.
The theater "provides family entertainment at an affordable price," says Phil Shelburne , who is directing "Legally Blonde" this summer — which he estimates is his "19th or 20th" Spring Mountain Ranch show. (He made his directorial debut in 1994 with "Joseph and the Amazing Technicolor Dreamcoat.")
After all, he says, "there are not a lot of places in Las Vegas where you can afford a nice evening, where everyone is doing something together that's good, possibly educational and maybe inspirational."
Despite his long association with the series, Shelburne — and every other prospective producer — must submit a production proposal to Super Summer Theatre's board for approval.
For this season, the volunteer board members reviewed bids from 15 production entities, according to Christy Miller, production chair.
"I love the idea of providing the community with a source of entertainment that comes from the community," she says. "We have such talent here."
Little wonder, then, that it's hard to choose, Miller admits.
Among the factors the board considers: past experience and the quality of the staff that's involved.
It's all in an effort to provide a season full of variety, she says.
New production companies face "a big learning pattern" at the park, Miller adds. "Even though it's community theater, it's a large venue."
When Miller became involved with Super Summer a little more than 20 years ago, "if we had $10,000" to stage a summer's worth of shows, "we were lucky." And in 1989, when the current stage platform was constructed, the annual production budget was about $40,000, she adds.
This summer's production budget: $275,000.
The budgets "are quite reasonable, but you still have to be very creative," according to Sandra Hunstman.
She and her husband, Steve, as Huntsman Entertainment, are making their producing debut with this summer's "The Music Man" — after 14 years of "doing a little bit of everything, separately and together," at Super Summer.
The series' outdoor setting means actors must "remember you're playing to a football field" in terms of audience size, she adds.
Average attendance is 850 to 900 per night, Miller says — which means more than 10,000 audience members over a typical 12-day run.
But not all of the dramatic action at Super Summer Theatre is confined to words and music.
"We all have lots of bug stories," Huntsman says, recalling how she spotted a sidewinder onstage on opening night of her Super Summer debut, 1999's "Big River."
And last year, while Huntsman was performing in "Crazy For You" (which Shelburne directed), a fellow actor was "reaching down my dress," she remembers. "I looked down and he was trying to get a spider out of my cleavage."
And the upside of performing at Super Summer Theatre?
"It's outdoors," Huntsman says.
"It's so different than the rest of Vegas," says Keith Dotson , who's directing "How to Succeed in Business Without Really Trying. "It's like you've stepped out of Vegas."
Joe Hynes, who is making his directorial debut with September's "The Producers," after performing in three Super Summer productions, recalls his first experience there — as an audience member.
"The first day I went out to the ranch, I saw 'Beauty and the Beast,' and I just fell in love," he says. "The outdoor setting is incredible. What a backdrop — and Red Rock is right there."
Besides, he adds, "you can bring food, it's casual. It's a good time with friends."
And "it's so family-friendly," Huntsman points out. "We have a lot of entertainment in Las Vegas," but only a few "truly family-friendly theaters."
Even after 37 years, however, Super Summer Theatre remains "maybe the best-kept secret" in Las Vegas, Miller says.
"You try real hard to get it out there. It's still amazing that people don't realize we're here."
Contact reporter Carol Cling at ccling@
reviewjournal.com or 702-383-0272.
Preview
What: "Broadway Meets Hollywood"
When: 7:30 p.m. Friday and Saturday
Where: Spring Mountain Ranch State Park, 10 miles west of Charleston Boulevard and I-215
Tickets: $8-$10 (www.showtix4u.com)
Super Summer Theatre 38th Season Schedule
The annual season at Spring Mountain Ranch State Park kicks off this weekend with "Broadway Meets Hollywood," which spotlights favorite tunes from previous Super Summer Theatre productions.
Here's what's coming up for the rest of the season:
"The Music Man" — 8:05 p.m. June 12-15, June 19-23 and 26-29
In Meredith Willson's 76-trombone salute to bygone Americana, fast-talking con man Harold Hill plans to fleece the residents of River City, Iowa, and skip town — until he meets starchy Marian, the town librarian. All ages.
"How to Succeed in Business Without Really Trying" — 8:05 p.m. July 10-13, July 17-20, July 24-27
Frank Loesser ("Guys and Dolls") delivers another sassy score in this satirical Pulitzer Prize-winner, set in the "Mad Men" era, which follows ambitious window cleaner J. Pierrepont Finch as he climbs the corporate ladder to the executive suite. Parental guidance suggested; some material not appropriate for children.
"Legally Blonde The Musical" — 8:05 p.m. Aug. 7-10, Aug. 14-17, Aug. 21-24
When her boyfriend dumps her, sorority star Elle Woods goes where no Delta Nu has gone before — Harvard Law — in this musical version of the hit 2001 movie comedy. Parental guidance suggested; some material not appropriate for children.
"The Producers" — 7:05 p.m. Sept. 6-8, Sept. 13-15, Sept. 20-22
Mel Brooks' Oscar-winning 1968 movie inspires this Tony-winning 2001 musical about a down-on-his-luck impresario and a milquetoast accountant who plot to stage a can't-miss flop, only to wind up with the biggest hit on Broadway. Parents strongly cautioned; some material inappropriate for children under 13.
Advance tickets for all shows ($12) are on sale; print-at-home tickets are available online at www.showtix4u.com and mail order tickets are available at www.UNLVtickets.com. Tickets also are available at the Artemus Ham Hall Performing Arts Center box office at the University of Nevada, Las Vegas, 4505 S. Maryland Parkway, or Prestige Travel's Summerlin office, 7550 W. Lake Mead Blvd.
At all performances, entrance to Spring Mountain Ranch State Park is free (with a show ticket) after 5 p.m. The parking lot opens at 5 p.m.; gates open at 6 p.m. Limited tickets are available at the gate for $20. For more information, call 594-7529.