The funny and the topical converge in 'Bigfoot, the Musical'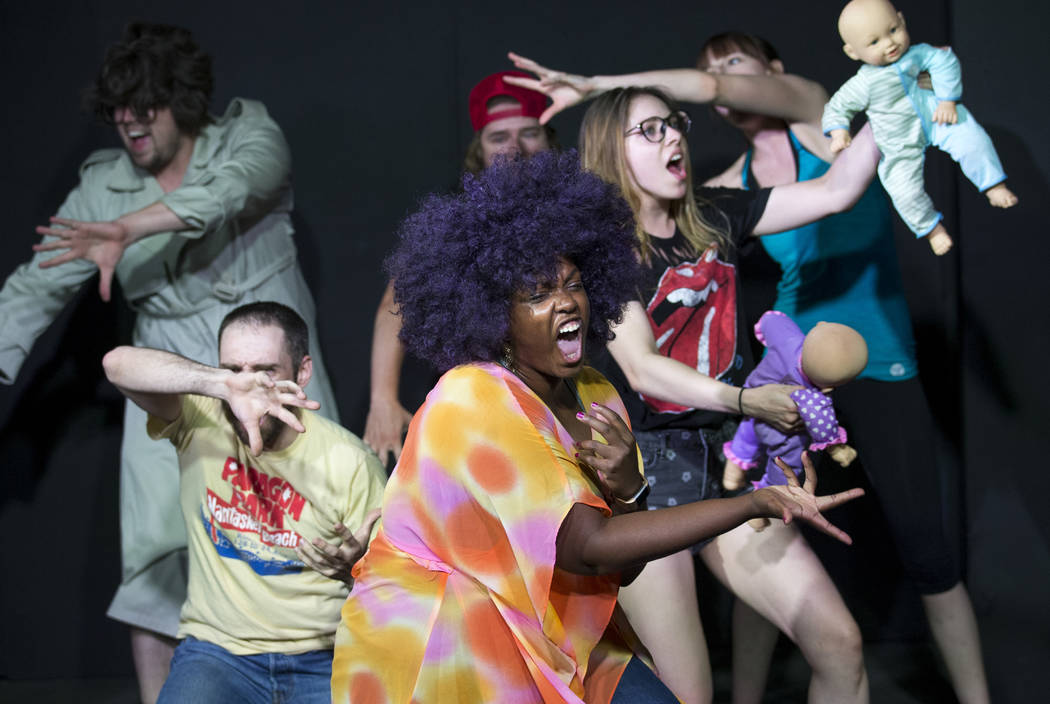 It was just supposed to be a silly summer show.
But a funny thing happened on the way to "Bigfoot, the Musical," which opens a world premiere run Thursday at downtown's Majestic Repertory Theatre.
The silly show about the big — not to mention bighearted — small-town innocent beneath all that matted hair suddenly became topical as well as comical.
Amber Ruffin — whose TV credits range from "Late Night With Seth Myers" to Comedy Central's "Detroiters" and "Drunk History" — started writing "Bigfoot" three years ago.
But it turned out to be a "happy accident" that "Bigfoot" reflects some of America's current political turmoil, she acknowledges, calling it "so sad — and great at the same time."
Yet never fear. "This comes with a big, heaping spoonful of sugar," says director Troy Heard, Majestic's artistic director. "It's funny, funny first."
The show transports audiences to the dusty town of Mud Dirt, which is on the verge of economic collapse.
As its residents sing in the opening number, it's "a helluva town" — a description that first applied to "On the Town's" New York City — where, "when folks drive through … they don't stop. Would you?"
In short, it's "anywhere with forests — and anywhere where ignorance abounds," Heard says.
Mud Dirt is the hometown of, among others, the perpetually ill Francine (Anita Bean), whose 8-year-old (Venus Cobb) has the body of a fully grown adult. "He has glandular problems, to say the least," the director notes.
Never mind that those glandular problems are due to radioactive waste buried nearby. Bigfoot's fellow Mud Dirt denizens turn against him, egged on by the town's incompetent, not to mention perpetually soused, mayor (Bobby Lang), who hopes they won't notice his propensity for gambling away the town finances.
The local doctor (Mike Vargovich) tries to be the voice of reason — but can't help screaming every time he sees his freak-of-nature patient, warning him, "Your body will become the stuff of sci-fi movies."
When Bigfoot turns 18, his loving mother encourages him to flee to the forest. "Run like a big ol' mob is coming to kill you," she says, " 'cause they are."
Ruffin and collaborators Kevin Sciretta and David Schmoll developed "Bigfoot, the Musical" at Los Angeles' Sacred Fools Theater Company, where they have a show called "Serial Killers" — "five shows enter, three shows leave," Ruffin explains. "You write eight minutes (of material)" and "you see the jokes that work." (And, of course, the ones that don't.)
Before "Bigfoot," Ruffin developed another musical at Sacred Fools: "King of Kong: A Musical Parody," which Heard presented in Las Vegas in 2015, when he was the Onyx Theatre's producing director.
"We had a real good time hanging out," Heard recalls, "and I asked her, 'What else do you have?' "
For Ruffin, "it's just such a nice fit with Troy," she notes. "He is not afraid of goofiness. He loves it. He embraces it."
Goofiness definitely plays a major role in "Bigfoot," where the musical numbers range from heartfelt ballads ("There's a little bit of Bigfoot that lives in the heart of you and me," Francine sings of her beloved, behemoth-sized boy) to cheery romps such as "Splashtown," in which Mud Dirt residents celebrate the imminent demise of their hometown and its water-park replacement.
"Musicals are so over-the-top," Ruffin says. "When a comedy person watches a straight musical, it's inherently — I don't want to say ridiculous, but it's kind of ridiculous. Being melodramatic." Then again, she adds, "comedy's a lot the same way."
Contact Carol Cling at ccling@reviewjournal.com or 702-383-0272. Follow @CarolSCling on Twitter.