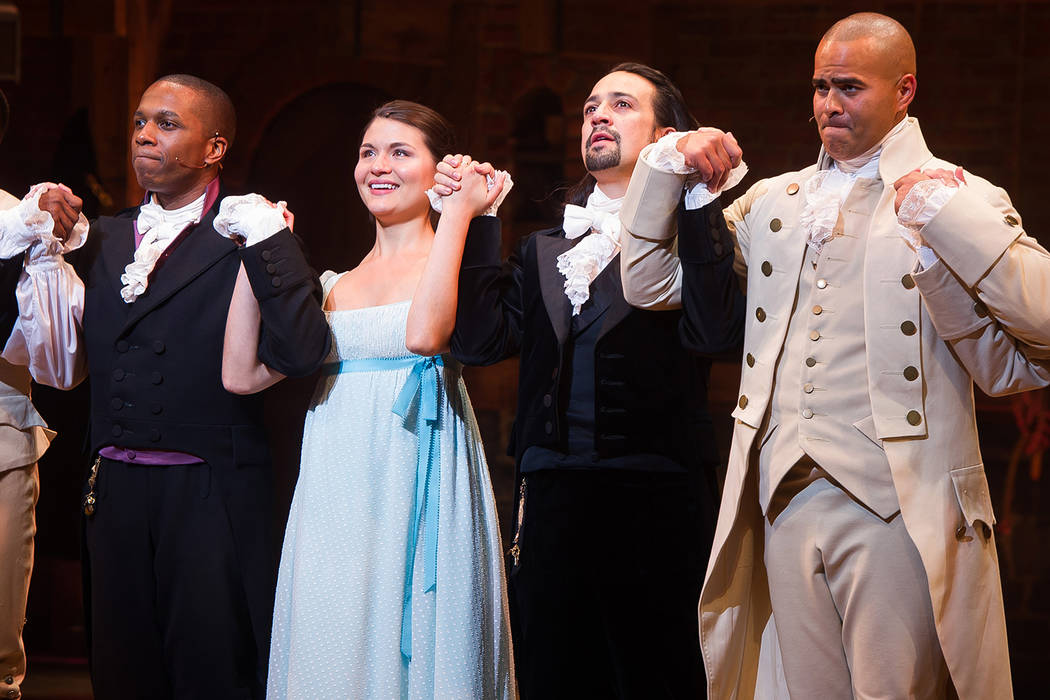 Tickets for "Hamilton" tour dates in Las Vegas are not officially on sale yet, but ticketmania has officially begun, with hundreds of tickets already available online — some with asking prices around $4,000 each.
"If tickets are in that much demand, why not sell mine?" mused Chris Sheerin, a Smith Center season subscriber for five years, who is currently listing all four seats in his Dress Circle Box on Craigslist for $2,900.
Producers of the phenomenally popular Broadway musical based on the life of Founding Father Alexander Hamilton have not said when members of the public will be allowed to purchase tickets for the show, which will appear May 29-June 24 at The Smith Center for the Performing Arts. Season ticket holders have received their precious admission slips, but the public is still waiting to find out when they can buy tickets — and how much they will cost.
"It's a strategic decision made by the producers of 'Hamilton,'" said Smith Center President and CEO Myron Martin. "The less time you give ticket brokers to resell, the less opportunity they have to jack the prices up."
Despite these precautions, "Hamilton" tickets are widely available on websites like StubHub, SeatGeek, Vivid Seats and Craigslist for those who want to make sure they don't get shut out. In the past week, StubHub had at least 136 tickets available for nine of the 32 scheduled performances. Prices ranged from just under $500 for a seat in the rear of the balcony on a Saturday night to just under $4,000 for the first or third rows of the center orchestra at a Sunday matinee.
Should theater fans without season tickets resign themselves to spending that kind of money to see the Broadway sensation about the first U.S. Treasury Department secretary? This isn't the first city to experience this phenomenon, and some experts believe more affordable options will present themselves.
"The prices that are out there right now are probably a little pie-in-the-sky," says Ken Solky of LasVegasTickets.com, where "Hamilton" tickets are currently priced between $720 and $3,500 apiece.
"I don't begrudge anybody the ability to try to get what they think the right price is," he said. "(But) I think that there will be a market correction."
Vivid Seats has tickets listed between $432 and $1,380. Company spokesman Stephen Spiewak said those prices aren't in keeping with what tickets in other markets have sold for on the site.
"The most expensive tickets, outside of New York, have been in San Francisco," Spiewak says. There, $450 was the median price, meaning as many tickets sold for below that price as above it. The average price of a San Francisco "Hamilton" ticket sold through Vivid was $533. At the other end of the spectrum, tickets for St. Louis performances had a $271 median and $319 average price.
As for Las Vegas, Spiewak expects prices to be "closest to those in Los Angeles." That would put the prices around a $360 median and $419 average.
Regardless of what individual tickets end up commanding, the clear winners are those who purchased season tickets for the 2017-18 season before it began. At that time, you could have reserved a seat for every show, including "Hamilton," "Rent" and "The Color Purple," for less than the current asking price for a single "Hamilton" ticket.
The true impact of "Hamilton," however, goes beyond the financial windfall, said Martin.
"We now are an important stop on Broadway's tours," he said. "And without The Smith Center, it's pretty clear we wouldn't have been one of the first cities to announce that we got 'Hamilton.'"
Contact Al Mancini at amancini@reviewjournal.com. Follow @AlManciniVegas on Twitter.
Whose tickets are for sale?
Because "Hamilton" tickets aren't for sale yet, where are the tickets being sold online coming from?
"We really don't know (the origin of) every ticket that's listed," says Ken Solky of LasVegasTickets.com.
But he says the pool of available tickets includes "season ticket holders, sponsors, contest winners (and) several charitable organizations that own boxes at the Smith Center for every performance."
Katie Craven is offering a pair of tickets in the Center Gallery for $750 apiece. She says her decision wasn't inspired by money.
"I'm a season ticket holder with my mother, who is 88 years old," she explains. "And I was kind of excited about seeing 'Hamilton.' But then they told me that the average number of words per minute is 144. And I figured there is no way I am going to understand a word they're saying."
When she went online and saw the prices people were asking on TicketNetwork and Craigslist, she says she decided to see what she could get. She says she might drop the price a little, but if she can't get enough to make it worthwhile, she could end up using them herself.
"I'm looking at it as, if I sell them for $500 each, that pays for two seasons of seeing all these shows."
Subscribers can get more
Season ticket holders will be able to purchase additional tickets to see "Hamilton" when it comes to Las Vegas, said Myron Martin, president and CEO of The Smith Center for the Performing Arts. "We're going to have some seats for our subscribers who want additional tickets," he said. "We've made the decision. We've cleared it with producers. We just haven't announced it officially."
The only catch, he says, is that they'll be reserved for subscribers "in good standing," meaning they're not people who subscribe primarily to resell their tickets. More details are expected to be released soon, he said. Some subscribers had been confused by a letter sent recently seeking $10,000 donations to The Smith Center that would have included an opportunity to buy additional tickets.