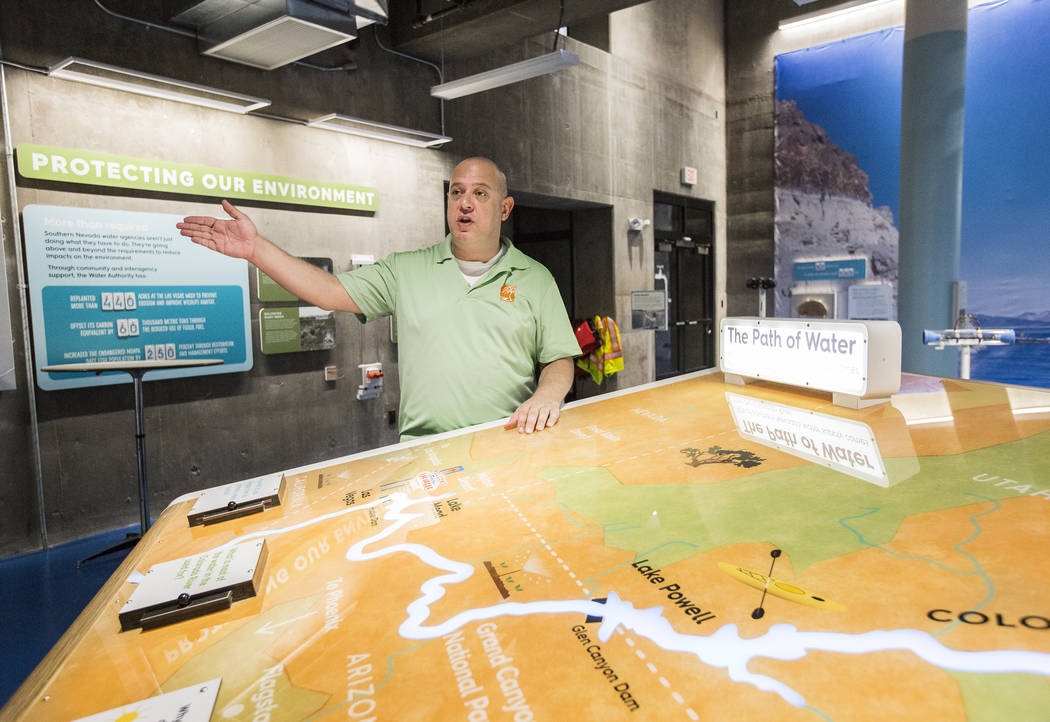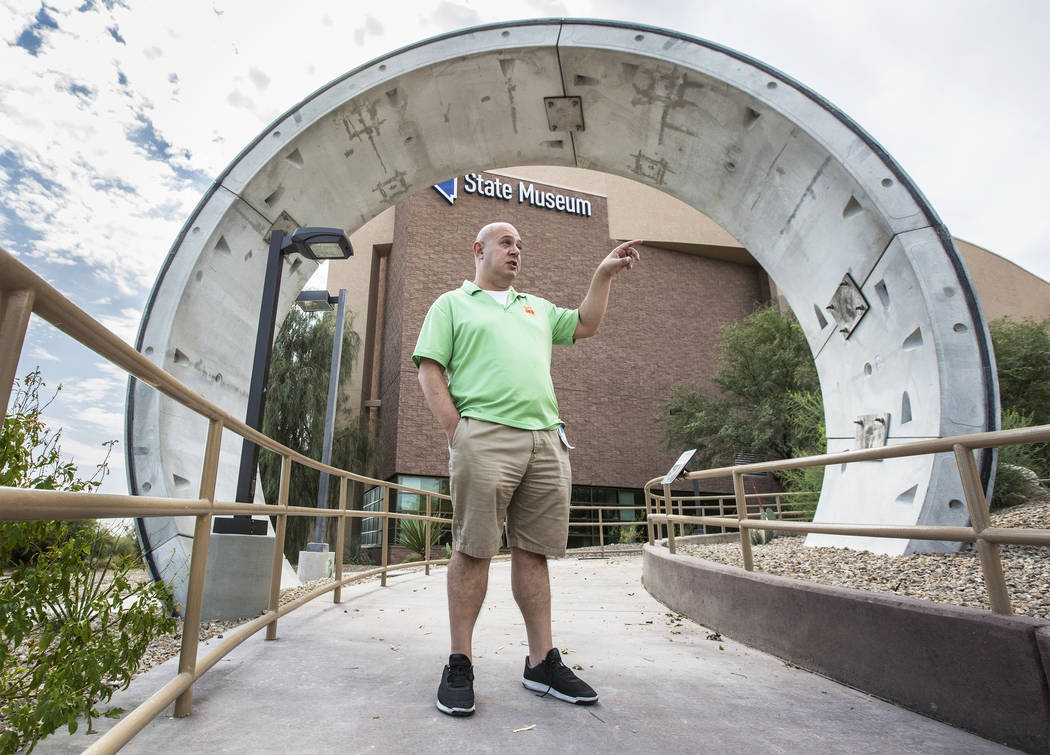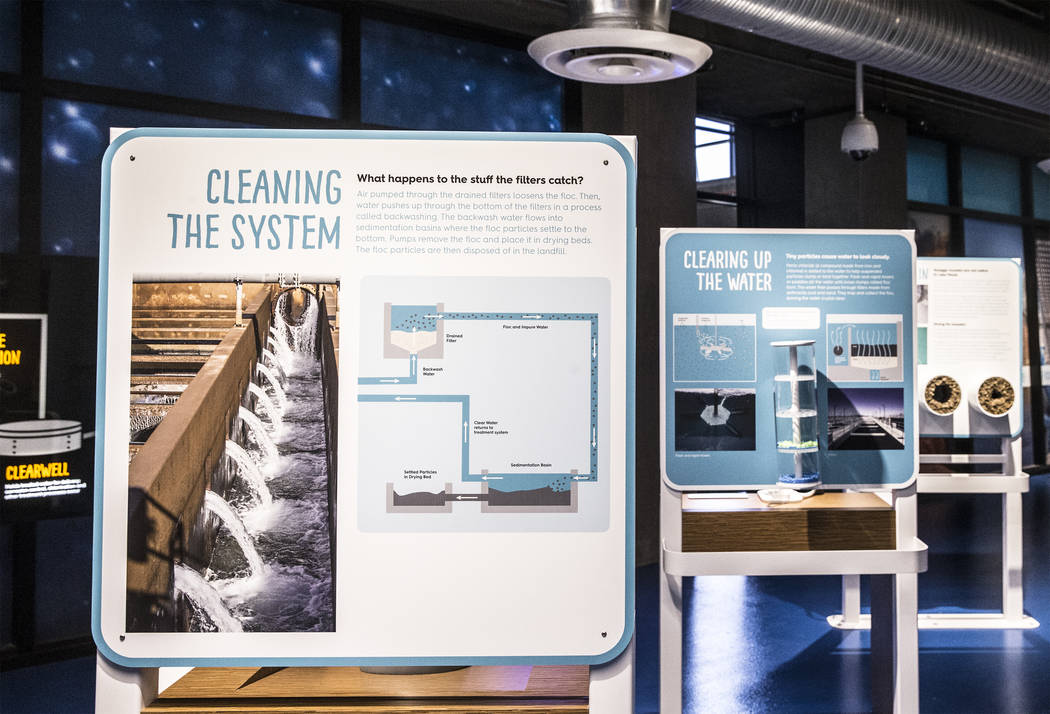 The waterworks have been working for a decade. But WaterWorks is just beginning.
The Springs Preserve's latest permanent exhibit, which opens Saturday, is located in one of the oldest buildings at the 180-acre preserve: the Charleston Heights Pumping Station, operated by the Las Vegas Valley Water District.
There's also a 20-million-gallon reservoir adjacent to the pumping station, but you've never seen it — because it's located beneath the Springs Preserve parking lot.
That's partly what inspired WaterWorks, according to the preserve's exhibits curator, Aaron Micallef.
"One of the things we tried very hard to do is talk about things people don't see," he explains. "No one sees the miles of pipes underground" delivering water to Southern Nevada residents.
Visiting WaterWorks, however, will help locals — and visitors — understand Southern Nevada's 6,500-mile water system through a variety of interactive exhibits.
There's even a global-themed outdoor terrace that explores the challenges of finding and delivering safe water to those in other countries.
"This is all about public education," Micallef notes.
Hands-on public education.
Thanks to a variety of interactive displays, WaterWorks visitors can trace the path of the Colorado River from the Rocky Mountains to Lake Mead (which supplies 90 percent of Southern Nevada's drinking water), use microscopes to check out water contaminants, test water temperature and turbidity (water-speak for clarity) and more. There are even goggles and white lab coats available (in every size, from toddler to adult) to heighten the research experience.
Two separate smell-it stations enable guests to contrast the aroma of ozone, which helps clean water, with the combination of sweat, diesel and cigarette smoke experienced by workers, hundreds of feet below ground, as they built Intake No. 3, the "third straw" designed to draw deeper Lake Mead water into the local system.
Photographs of Hoover Dam, taken in 1980 and 2015, illustrate how far Lake Mead water levels have dropped, while other pictures show the growth of the Las Vegas Valley over the decades.
From pumping water to filtering large particles (a process known as "floculation"), WaterWorks introduces various steps in the journey water takes from Lake Mead to local faucets.
There's even a simulated control room, overlooking the pumping station, that provides perspective for water district officials who regulate local flow.
If it's a Sunday, for example, they "make sure there's more water on the Strip" to serve all those Vegas visitors showering at hotels, Micallef explains. "Or if there's a fire," officials can send "extra water" to the front lines.
Even in the Mojave Desert, however, many residents take for granted the "water coming out of the faucets," he notes.
At the exhibit's Global Terrace, however, such complacency isn't possible.
Instead, visitors can pretend to draw water from a well "to see how much the weight of water is," Micallef says. "Imagine carrying that three miles."
Pathways around the terrace point out water challenges faced around the globe, from "Family can only cook one meal with water gathered" to "Take care of children who are sick with water-borne illness."
Back here at home, WaterWorks also features a Conservation Courtyard featuring interactive games "to see how water-smart you are," Micallef explains, and a globe that shows how much turf Southern Nevadans have replaced in their yards — a green line that "almost reaches around the world."
By the numbers
The Springs Preserve's WaterWorks, which debuts to the public Saturday, explores the wide world of water, from local delivery to global scarcity. A few pertinent numbers related to the new exhibit, located inside the Charleston Heights Pumping Station:
■ $1.5 million: cost of WaterWorks exhibit
■ $1.25 million: grant from One Drop foundation to help fund exhibit
■ 24,000: square footage of Charleston Heights Pumping Station, where WaterWorks is located
■ 20 million: gallon capacity of water storage reservoir adjacent to WaterWorks
■ 6,500: miles of pipes in the Southern Nevada water system
■ 90: percentage of Southern Nevada's drinking water that comes from Lake Mead
■ 20 feet: diameter of the pipe and butterfly valve at the WaterWorks entrance
■ 600 feet: distance below ground that workers descended to construct Intake No. 3 at Lake Mead
■ 1,420 miles: length of the Colorado River, which provides Southern Nevada's drinking water via Lake Mead
■ 40 million: number of people who depend on the Colorado River for their drinking water
■ 30: miles that water travels from Lake Mead to Las Vegas
■ 667-835 pounds: average water use per day in the U.S.
■ 47 pounds:average water use per day in developing countries
■ 860 feet: depth of the tunnel dug for construction of Intake No. 3 at Lake Mead
Contact Carol Cling at ccling@reviewjournal.com or 702-383-0272. Follow @CarolSCling on Twitter.
333 S. Valley View Blvd., Las Vegas, NV