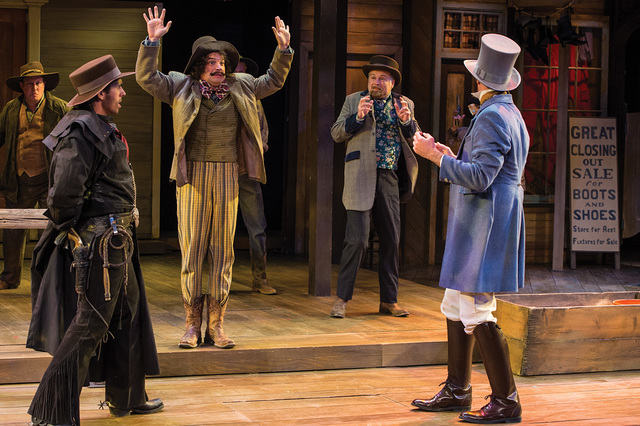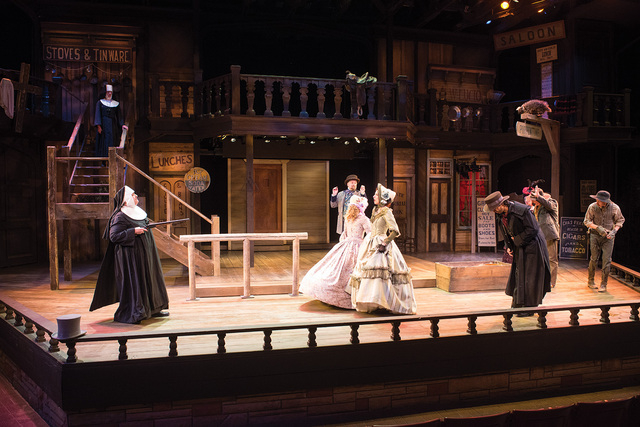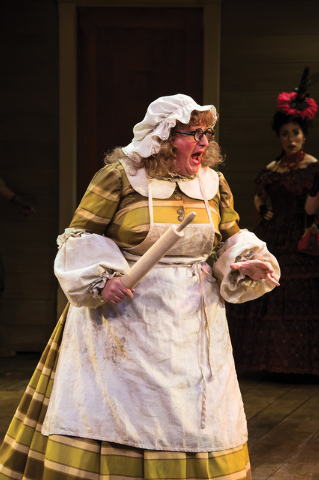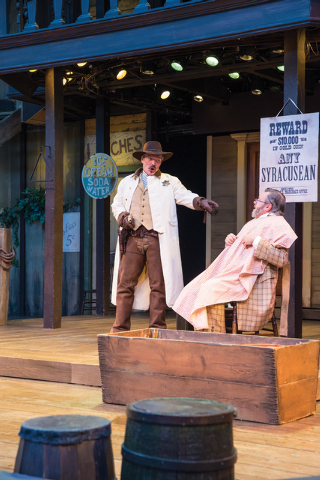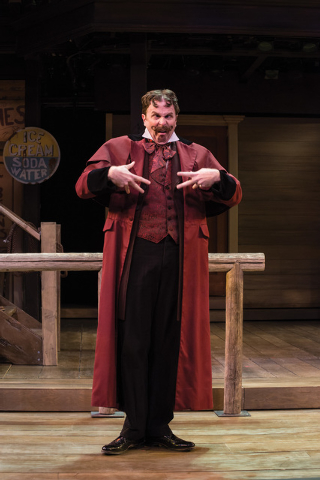 Westward ho!
Oops, wrong play.
That specific Shakespearean line may come from "Twelfth Night" — another star attraction at this year's Utah Shakespeare Festival.
But it definitely applies to the festival's rip-snortin', gut-bustin' production of "The Comedy of Errors," which has undergone a major — and, as it turns out, majorly effective — change of scene.
Instead of the crossroads of Asia Minor, director Brad Carroll shifts this "Comedy of Errors" to Gold Rush-era California.
Oh, the dialogue is still Shakespeare's — but spoken trippingly off the tongue in a variety of Western twangs and Southern drawls. Instead of swords, certain galoots tote six-shooters.
And the Utah festival's beloved "Wooden O" — built to resemble Shakespeare's own Globe Theater — has been transformed, courtesy of scenic designer Vicki M. Smith, into a Western street straight out of "Blazing Saddles," complete with hitching post, swinging saloon doors and other frontier trappings. Costume designer David Kay Mickelson's outfitted the whole gang, from saloon gals to snake-oil peddlers, in equally persuasive duds. And there's a tinkly saloon piano plunking out tinny tunes to set the mood.
But the change of scene isn't merely cosmetic. Seeing such familiar Western types — one of whom, the resident duke (a leathery Jonathan Smoots), metamorphoses into the local lawman — makes it easier to keep track of all the convoluted comedy.
Come to think of it, convoluted may be too weak a word for the crazed mayhem that ensues when certain hapless travelers find themselves in town.
Two of them — Antipholus (genial Chris Amos) and his servant Dromio (the fleet-footed, fleet-witted Aaron Galligan-Stierle) — look mighty familiar.
Maybe that's because (unbeknownst to anyone but us), their identical twins have been living there for years. (Yes, they too are victims of that beloved Shakespearean plot device, the fateful shipwreck; another one turns up in "Twelfth Night.")
The hometown Antipholus (droll Drew Shirley) is quite the man-about-town, with a stern Southern belle of a wife, Adriana (sly, steely Cassandra Bissell), and a servant — inevitably named Dromio (a frisky Misha Fristensky) — to clean up his messes, of which there are (too) many.
A true believer in "if it's worth doing, it's worth overdoing" comedy, director Carroll treats his knockabout players like balls in a pinball machine forever on "tilt," bouncing and spinning them at breathless, breakneck speed.
Sometimes all that shtick gets a bit too sticky, but it's in keeping with the play's madcap spirit. So while this "Comedy of Errors" doesn't quite strike the comedic Mother Lode, it still qualifies as a load of laughs.
Contact reporter Carol Cling at ccling@reviewjournal.com or 702-383-0272.
Review
"The Comedy of Errors"
In repertory through Aug. 30 at the Adams Shakespearean Theatre
Utah Shakespeare Festival, Cedar City
Grade: B+
ALL THE REVIEWS:
'Twelfth' finds its best, true self with balance of heart and humor
Deep in 'Woods' lies tale of human truths (witch warts and all)
It takes game of thrones to get young prince to find his way
You said it, sisters: Finding right romance requires keeping wits
'Measure' of human struggle, marked by moral knots, fistfuls of foibles